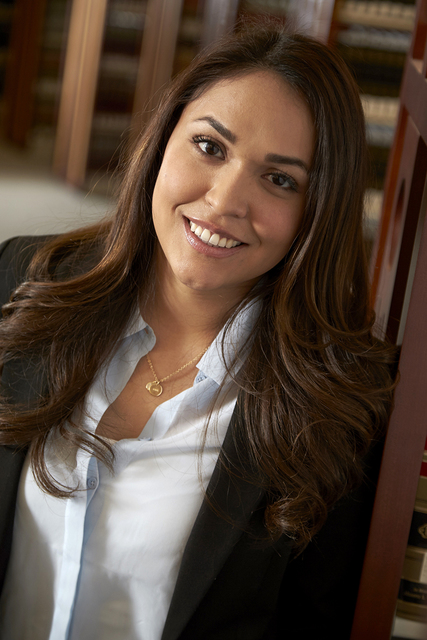 William S. Boyd School of Law student Beatriz Aguirre was recently awarded the Waldo De Castroverde Immigration Scholarship. The scholarship, named in honor of the late Waldo De Castroverde, a former criminal defense and immigration attorney in Las Vegas, is given to a first- or second-year Boyd student, as recommended by the faculty.
This year, the amount of the scholarship is $2,000 and will be awarded for the spring 2017 semester. The scholarship funds are donated by De Castroverde Law Group.
More than $56k awarded to public safety organizations
Firehouse Subs Public Safety Foundation awarded $56,238 worth of life-saving equipment to North Las Vegas Fire Department and Nevada Partnership for Homeless Youth. North Las Vegas Fire Department received 12 patient lifting devices worth $6,238 at a regional dedication ceremony in December at Firehouse Subs Restaurant, attended by local firefighters, area representatives Mark and Jennifer Cowan, and Firehouse Subs franchisees Robert and Melinda Rather.
The awarded devices will be placed on emergency vehicles, helping ensure firefighters are prepared to quickly lift and transport those in need of medical attention.
This will improve the department's rescue capabilities by providing a safer way to lift patients, while also reducing injuries. At a second ceremony, Nevada Partnership for Homeless Youth received $50,000 in funding to support Safe Place, a 24/7 mobile crisis intervention program provided to youth in crisis throughout Southern Nevada.
Attending the event were representatives from the Nevada Partnership for Homeless Youth, area representatives Mark and Jennifer Cowan, and Firehouse Subs franchisees Robert and Cindie Hosbrook. In partnership with the City of Las Vegas Fire Department, the program provides youth immediate access to safety during crises, removing them from dangerous situations quickly to prevent higher-level emergencies.
Las Vegas restaurants help save lives
American Cancer Society announced their Stick a Fork in Cancer campaign this month in which local restaurants throughout Southern Nevada partner with the Society by donating a percentage of their proceeds. Funds raised will further the Society's research and provide free services to cancer patients and their families such as transportation, lodging and support groups. Participating Henderson restaurants include Kitchen Table, Sonrisa Grill, Essence and Herbs and Kit's Kitchen; Las Vegas restaurants include Echo &Rig Butcher Shop, Nacho Daddy Summerlin, Origin India and Kitchen Table Squared.
Southwest Medical Associates donates $145k for Touro University Nevada students' training
Southwest Medical Associates has donated $145,000 to the Touro University Nevada Physician Assistant Studies Program to fund the purchase of new equipment and training materials. The donation will enable the Touro Physician Assistant Program to purchase three ultrasound machines and models. S
tudents will use these tools to learn about and practice performing joint injections, and will allow the institution to enhance the curriculum to include joint injections and bedside procedures like venous access and FAST scans.
The added advanced-care training will enhance graduates' ability to perform in any clinical setting, including acute care medicine. In addition to the ultrasound machines, the funding from Southwest Medical will help the PA program improve the EKG and pulmonary function test interpretation required of students.
This training is imperative, as every student must possess these critical skills in both acute and primary care practice.