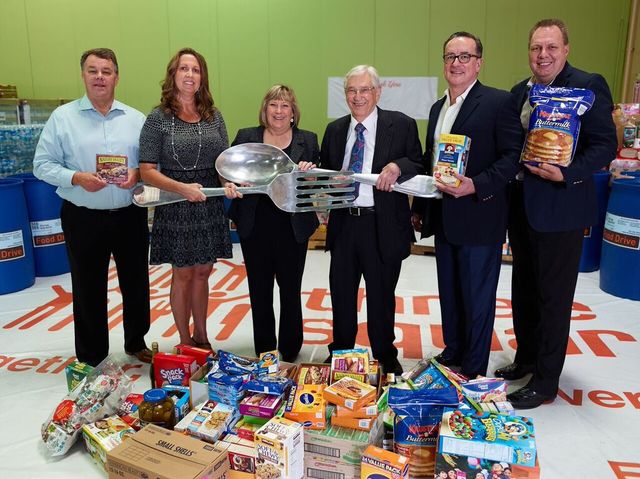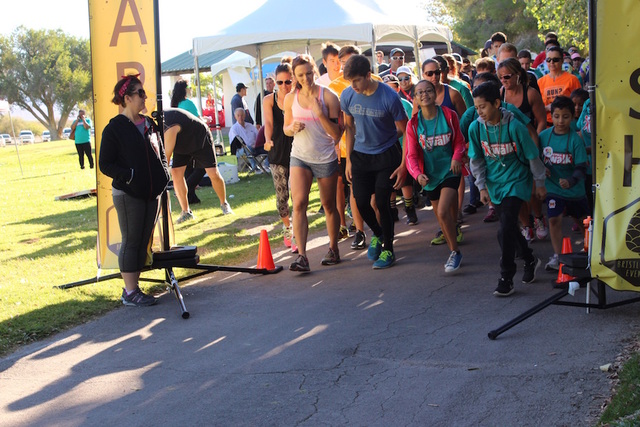 Because ending hunger in Southern Nevada is a year-round effort, Boyd Gaming, which sponsored Three Square Food Bank's "Fill the Plate" campaign that concluded in September, will kick off the next season of giving with a donation to the food bank for $50,000 toward its annual holiday match campaign. Three Square has been collecting non-perishable food and monetary donations since early September to meet the challenge of feeding hungry residents who are in need of a meal during the holiday months.
Foundation raises $60,000 at
Las Vegas and Reno walks/5Ks
More than 500 walkers and runners took part in Hemophilia Walks and 5K events in Las Vegas and Reno in September, allowing the Nevada Chapter of the National Hemophilia Foundation to raise more than $60,000 during the nonprofit organization's largest fundraiser of the year.
The foundation will use the funds to send children and their siblings to a medically supervised summer camp, known as Camp Independent Firefly, which allows children with inherited disorders to participate in outdoor activities while having medical personnel nearby should they be needed. The Nevada Chapter of the National Hemophilia Foundation underwrites the cost of the weeklong camping adventure so families can send their kids to camp for free. Additional funds raised will help families in need of emergency assistance, including access to life-saving medication or emergency living expenses.
This year's top fundraising teams included the Las Vegas HTC All Stars, who brought in $7,450, followed by Team Emily and AJ raising $6,100.
ITT Tech students invited to CSN
Open House
The College of Southern Nevada invited former students of ITT Technical Institute to an open house Oct. 8, an event that helped students learn how to transition from the closed private college to the state's largest and most affordable college. Because ITT Tech wasn't a regionally-accredited institution, many credits will not transfer to CSN or any other regionally-accredited institution. However, CSN is making every effort to support the students' goals of attaining a college education. CSN has assigned a concierge on each of its three campuses to help students from the closed ITT Tech effectively transfer and complete their degree programs.
Sands Education Council announces new partners for Teacher
Appreciation program
In celebration of World Teacher's Day, Sands Education Council, a partnership comprised of Las Vegas Sands, the Public Education Foundation, Teach For America – Las Vegas Valley and Nevada Succeeds, has named additional community partners to its existing initiative designed to give back to local teachers throughout Southern Nevada.
SEC supports ideas and programs for the recruitment, hiring and retention of the most talented teachers in Southern Nevada classrooms. A Teacher Appreciation Discount Program was established in May in cooperation with local businesses to acknowledge and thank our local educators. By visiting the Public Education Foundation website at thepef.org/teacher-offers, teachers throughout Southern Nevada can take part in a localized discount program tailored specifically for them and can learn about special discounts and offers from various local businesses.
Committed businesses include Lagasse's Stadium, Hong Kong Café, Bazaar Meat, Katsuya, Cleo, Unami Burger, 800 Degrees, Northside Café, The Perq, 24 Seven Café at The Palms, Bistro Buffet at The Palms, Hard Rock Hotel, The Venue Apartments, Veritas Apartments, Scandals Salon and Day Spa, Michael's Stores, Cowabunga Bay, Grand Canal Shoppes at The Venetian | The Palazzo and Fashion Show.
Caesars Foundation makes flood
relief donation
Caesars Foundation announced a $25,000 donation to the American Red Cross disaster relief response in Louisiana. The gift will provide aid, shelter, food, comfort kits, emotional support and health services to some of the 75,000 Louisianans affected by recent massive flooding brought on by record rainfall.
The Foundation's central goal is to nurture organizations and programs in the communities where Caesars group operates. Part of Caesars group, Harrah's New Orleans and Harrah's Gulf Coast quickly mobilized volunteers to support flood disaster relief efforts on the Gulf Coast. Those interested in donating to the American Red Cross can visit redcross.org/donate.
For more information, visit caesarsfoundation.com.
Businesses join foundation to raise awareness of childhood cancer
Local municipalities, businesses, patients and others joined the Candlelighters Childhood Cancer Foundation of Nevada to raise awareness about the needs, opportunities and challenges that face children with cancer, as well as their families, through the new shineGOLD community initiative, developed by Candlelighters as part of September's designation as National Childhood Cancer Awareness Month.
NAIOP Southern Nevada donates
supplies to elementary school
Group members of commercial real estate development association NAIOP Southern Nevada raised thousands of dollars in school supplies and $1,000 in cash to benefit Howard Hollingsworth Elementary School on E. Ogden Ave. The supplies were delivered to the school in September, and this year's donations far exceeded all previous years.
Smith's exceeds expectations with statewide campaign
Smith's Food &Drug stores raised $475,000 during a statewide hospital fundraising campaign called "Bringing Hope and Healing to Kids," in which customers could participate by adding a small donation at registers, joining in-store activities, or dropping coins into boxes at checkout stands.
A company golf tournament with suppliers and associate contributions added significantly to the proceeds. This year, $400,000 was raised for children at Dignity Health-St. Rose Dominican in Southern Nevada, and $75,000 for Renown Children's Hospital in Reno.
Since 2002, Smith's associates, suppliers and customers have contributed more than $12.5 million for children throughout Smith's seven western states of operation.
Construction company donates $25,000 to cancer foundation
McCarthy Building Cos. donated $25,000 to the Nevada Childhood Cancer Foundation, a nonprofit organization providing more than 45 programs and services at no cost to critically ill children and adults touched by cancer in Southern Nevada. Proceeds were raised through McCarthy's annual Charity Golf Classic, supported by the construction industry and trade partners. Members of McCarthy presented the check at the foundation's annual summer experience, Camp Cartwheel.
WellCare gives microgrants
WellCare Health Plans Inc. donated $5,000 in microgrants to five community-based organizations in Nevada, including two in Las Vegas. A $1,000 microgrant went to local nonprofit Caridad, which provides street outreach to Las Vegas homeless. Caridad works directly with the local homeless population, area businesses and security teams to assist the homeless with their most pressing needs. WellCare also gave a $1,000 microgrant to the Nevada Partnership for Homeless Youth to help homeless teens meet immediate needs while providing a path to self-sufficiency.