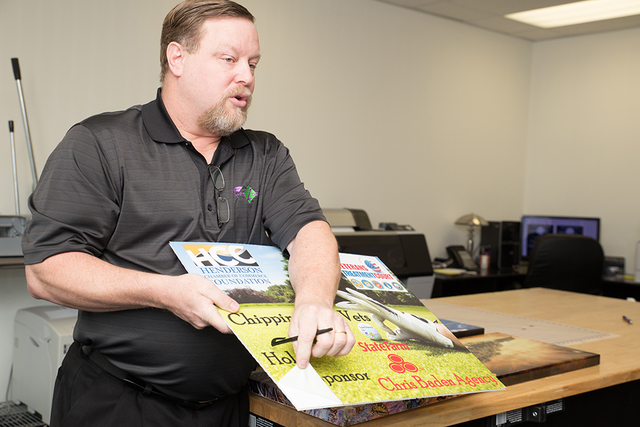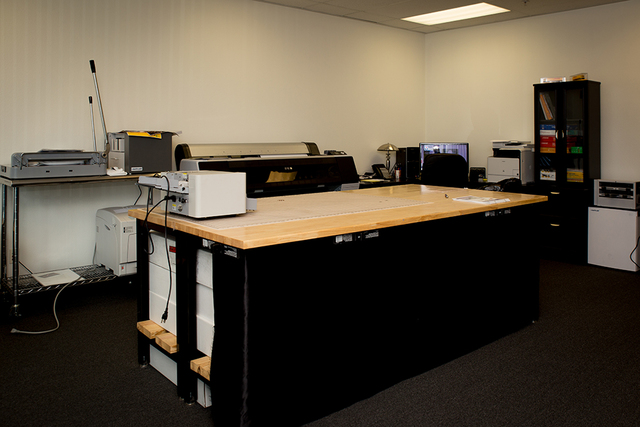 The digital world has transformed how people communicate, do business and share their world with friends and colleagues. A national company, which relocated to Henderson in 2015, is blending the advancements of technology with old-school print.
FotoZoomer, through its corporate and franchised locations, supplies kiosks where the public can bring their files or items to scan and turn them into anything from small, portable photos to massive 44-inch-by-10-foot- posters, signs or banners, all while waiting onsite.
FotoZoomer moved from South Carolina to a 4,000-square-foot space on Eastgate Road, near U.S. Highway 95 and Lake Mead Parkway. At the start of 2017, the company expanded.
"We almost tripled the size of the offices we were in, and we're about the same size warehouse when it comes to total number of square feet," said Eric Steadham, FotoZoomer president.
The move has made it easier on FotoZoomer's West Coast clients, especially in the reduction of shipping times.
The company has been in operation for about 12 years and has operations in all but two states — South Dakota and Alaska — although Steadham said he's working on the latter.
Expansion is expected in the next 12 to 24 months: Steadham said he's looking to add about 15 to 30 employees in that time and additional offices and space as needed.
Currently, there are two franchisees in the Las Vegas area, both in the pack-mail industry. One of them is PostMaxx in Henderson.
Franchisees work with FotoZoomer on buying supplies they need for printing, though Steadham said the company doesn't compete with its local franchisee stores. The corporate store lowers its production as the market fills up with franchises, he said.
Brad Wise, co-owner of PostMaxx, said he took on the machine as a business decision, but more importantly, to satisfy a goal of getting more involved in the community.
"It's not just adding to the business, it will help us fundraise for nonprofit organizations, to get more integrated into the community," Wise said. "That's been our goal. We opened up about a year ago."
Wise estimated the cost of his new FotoZoomer kiosk at around $19,000, and he said it was going to be delivered around the end of January.
Steadham said the company trains franchisees, which do the actual printing, to use the equipment and how to raise money for nonprofits, schools and youth organizations. Franchisees give 10 percent back to these types of groups through FotoZoomer's No Brainer Fundraiser program.
The FotoZoomer equipment has its advantages for organizations such as schools.
"We have a software version of that just for schools," Steadham said. "The school can produce all of its own photo packages and then produce things that they need for classrooms onsite versus buying them offsite. They can control their cost structure."
FotoZoomer can be found inside many pack mail operations, though Steadham is trying to shift that to hotel-casinos on the Strip, where he sees potential in the wedding business in the resort corridor.
For weddings, FotoZoomer offers some specialty items.
"We can print on a metallic paper, and we can stretch it like a canvas as well," he said.
In the wedding market, FotoZoomer and its franchisees sometimes have to deal with professional photographers. Photographers can gain more control over their work by using FotoZoomer's systems, Steadham said.
"They can give our stores the disc, and they give our customers the information," Steadham said. "The image is then controlled at the store level."
Also, on Steadham's mind is the arrival of the Golden Knights, Las Vegas' new NHL team set to start playing in the 2017-18 season.
Steadham said he's in conversations with the team to offer FotoZoomer services during the game, adding something interesting to the mix for fans.
"You can actually get photos of that game while you're at that game," Steadham said. "It gives you more of a personal interaction with the game. … you can buy (an image) from the game that you were at."
The next big market for FotoZoomer will be document printing.
"The next iteration, because we do passport printing, large format and small format, the next iteration is going to be document printing," Steadham said. "Our customer can walk in with let's say an Excel spreadsheet that they want to put into a poster. They'll be able to choose document printing."