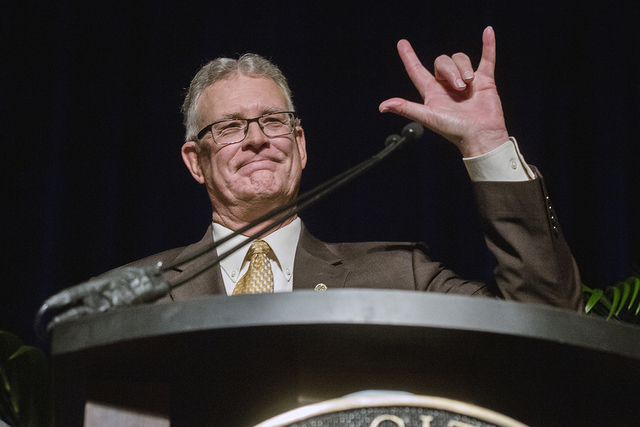 Henderson Mayor Andy Hafen gave his farewell State of the City address touting the role of West Henderson in future economic development.
Hafen is stepping down this spring after serving 30 years on the City Council. In speaking to about 900 business and community leaders Jan. 19 at Green Valley Ranch Resort, Hafen said Henderson is situated to maintain a major role in Nevada's future economy with Interstate 15 and the Interstate 11 Phoenix-to-Las-Vegas corridor going through the city.
"West Henderson will be one of our most important areas for economic development and growth for the future," Hafen said. "And with several new, major projects ready to go or underway, we're prepared to move forward with our vision."
Henderson has more than 1 million square feet of industrial property throughout the city ready to come online and another 144,000 square feet coming online later in the year, he said.
Henderson continues to attract companies and diversify its economy. Hafen cited snack food distributor Core-Mark International for relocating its plant to Henderson last summer and bringing 250 jobs.
Turano Bakery is relocating its operations to serve international clients, such as McDonald's, Olive Garden and others, by expanding its West Coast operations, he said.
TH Foods, BarclayCard, Barrick Gold and Ethel M Chocolates expanded their operations in Henderson. Pro Caps is working on a 156,000-square-foot expansion, he said.
Hafen touted successes such as K-2, which works with new lithium ion battery solutions, and Vada Tech, where staffers design integrated computer solutions for aeronautical applications and the defense industry.
"These are companies that will not only bring new jobs and new growth to the city, but they're companies that will help establish a foundation for our future," Hafen said.
A vision for attracting companies and creating new development, especially in West Henderson, is being guided through the city's comprehensive plan, he said.
"We've done great work internally and with industry leaders identifying the need for infrastructure in West Henderson and how to most equitably and efficiently pay for those improvements," Hafen said. "We've been aggressively working to make sure we're prepared and moving forward with a vision in West Henderson. We're beginning to see some great signs of success."
Hafen said the city has worked to put in place programs and policies to lay a foundation for positioning Henderson for economic growth and success.
There's the new Henderson Unmanned Aerial Vehicle Range at Nevada State College in partnership with the Governor's Office of Economic Development.
"This is an area that has huge potential for the future, and we're proud to be at the forefront to attract such a new and exciting industry to our city and our state," Hafen said. "We're hopeful that our legislators will continue to help in that effort, exploring ways to fund the buildings and the programs that will allow them to be successful."
Hafen said the city has been successful with the redevelopment of Water Street in East Henderson, which will be fueled further by residential developments nearby such as Cadence.
Water Street is home to the Transmosis Center, which has roots in Silicon Valley and is a nationally recognized workforce accelerator program that trains residents for high-quality high-tech jobs. Its first class graduated in December.
East Henderson is benefiting from the opening of Henderson Hospital two months ago, and Hafen said it will be adding new services such as neonatal intensive care later this year. That's only the first facility to open at the $1.2 billion, 170-acre Union Village project.
Construction will begin on the Las Vegas Athletic Club in Union Village later this year. There also will be a 125-bed skilled nursing facility, an acute care hospital, assisted living, independent living and memory care facilities.
"With plans for upscale family and senior housing, retail and entertainment, Union Village is poised to be the first medical tourism and wellness destination in the state," Hafen said.
Adjacent to Union Village, Dignity Health is constructing a $9.9 million, 29,000-square-foot medical pavilion that will provide primary, urgent and diagnostic health care, he said.
Hafen said the city had a population of 50,000 when he went on the City Council in 1987. The city's build-out at the time was no more than 150,000, he said.
Between Cadence in East Henderson and Inspirada in West Henderson, that will add nearly 22,000 homes. Inspirada was among the top 10 master-planned communities in the nation in terms of sales in 2016. That future growth necessitated the city building Fire Station 91 in West Henderson, the first built in the last 15 years.
Hafen said Henderson has come a long way since he was a child growing up in the city. Most people couldn't wait to leave Henderson, and they definitely didn't want to move to the city, he said. Other than a job at the plant (Basic Magnesium Inc.), there was little that would make anyone live there. If people wanted to have fun or eat dinner, they went to downtown Las Vegas or another Las Vegas destination.
Henderson has since been ranked by a variety of national publications and organizations as one of the best cities in America to live in, one of the best cities to retire, to start a business and recently named one of the top 10 Tech Savvy cities in America. It's also been listed as one of the best places for families and for singles and an AARP Age-Friendly Community.
"Far from the dusty days of my childhood, Henderson has become a place where everyone wants to be," Hafen said. "But today, our population is nearing 300,000, and our future is as bright as it has ever been."