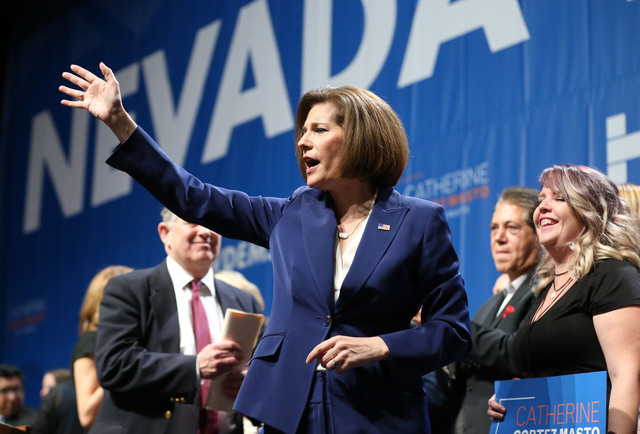 Nevada was born in the fray of national politics on Oct. 31, 1864 — rushed into statehood by unionists working to solidify the re-election of Abraham Lincoln in the presidential race only two weeks later. The "Battle Born" state came under the national political spotlight again Tuesday, both for its coveted six electoral votes in the presidential race and a senate contest considered strategically important by both parties.
Nevada ultimately bucked the national swing state trend by choosing Democrats in both races, but results from the 2016 vote are expected to have long-range economic ramifications for the state.
The Las Vegas Business Press spoke with local leaders from industry and the academic world about what the election will mean for the state of business in the region.
President of the United States —
Donald Trump
Republican President-elect Donald Trump completed one of the most shocking comebacks in American political history by taking 290 electoral votes in the defeat of Democratic challenger Hillary Clinton, who won Nevada with nearly 48 percent of the vote.
Trump's proposed economic plans focus on lowering income tax and renegotiating existing trade deals — especially the North American Free Trade Agreement and the Trans-Pacific Partnership.
The President-elect's plan is predicated on the belief that more beneficial trade agreements would create jobs and grow the economy by as much as 4 percent annually.
Clinton favored a middle-class-up approach, including an increase in the national minimum wage.
Immigration philosophy was one of a number of key differences between the candidates. Trump's campaign proposals have included a ban on Muslim immigration, including refugees from the Syrian civil war, the deportation of all undocumented residents — followed by the readmission of some — and an extensive border wall between the U.S. and Mexico.
Industry voices
TRADE
"Mr. Trump seems like he intends to protect U.S. production from foreign competition. And I think most economists would disagree with that approach, because it could lead to a trade war if he imposed tariffs on other countries. We saw that during the Great Depression. It did not work very well.
"The problem is, free trade is good for each country involved in it, but there are groups within each country that are hurt by free trade. Overall, the benefits outweigh the costs, but there are definitely groups that will be affected. I would say the Trump supporters are coming largely from those groups.
"Mr. Trump would say it isn't free trade, that China and other countries are dumping goods into our country. There are rules on dumping, and if you can document that, then imposing tariffs is part of the resolution." — Stephen Miller, Ph.D., Professor &Director, UNLV Center for Business and Economic Research
"If we give up international trade, it is true that we will be blocking Mexico and China's access to our markets, but we will be blocking our access to their markets. And we will be changing dramatically our role in the world economy as a country that sells technology to other countries and receives goods for that technology. Either we will see a very scary situation, or we will see people taking a more pragmatic approach. And Trump claims to be a pragmatist as opposed to an ideologue." — Stephen Brown, Ph.D, UNLV Lee Business School
HEALTHCARE
"I don't think Obamacare was good. Some parts were great. Pre-existing conditions were awesome with Obamacare. But we removed the competition in health insurance. I think we need things that have more competition than less competition. Let the free market work." — Mike Ballard, Ballard Consulting
DRUG POLICY
"The election of Donald Trump is concerning for the cannabis industry and his cabinet (appointments) will definitely be watched closely. However, the momentum gathered at the state level will continue to strengthen the argument for the repeal of prohibition at a federal level. The addition of new adult use and medical markets is important progress that cannot be understated." — Mike Bologna, CEO Green Lion Partners
BANKS AND THE FEDERAL RESERVE
"Mr. Trump and his campaign did express some antagonism toward the Fed and Fed policy. The Fed actually does not report to the executive branch, but reports directly to congress and the banking system. So he will not be able to do anything by executive order. He will be able to select new governors, but he won't be able to force anyone out. He may appoint people he is more comfortable with.
"Under the George W. Bush and the Obama administrations, the Fed was getting more and more technocrats — academics. I wouldn't be surprised to see — if President Trump pays attention to this — appointments of people with financial market experience or conservatives with views about how the Fed should operate." — Stephen Brown, Ph.D, UNLV Lee Business School
"There will almost certainly be efforts to roll back elements of Dodd Frank (bank reform). One of the areas that we focus on is bank-stress testing. There have already been efforts to modify the current stress testing regime for banks, in order to lighten the regulatory burden." — Matt Anderson, managing director at New York-based research firm Trepp
IMMIGRATION POLICY RELATING TO BUSINESS
"It remains to be seen what will occur. Obviously, safety in communities is first and foremost. I know as an elected official that you may say things, and assume that you understand things, but when you get into the position you learn a lot more. Perhaps when he becomes president he will learn more about how those policies do have implications for the country and individual communities. I expect he will be doing extensive research." — Debra March, Henderson Councilwoman
"You would be taking 3 to 4 million people out of the economy and their contribution to production would be lost. It could have a very profound impact, if this policy actually transpires. I don't know how much of this we should take as campaign rhetoric. If cross-border trade is disrupted, it would be expensive. There is significant trade between the U.S. and Mexico and one of the states that would be most affected voted for Trump — that would be Texas." — Stephen Brown, Ph.D, UNLV Lee Business School
BUSINESS ENVIRONMENT
"I believe the fact that he has been a businessman his entire life, he will continue to be pro business, so in that respect I think everything will be OK." — Peter Guzman, Las Vegas Latin Chamber of Commerce President
TAX POLICY
"It is a trickle-down policy, largely providing lower taxes for investment with the idea that it will stimulate economic activity. We will see an increased federal deficit and growing debt unless measures are taken to decrease spending. If you look at Trump's announced plans on the spending side, it does not look like there will be lots of major cuts. Although with Republican control of the House and the Senate, we may see bills introduced to reduce social spending. But the tax cuts will not pay for themselves. Trickle down tax cuts do stimulate the economy to some degree, but I don't think they help the working class person very much."— Stephen Brown, Ph.D, UNLV Lee Business School
"We have known for the last three decades that very slowly income has become unequal in the United States. It is true in a number of countries around the world . It has been estimated that most of the gains in terms of income have gone to the very top. So to lower taxes on the wealthy and hope there is a trickle down, it is not clear that it's the right approach." — Stephen Miller, Ph.D., Professor &Director, UNLV Center for Business and Economic Research
U.S. Congress — Catherine Cortez Masto (Senate) — Dina Titus, Jacky Rosen, Ruben Kihuen (House of Representatives)
Democrat Catherine Cortez Masto's defeat of former U.S. Representative Joe Heck and four independent candidates did not prevent the Republican party from narrowly retaining control of the U.S. Senate with 51 seats (two Senate races have not been decided by press time). Masto will replace Democratic Senate Minority Leader Harry Reid, who is retiring after 30 years in congress.
Republicans retained control of the House of Representatives with 239 seats, but Nevada's six-member contingent is now two-thirds Democratic. The party picked up two seats when Ruben Kihuen defeated Republican incumbent Cresent Hardy and Jacky Rosen topped Republican rival Danny Tarkanian to take Joe Heck's vacated seat. Democrat Dina Titus defeated two challengers to comfortably retain her seat.
Party control of the House and Senate will be a critical factor in the seating of a new supreme court judge to replace Justice Antonin Scalia, who died in February, but two other pending appointments likely to be impactful are standing vacancies on the Federal Reserve Board, which sets U.S. monetary policy. The Republican congress has blocked President Barack Obama's attempts to fill those vacancies by declining to hold hearings for nearly two years.
The terms of Fed chairperson Janet Yellen and Vice Chairman Stanley Fischer will expire in 2018, giving the president further opportunity to influence the institution's composition. Trump has been critical of the Fed's decision to hold interest rates low and pushed for an annual audit of Fed activities.
Experts disagree over the likelihood of an interest rate hike in December in response to Trump's election. The result produced some market volatility. Stock markets in China and Japan dropped significantly in the hours after it became apparent Trump would be the next president, and the Dow Futures market dropped by 900 points before rebounding to a 300 point dip by Wednesday morning.
The U.S. is Mexico's largest trading partner, consuming nearly all exported goods that account for nearly one-third of the nation's economy. The election of Trump — and a Republican congress potentially willing to greenlight policies including tariffs and the dissolution of North American Free Trade Agreement — caused an immediate 11 percent drop in the peso. The Mexican central bank is expected to take steps to stop a further devaluation, such as an interest rate increase or high volume currency purchase.
Industry Voices:
"More unity, less division will help all businesses and industries." — Marcus Prater, executive director of the Association of Gaming Equipment Manufacturers
"It doesn't look like there is much chance of cooperation or compromise. One area where you might get some compromise is infrastructure spending. I have heard both sides of the aisle talk about that as a possibility. The reason being, the interest rate on federal debt is extremely low at the moment, and we have infrastructure needs.
When you have an infrastructure investment, it is a one-off. Once it is done, the expenditure disappears. It is a capital expenditure and doesn't require the government to fund it continually." — Stephen Miller, Ph.D., Professor &Director, UNLV Center for Business and Economic Research
"On the one hand, the popular vote tells us that Trump doesn't have what would technically be called a mandate. But he has a Republican congress. He's not the usual republican, period. He's not the usual candidate, so we're moving into the unknown." — Michael Green, UNLV associate professor of history
"He was able to make certain things happen for the state. He was able to broker deals." — Business consultant Mike Ballard on Sen. Harry Reid, who is retiring after 30 years in congress.
State Legislature — 54 seats
Democrats won eight of 11 state senate seats and 27 of 43 state Legislature seats, gaining them control of both houses.
"Online gaming is the current hot button of the casino industry across the board. A Democratic-controlled state Legislature may move the online issue ahead even more. Perhaps negotiating with other states to create larger online markets – think California, Nevada, New Jersey, Delaware and more." — Leslie Bocskor, Electrum Partners
"I think the election sets an interesting political landscape nationally and for our state. I think as we look toward the legislative session, with both houses moving to the Democrats, it will be a climate of compromise the governor will have to embark on to get things done." — Scott Muelrath, Henderson Chamber of Commerce President/CEO
"The fact that the governor is still Brian Sandoval, and it takes a two-thirds vote to raise taxes, means probably not much significant legislative change. What Sandoval has is the power of the veto pen.
"What Democrats gain — and too many people do not realize this aspect of governance — is committee power. Granting that the legislature meets only for four months every two years, it will have investigative power, just as Republicans did. They can introduce bills, hold hearings and get their point across — even if the governor doesn't want to sign the bill. That could be of some importance."
"Another fact is there is supposedly a hole in the budget, so a Republican Legislature, with a Republican governor, might have been more inclined to just cut, or to cut differently, than a Democratic legislature would." — Michael Green
"A Democratic-controlled Legislature is more likely to move issues around alternative energy, expanding and refining the state's cannabis regulations while using these and more to generate revenue for things like the Nevada public educational system – which sorely needs financing as we rank among the worst in the nation." — Leslie Bocskor, Electrum Partners
Clark County Commission — Larry Brown, Steve Sisolak, Lawrence Weekly
The makeup of the seven-member Clark County Commission will remain intact after all three races resulted in incumbent victories. Lawrence Weekly, Larry Brown and Steve Sisolak, all Democrats, retained their seats by comfortable margins.