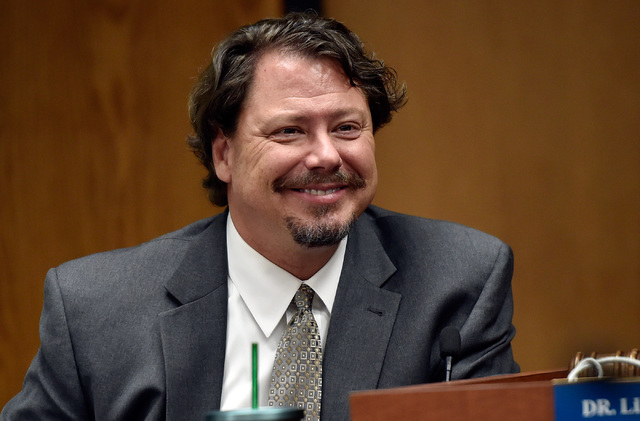 While the debate and legal challenges continue over the reorganization of the Clark County School District, many business and civic leaders are focused on one thing: Is this going to create a better workforce as part of an effort to diversify the economy?
The reorganization of the district that would give more power to individual schools took center stage Jan. 30 during a program sponsored by the Leadership Foundation of Greater Las Vegas in affiliation with the Las Vegas Metro Chamber of Commerce.
The reorganization is in the process of being implemented for the 2017-2018 school year. The Clark County School District board has filed a legal challenge over the implementation of the state law, AB 394, arguing it creates an unfunded mandate.
Justin Harrison, director of government affairs for the Las Vegas Metro Chamber of Commerce acknowledged the business community was neutral over the legislation in the 2015 legislative session. It's rallying around the implementation process now, he said.
"This is the state law and something that's moving forward," Harrison said. "At the end of the day, businesses are certainly working to improve the education product. Many folks find their workforce from the CCSD, and we want to see success."
Harrison said it was difficult for businesses to go through the economic challenges in the last decade. While many large firms and high-tech companies have relocated to the valley, some have used a Nevada's bottom-tier ranking of its educational system as a reason not to come.
By 2025, 60 percent of the jobs in Nevada will require some type of post-secondary education whether it's a four-year degree or graduation from a community college, Harrison said. Nevada stands at 30 percent, and it's important to increase graduation rates and focus on student achievement, he said.
"There are thousands of positions, whether it's Faraday Future (electric car manufacturer) or Hyperloop One (high-speed transportation), and a lot of skilled positions we hope are filled by Nevadans," Harrison said. "We don't want to see our economy grow by bringing in folks from Southern California and the Phoenix area. We want to see students that are homegrown in the valley and see them stay here and thrive right here at home."
CCSD Superintendent Pat Skorkowsky said the business community "stepped up" during the 2015 Nevada legislative session to get more school funding, and that it's vital to have not only a skilled workforce but a diverse workforce.
A lot of focus has been placed on the pre-kindergarten to third-grade level and the elementary school-level that will pay dividends "later on down the line," Skorkowsky said. The graduation rate stands at 72.88 percent, which he said is 14 percentage points higher than it was four years ago. The district has been "doing more with less," and he cited the need for additional state funds to implement the reorganization.
Skorkowsky said there's concern there would be "winners and losers" with as much as $2 million going to some schools and some losing up to $1.5 million.
"We're talking the operating budget of a school, and that's a significant impact because they may not be able to afford all the teachers and programs they need to educate their kids," Skorkowsky said.
It would hurt those schools with the largest general education population versus those weighted for special education, second language and poverty. The suburban ring would be impacted the most, he said.
"We're pushing at the legislative session the weighted funding formula and additional dollars to fund it so we ensure we're not harming kids but enhancing education," Skorkowsky said.
Dr. Magdalena Martinez, an assistant professor in the department of Public Policy and Leadership, College of Urban Affairs and director of education programs with The Lincy Institute at UNLV, said CCSD is $1.6 billion short of meeting the basic needs of students, not counting any weighted formula. She said Southern Nevada is hurt by the way property taxes are redistributed.
"We're not funding our kids at a basic level of adequacy at this point," Martinez said.
Skorkowsky said he's required to implement the reorganization but if the district can't get additional funds, he will have to seek waivers or start moving funds to give to other students.
Huck asked Harrison that if students who are left behind with the reorganization means the plan would be for naught in building a better-educated workforce.
Harrison said it would, but as far as tax increases, he said the business community has supported them for education in the past, but there must be measured improvements.
"I want to see success for all students and not just students coming from the suburban ring," Harrison said. "We need a skilled workforce. If they are left behind, it doesn't help anyone."