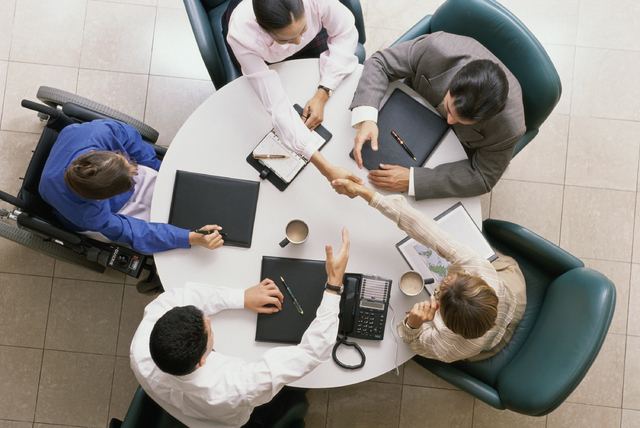 Nevada employers will keep up their hiring in the first quarter of 2017, but the rate will slow down compared with a year ago and the last three months of 2016, according to a survey from ManpowerGroup.
Some 18 percent of company CEOs and human relations staffs who participated in the survey said they plan to increase staff levels in early 2017, while 7 percent plan to decrease jobs within their firms.
A year ago, 22 percent of executives planned hiring increases and 5 percent said there would be decreases. That 22 percent was the same percentage in the fourth quarter of 2016, according to the survey. Another 8 percent said there would be decreases in the last three months of 2016.
While the report shows a slight decrease of hiring expectations, it's still a "healthy increase overall," said Jeff Parker, vice president of operations for Manpower. It shows the Nevada job market has recovered, and the focus is on steady and reliable job growth.
"You always see in the winter months a reduction in hiring by hospitality, and resorts in particular, and that is where the decrease comes from (compared with the fourth quarter of 2016)," Parker said. "We expect 2017 to be a year of consistent growth, not necessarily great growth, but we had the ability to get back to where we were pre-recession. We will start building on that."
In December, the state's Department of Employment, Training and Rehabilitation reported that the jobless rate in November fell to its lowest level since December 2007 at 5.2 percent after reaching nearly 14 percent in 2010. That marked 69 consecutive months the jobless rate has dropped even though it trails the U.S. rate of 4.6 percent.
"From a job perspective, we have replaced all jobs that have been lost in terms of numbers," Parker said. "In terms of kinds of jobs, not necessarily. Some of those have shifted into the professional services health care sector and educational sector. The positive news is construction is growing and that was the hardest hit since the recession."
The state added nearly 35,000 jobs in November compared with November 2015 and set an all-time record of 1.3 million, according to state figures. Officials also said construction jobs increased by 7,000 or 10 percent year-over-year.
The Manpower survey said that for the first quarter construction jobs appear one of the best prospects.
"Those have been coming back strongly over the past 12 to 18 months, and it's very good news for Las Vegas," Parker said. "Project Neon will bring many of the jobs back, and we're starting to see more residential and commercial building once again."
Project Neon is the $1.5 billion, 3.7-mile Spaghetti Bowl interchange rehabilitation that will aid the transition between Interstate 15 and U.S. Highway 95 and improve access to downtown and the resort corridor.
The increase in construction jobs is reflected in the latest report from Stephen Miller, a UNLV economics professor who said the region's construction employment peaked at 105,000 before the recession and declined to a low of 35,000. It has now recovered to nearly 60,000 jobs, he said.
Miller said the region's overall employment will grow 2.7 percent in 2017 and 2.5 percent in 2019, down from 3.2 percent in 2016. It grew by 4.7 percent in 2014.
In addition to construction job gains in the first quarter, the Manpower survey said durable goods manufacturing, retail trade, information, professional and business services, education and health care will see increases as well.
"A lot of our manufacturing companies that are here, that base is growing. We have done a good job of bringing those jobs to Nevada, especially from California," Parker said.
Durable manufacturing is a reference to products with long-term use such as slot machines, Parker said. He said he was surprised, however, to see retail job gains in early 2017.
"You usually see a dip after the holiday season but this shows the consumer economy is doing very well," Parker said. "We expect a lot of seasonal jobs from the holiday season to remain after the holidays."
The health care industry has been growing steadily even through the recession and job gains in that sector aren't a surprise. The state's willingness to put additional funds in schools and private school growth is pushing the job gains in the education sector, he said.
The hospitality industry will see an increase in temporary jobs in January with the Consumer Electronics Show, but most of the seasonal hiring will begin in March and April when resorts hire staff for their swimming pools, Parker said.
The report is "somewhat conservative" even though it shows a positive trend for Las Vegas, Parker said. That's because of the changes in the political landscape with the election of Donald Trump as president.
"There are always things that may occur throughout the year with the global economy but generally it is rather upbeat," Parker said.
In his analysis about Las Vegas job prospects, John Restrepo, principal of RCG Economics, said he expects 25,000 to 30,000 jobs to be added in Las Vegas in 2017. The number of jobs created in 2014 was 32,300; there were 35,600 created in 2015 and 2016 will come in at fewer than 25,000 jobs, he said.
Wages, on the other hand, grew by 0.3 percent in 2014, 3.2 percent in 2015 and 1.4 percent in 2016, on a 12-month moving average, Restrepo said. He said he expects wages to increase about 1.5 to 2 percent, and most of the wage growth will come in skilled labor.
Restrepo said the biggest unknown for the job market in 2017 is what happens with Trump Administration taking over in Washington, D.C.
"If they go on a big spending spree with a stimulus through infrastructure programs and if they do tax cuts and there's not a commensurate level of spending cuts, the Fed could get nervous and raise interest rates and cool off the economy," Restrepo said. "The Fed is paranoid and conservative about inflation getting out of hand."
The stock market gains are a reflection that investors are expecting a cut in corporate taxes that will boost profits, Restrepo said. He said he's cautious because Trump is difficult to predict.
"He says something one day and flips it the next day," Restrepo said.