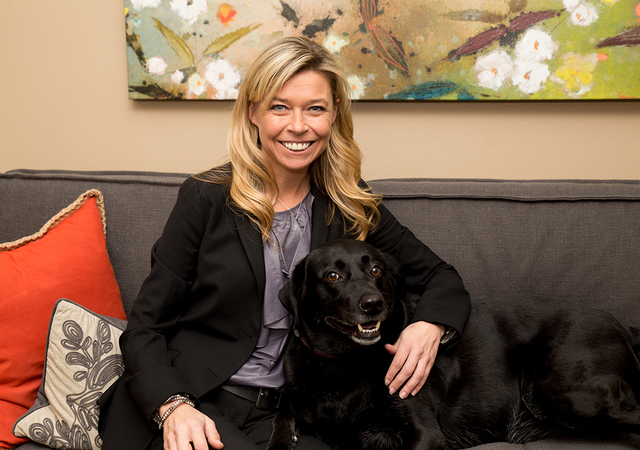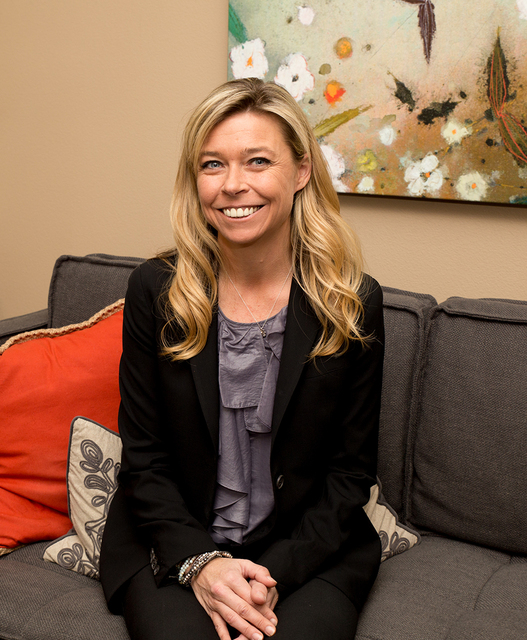 From the classroom to the courtroom, Corinne Price has put her passion for children and their well-being first.
It's no wonder the former third-grade teacher turned family law attorney was named Pro Bono Attorney of the Year by the Legal Aid Center of Southern Nevada.
Not only does Price handle pro bono cases, but for the last two years she's served as an ambassador for the ONE Promise Nevada campaign for recruiting attorneys to take pro bono cases and make a difference in people's lives.
Michael Carman, Price's life partner and law partner in the Henderson firm, Fine Carman Price Family Law Attorneys, said while she doesn't like the public recognition she's well-deserving.
"She has a unique ability to rally people around causes," Carman said. "She finds a way to motivate people to take cases they otherwise wouldn't normally take. You have a lot of attorneys who don't necessarily see pro bono as something they should have to do for a living. She will either guilt them into doing the work or she'll find funny and clever ways to reward them and convince them that it's worth the time and trouble of taking on those cases."
Carman said Price participated in a program last year in which any attorney who took a pro bono case got their name on a wall at Family Court. It was enough to convince attorneys to take the cases helping hundreds of families, he said.
The fun-loving Price gave out silly gifts such as capes and crowns to reward pro bono attorneys at a party in December.
"I don't think people understand the tremendous amount of time and effort she puts into all of these things," Carman said. "They see the one side of it when they get a letter from her and dollar store gifts. She spends such an incredible amount of time and effort coordinating those programs and getting people to do the work. I remember coming down the stairs at two in the morning, and she's handwriting thank-you notes to people. Her view of the world is that if she's going to ask other people to do work, she's going to take every effort she can to make sure it's appropriately recognized."
Price's journey to serving as a family law attorney in Las Vegas hasn't been a straight line.
A Canadian by birth and naturalized as a U.S. citizen in 2004, the 38-year-old Price relocated from Toronto to the Chicago suburbs during her senior year of high school when her dad, Gregory Stashuk, a consultant for a heavy machine equipment company, was transferred.
She did her undergraduate study at the University of Iowa with a double bachelor's degree in English/writing and education. She was recruited to Las Vegas by the Clark County School District and taught third grade at Kit Carson Elementary School and later at John F. Mendoza Elementary School, named after a former judge.
Price always liked law and the aspect of legal arguments and legal writing. Her mother, Valerie, was a huge fan of Court TV, and she recalls both of them watching the entire O.J. Simpson trial.
But it was during a tenure as a teacher that prompted her interest in a legal career, especially in family law. She came across situations in her classroom of students who she thought were being abused and neglected at home, exposing her to the Child Protective Service System.
Price said she wanted to explore the legal side of working with children and families and found two family law attorneys, Frances Ann Fine and Maria Avilez, who let her shadow them during her school breaks.
"They were amazing, and I loved the work they were doing," Price said. "I decided I was going to save the world and go to law school."
In 2003, Price enrolled at the University of Florida, Levin College of Law and became a Children's Law Fellow through the Center on Children &Families. When she graduated in 2006, Price returned to Las Vegas to work with Fine, who encouraged her to work pro bono cases.
Price handles child custody as part of divorce proceedings. She works with child support issues and guardianships of minors. She said working on behalf of foster children through the Children's Attorney Project are some of the most rewarding cases. Those cases can involve keeping siblings together to ensuring a pet turtle gets moved along to a new home, she said.
Price even gets help from her rescued Labrador named Dolly who gives comfort to children she meets with her in the office.
"As soon as they come in, Dolly is right there," Price said. "They're nervous when they come into the law firm and sit on the floor with the dog and all of a sudden they open up and talking and relaxing. She has been wonderful."
Price said she's grateful and honored, but said she's not deserving of the award and instead praises the lawyers who handle the pro bono cases. She said the efforts are aided by the Nevada Supreme Court, Nevada Court of Appeals, Clark County family court judges who give out prizes to attorneys for pro bono work. She also credited the State Bar of Nevada Access to Justice Commission and the Family Law Executive Council, which sponsors the annual party.
"The award was not really about what I'm personally doing on my pro bono cases," Price said. "I think I received the award because I'm great at throwing parties to recognize and celebrate how much our family law attorneys are already doing here in Nevada. They're the ones who truly deserve the recognition because they're the ones in the courtrooms every day ensuring that every child and family in Nevada has full and fair access to our justice system."
Price said it's rewarding to work with children, and these pro bono attorneys ensure children have a voice in the courtroom when it comes to their future. That's the most powerful tool in a system that's trying to do the best for the children, she said.
"Everyone has a right to full and fair access to our justice system and without having an attorney involved to help them through the process, it wouldn't work as a whole and especially work for these individual families. Whether it's child protective services or a foster care situation, I hope it gives them confidence in the justice system as a whole. It can work for them, and they can trust in the system, not only in family courts but the entire justice system."
As for her family, Price has one son, Logan, 8. She also has two stepchildren, Alexis, 13, and Nathaniel, 9.
Price said she still misses teaching and the fun aspects of the job like signing songs with third-graders. She said, however, there's a lot of similarities between the two professions because both involve working with children, listening to their needs and trying to meet them.
As a teacher she said she was always looking at resources to help students and families, and that continues as an attorney, Price said. It's ensuring they have access to government benefits and programs and even therapy that can make their lives better. She said she has no regrets on her career choice.
"This is where I was meant to be."