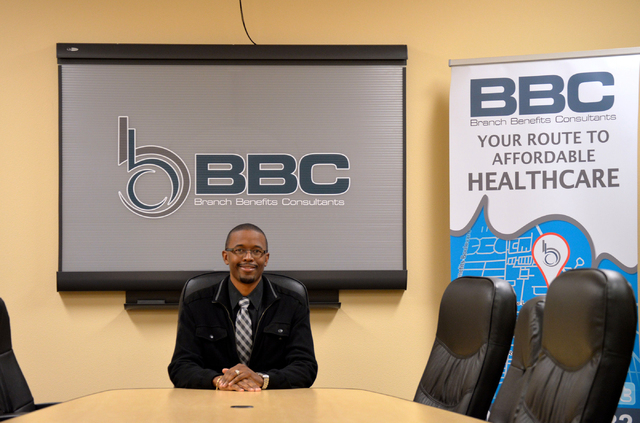 Quincy Branch has moved quickly to build on the bachelor's degree in business management he received from the University of Nevada, Las Vegas in 2000.
He's founder and CEO of Branch Benefits Consultants and is chairman for the National Young Agents committee for the Independent Insurance Agents and Brokers of America. He was recognized by the Insurance Business magazine in 2014 as one of the industry's "Young Guns"; this year, Insurance Business America magazine named him one of its "Hot 100."
"These awards are very humbling and I'm blessed," he said. "These are awards I take very seriously because they're recommendations by your peers."
Branch started his company in 2011. It has been active in the community, providing seminars and donating to local charities.
Q. Are there any new trends in the benefits business, such as legal insurance, pet insurance, or new forms of retirement/savings or even odd or new things like marriage insurance?
A. I've got to point out the obvious: legislation and health care reform are the biggest things. When you talk about trends, regardless of your political affiliations, insurance has become a hot topic. Everybody's talking about insurance.
I think because the platform has been set, and the conversation is being had, you are seeing people become more insurance-savvy. … People are asking more questions about insurance … (and they're talking about) volunteer products, (like) pet insurance, which most people don't realize is very popular to offer with group insurance; a lot of people love their pets.
Q. Are high deductible plans the wave of the future?
A. I believe so. As we become more informed consumers and better consumers of health care, I think it's only logical that the progression leads that way. A lot of my contemporaries on the East Coast have moved that way. Las Vegas has not 100 percent adapted that model, but I think it's slowly but surely coming.
Q. What are employees asking for?
A. They really want a plan that covers the majority of the basic needs. Employees just want a plan that will give them peace of mind, so they can take their kids to the doctor, they can have surgeries if something comes up.
Then, more importantly, they want to be able to know and understand what that plan is. … (People) sign up for a health insurance plan. but when it's time to use it, they have no idea what it is. So, I think just that constant communication of knowing what (is in) that plan is important.
Q. What is the major difference you've seen in the benefits business since the inception of the Affordable Care Act?
A. I think probably the biggest thing has been an uptick in the individual market. You've got a lot of individuals out there because of the mandate who are now looking for insurance. Before, people just relied on, "OK, my employer offered it, I always get it through my employer," and the people that where single or self-employed or whatever just kind of fended for themselves, so to speak.
I think now, because of that mandate, a lot of singles are seeking coverage. And again, it's all for the greater good of the community.
Q. Will the ACA bring about plans with affordable plans and coverage or it that just a fantasy? When this rolled out, a lot of people had sticker shock?
A. I truly do believe that a lot of the community does not really understand what health care costs. Even when you're working for employers, and we have a lot of large employers here with the casinos and everything, so they're picking up a big portion of that cost.
When you're an individual and you go to get health insurance and realize I'm paying $600 a month for me and my spouse and kids when my employer was picking up 80 to 90 percent of that and I was only paying $50 per paycheck; that's where I started to see a lot of the sticker shock.
I think, hopefully, the ACA will eventually get to the point where we get to the root of the problem, which I think really is controlling health care costs, not just making health care accessible to everyone.