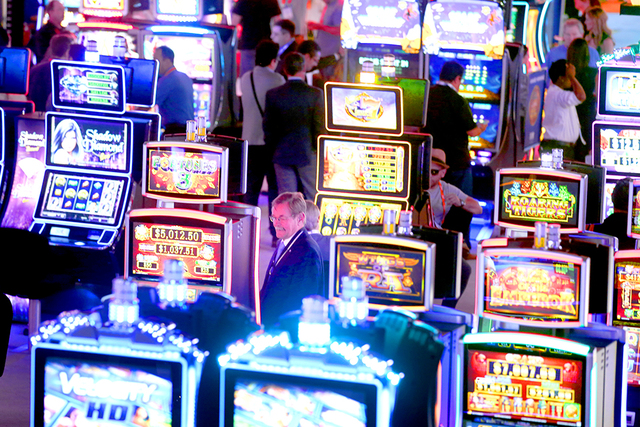 New York-based GameCo Inc., designer of a skill-based slot machine, is expanding its presence in Las Vegas with the opening of a second office and new additions to its management team in the local office, the company announced in mid-October.
GameCo has hired Patricia Morelli as vice president of regulator and product compliance and Joe Galante as vice president of operations and field services to run GameCo's offices at 2630 S. Jones Blvd., suite 2. The location of its new offices hasn't been released.
"We're thrilled to be adding such wonderful talent and experience to the team at GameCo," said Blaine Graboves, CEO of GameCo. "Our vision is to create a VIP destination for gamers at casinos and this requires bringing together the best people from the worlds of casinos, video games and events. No other company is able to offer the combination of experience and resources, especially as e-sports continues to become critical to the casino industry."
GameCo is working with Caesars Entertainment to bring its skill-based slot design to three of its properties in Atlantic City. GameCo received approval from New Jersey gambling regulators in mid-October to install the machines.
Global Gaming Expo 2016 draws 27,000 professionals
Global Gaming Expo 2016 (G2E), an international gaming trade show and conference presented by the American Gaming Association (AGA), attracted nearly 27,000 gaming professionals, an increase of 7 percent in attendance over last year. The show looked at legalizing sports betting nationwide and ways to combat illegal gambling.
NBA Commissioner Emeritus David J. Stern discussed the benefits of legalizing sports betting and how it will ultimately protect the integrity of sports. Stern and AGA President and CEO Geoff Freeman discussed the future of sports betting and its impact on major professional sports. Stern touched on the relationship between the gaming industry and major sporting leagues and how they can learn from each other in the future.
Additionally, at G2E, Dr. David Forrest and Rick Parry, two leading experts within the U.K. sports betting world, released The Key to Sports Integrity in the United States: Legalized, Regulated Sports Betting, a report that details how the U.S. must adopt an approach similar to that in the United Kingdom to allow legal, regulated sports betting in an open and transparent market.
At the Mobile Sports Betting seminar, AGA's Senior Vice President of Public Affairs Sara Rayme projected that three to five years is a realistic timeline for nationwide legalization.
UNLV partners with aerospace company on space projects
The University of Nevada Las Vegas' engineering school is pegged to receive $5 million over the next several years to support efforts in bringing humanity to new heights in space exploration: Mars.
Under a five-year agreement with Bethesda, Maryland-based Lockheed Martin, a global security and aerospace company, students and faculty at Howard R. Hughes College of Engineering will assist in various space exploration projects, along with NASA's Orion spacecraft: a project with the goal of taking an astronaut to Mars.
"Lockheed Martin has always been a leader in space exploration, and we are excited about collaborating with them on projects for their civil space programs," said Rama Venkat, dean of the Howard R. Hughes College of Engineering. "This partnership will provide unique opportunities for our students to enhance their knowledge and research capabilities in exciting new areas and help accelerate the efforts of Lockheed Martin research activities and the nation's ambitious space program."
UNLV has partnered with other major aerospace companies to work on space-related projects: Las Vegas-based Arcata Associates Inc.; Teledyne Brown Engineering LLC; and NASA on the space agency's Mentor-Protégé Program — which gave UNLV students a chance to work on space program training development.