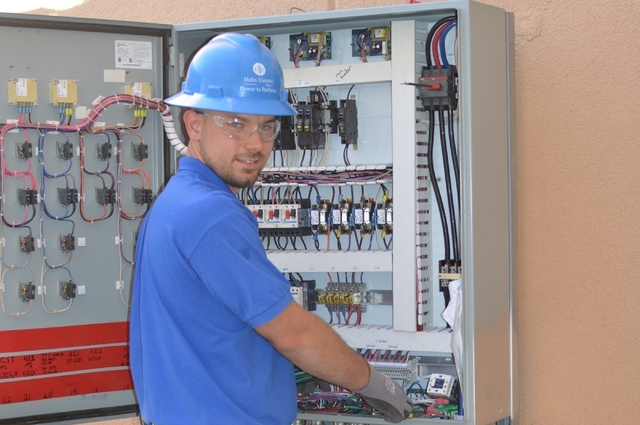 Clayton Moss of Helix Electric won a silver medal in the electrical portion of the 29th National Craft Championships, an industrial-commercial competition sponsored by Associated Builders and Contractors Inc. recently in Fort Lauderdale, Florida.
Moss, a 25-year-old husband and father of three, was born in Jacksonville, Florida, and grew up in the South. Moss met his wife and began his career in Searchlight.
While attending a mine safety health awareness class, Moss met Earl Ward, who is the director of service for Helix Electric. With the simple question "Is anyone sitting here," doors opened for Moss.
Moss was looking for work and Ward was happy to provide it. The position with Helix lead Moss to an apprenticeship through a program with Associated Builders and Contractors Inc.
Q. What led you to become interested in electrical work?
A. It's the door that the Lord opened; it's something that he did, it was something he brought my way. I took it that if he brought it to me, I needed to learn it. I found it to be a good way to provide for my family. It also allows me the ability to help other people. I go into places where people are in need of help. Their power's down for whatever reason and I'm able and capable of jumping in and assisting and fixing the problems.
Q. What did the electrical competition involve?
A. The competition this year involved motor controls. I was basically hooking up a conveyer belt system — on the control side, not the actual power for the conveyer belt but control side. And all the functions that would operate during the conveyer belts operation.
Q. What drew you to compete?
A. It's pushing our company; it's pushing ABC. It's a pretty big deal to compete in the Craft Championships. And it's just something that's fun, it's a challenge, and it shows where you're at on your level; as far as with other competitors.
Q. How did the weekend of the event/competition play out for you?
A. Tuesday night we got enrolled, basically got our T-shirts and whatever we were going to wear, collared shirts and such for the different days of the event. It's a three-day event. Wednesday, we had all the rules and regulations and some gift giveaways and such. Then testing, paperback testing on stuff that we've done over the past four years that's covered in our NCCER curriculum. Wednesday, we also did a conduit-bending test. Thursday, we go in and it's basically the same thing as far as opening up with breakfast; we go over some rules of our work area. Then we go into the Thursday of main competition — putting together the conveyer belt which is on two walls, operating all the controls and making this thing work. Friday is the award ceremony.
Q. What was the moment that you realized you could place?
A. With the experience that I have in the trade, I honestly only have three years. I was hired on in May of 2012. So three years, and at that time it would have been three years, 10 months. I knew that on my level, I'd been doing well. I didn't know how well. And I really didn't know what to expect. You're going against some of the best of their areas. It's kind of a hard call.
Q. Why is this good for your career?
A. It's a good living for your family. It is going to open up the doors that I need opened to be able to pursue the goals that I have set and things I believe God wants me to do. He's given me a vision; I'm going after that vision, and the electrical career is something he's given me or put in my path to be able to do that and pursue that.
Q. What is your calling?
A. I'm a preacher and so I believe God does want me to plant a church. I'm interested in rural church planting. And that's my goal, ultimately. I believe that God's given me this training to allow me to do that. And I believe that at some point it's going to come together where I'm going to be using the trade to support my family while I do what I believe God wants me to do.
Q. How does this competition benefit the company that you work for?
A. It puts Helix Electric's name out there. I've been trained mainly in service. From the service side, Helix Electric, we're divided into different parts of the company; but I spent most of my training in Helix electrical service department. So it really gets our name out there. Obviously, if I place second, it shows that we do some of the best work and it really shows that Helix Electric performs. We shoot for the top and that's our goal across the board. Both in safety and production, and in quality.