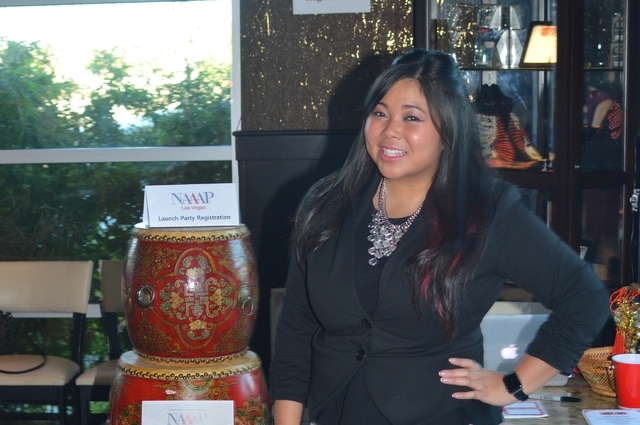 Earlier this year, event planner Elizabeth Nguyen turned her organizational skills toward founding the Nevada chapter of the National Association of Asian American Professionals.
The time was right, she said. The national organization was marking its 30th convention by joining other Asian-American groups in staging a joint venture in Las Vegas that includes a town hall for presidential candidates.
Nguyen was born, raised and educated in Texas, where she earned her undergraduate degree in communications with a minor in social sciences from the University of North Texas.
She then moved to Las Vegas, where she is an independent meeting and event planner and owner of ElizEvents (www.eliz.events). The focus of ElizEvents is event management and execution for conferences, corporate, associations, and specialty markets.
As a fledgling organization, the NAAAP chapter in Las Vegas has a rare opportunity to host a major event.
NAAAP, in partnership with the Asian American Journalists Association and APIA Vote, will host a presidential candidate town hall at the groups' shared national convention Aug. 11-13. Presidential candidates and other political figures will be present, and the event serves as an avenue for the Asian American and Pacific Islander community to place its issues before the campaigns and the media.
The convention will be the largest convergence of Asian and Pacific Islander American professionals in the nation.
With more than 30 chapters across North America, NAAAP is also starting chapters in Asia.
NAAAP "is a Pan-Asian, Pan-Profession, 501(c)(3) organization that is focused on professional development and leadership building," said Nguyen. All NAAAP operations are handled by volunteers.
Q. As the founder for the National Association of Asian American Professionals, what is your overall mission or goal for the organization?
A. Since we do have chapters across North America and the world, we really focus on the professional development and leadership building aspect; trying to make sure we have people who are in the workforce that are leaders within the community. My overall goal as the founder of the NAAAP Las Vegas Chapter is to build that sense of community … and really just connect a lot of professionals here in Las Vegas.
I've been doing my research and I have not found any other leadership and professional organizations here in Las Vegas that cater to Asian-Americans. There's a couple that cater for community activity-building or for business owners but nothing for people like me, nothing for just Asian-Americans in their profession just trying to build their leadership.
Q. What type of professionals typically join the National Association of Asian American Professionals?
A. The professionals that join really come from multidimensional backgrounds, and that's the one thing that's really great about our organization.
Q. What does Pan-Asian and pan-profession mean? Why is it important to make this distinction of inclusiveness?
A. "Pan" is a term that means people from all different backgrounds, so the word "Pan-Asian" are individuals from all across Asia countries, and "pan-profession" means all professions across various industries. It is important to make this distinction because there are many organizations that only focus on certain ethnicities from Asia or certain industries or fields.
Q. How often does the Las Vegas Chapter of NAAAP meet?
A: We plan on meeting once every month, whether it's just a networking event, or events that we call professional development. It ranges from whatever we feel like is our need or what our members want or are requesting — whether it be how to have your elevator pitch, how to get that raise, or resume building, or anything like that.
Q. What are some things people and the business community might not know about National Association of Asian American Professionals?
A. I think the one thing that we do thrive on for our organization is that we are Pan-Asian, pan-profession, so we're very inclusive. We have diverse multicultural background, all different types of Asian ethnicities, as well as just anyone who is interested in leadership building and professional development; you don't even have to be Asian.
I think that one thing that's very special to us is that we're pan-profession, so we're not just focusing on medical, or on law, or on accounting, or on finance, things like that. Every chapter is different, every chapter is run locally by the team that's there. So, the national team is there to support and provide influences.
Q. What makes ElizEvents unique?
A. ElizEvents is unique because we are a full event-planning services group that helps to strongly understand the needs of our clients to ensure that they have successful programs. We pay special attention to the small details, so our clients can focus on the important content and growth of their missions.
Q. Why did you choose to take on founding a nonprofit so early after establishing ElizEvents?
A. I always make time for my nonprofit organizations and manage a healthy work-life balance that allows me to enjoy my passions in life. I started up NAAAP Las Vegas because there is a need for an organization like this in the community of Greater Las Vegas and if I did not build it now, then when? In preparation of the 30th Annual NAAAP National Convention coming in August 2016 to Las Vegas, it makes sense for NAAAP to have strong presence in the host city as soon as possible.