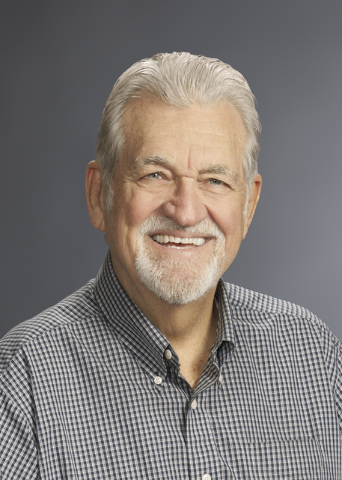 For much of his life, Ralph Joeckel has been a man just a bit ahead of his time.
He attended high school in Southgate, California, where he was a good basketball player, being named third team all-city as a center. He went on to UCLA in 1945 and played for legendary coach John Wooden in 1948-50. Those teams were good, winning the Pacific Coast Conference southern division title each year and advancing to the NCAA regional. But Wooden would earn his nickname the "Wizard of Westwood" with a series of national championships more than a decade later.
He graduated with a bachelor's in engineering from UCLA in 1950, just the second year the school offered that degree.
Joeckel started working in industrial engineering. He was involved in the design of a fresh milk and ice cream plant in Seattle. That's where Joeckel says he found his true vocation — designing systems with steam, refrigeration and hot water. It's a field now known as thermodynamics.
In 1963, Joeckel came to Las Vegas to work for local architects and in 1966 he founded JBA Consulting Engineers, offering mechanical, electrical and plumbing design services.
"The boom started in the early '70s," Joeckel said. "A lot of the contractors that did big air conditioning, plumbing and lighting, power jobs, found they could do things better using our design and our drawings. That's how the company got started."
JBA Consulting Engineers is celebrating its 50th anniversary this year and has grown into an international engineering and technology consulting firm.
Today, JBA's expertise includes acoustical services, artistic engineering, audiovisual, code consulting, electrical, fire protection, master planning, mechanical, plumbing, security design and telecommunications.
Q. Keeping up with changes over 50 years and through the recession, what are your keys to success?
A. First of all I want to say, my dad was a pastor, my grandfather was a pastor, my little brother is a pastor, in fact, my little brother Dave, his grandson in Luke Joeckel who was the number two NFL draft pick in 2013. So, I have a Lutheran background, basically Christian background, and I've always centered my life around that as my root and way of living and the way I wanted to eventually end up in heaven.
So we ran the business, always treating our employees well, meaning that when the company made a profit, they always shared in it; made every attempt to control the output of bonuses based on production. When you did the best work, you got the best bonus. You couldn't have stock in the company unless you were a licensed engineer. In 2016, when I was 78 years old, I had to retire from the company because I sold my stock. So, I maintain that same approach.
Q. What major changes in the industry are most notable to you, specifically, post recession?
A. In our business, the biggest difference is finding hard workers and finding graduate engineers that are hard working and very knowledgeable. All those things are not the same as they used to be. Keep in mind, our business, most of its success was based on the fact that Las Vegas had this tremendous growth that triggered a lot of construction. That put us in a position of being successful but in order to maintain that success, we had to do go work. We've always considered ourselves to be competitive and try to out do the other companies, do better work, therefore our success is based on that premise.
Q. How do you view the market today; having been in the industry for so many years?
A. Our business has not been slowed to much of any degree. Our business continued to be pretty healthy; they now have a couple hundred employees doing work all over the world. In other words, we went global starting in about 2006 under the leadership of Dwayne Miller and the people associated with that part of our operation.
Q. Was venturing into the global market in the mist of the recession a risk?
A. No, we never thought of it as a risk, because all of our customers were hand picked. They handpicked us; we handpicked them; so we knew what we were getting into every step of the way.
Q. Did you play basketball after college for any professional teams?
A. There was no professional basketball, except on the East Coast. I played AAU basketball, and I played a lot of basketball the first five or six years out of college.
Q. How does your experience as a basketball player help you in business?
A. It's the competitive idea, the idea of trying to be the best you can. Of course, I was fortunate enough to play under one of the greatest all-time college basketball coaches, John Wooden, who is my mentor and second father. My dad passed away in 1980. Wooden retired in about '75 and over the years my wife and I always maintained contact with Coach Wooden. And we would travel to California and have breakfast with him at least once or twice a year.
So, association with a person like Wooden, who was a sort of silently competitive man. I'd say that competitive spirit from playing basketball or playing a sport was certainly a factor in my life.
Q. What is one thing, interesting, that most typically wouldn't know about what you do?
A. Most people look at a building and see how it looks and how it looks at night, and how the sun hits it, some of the features of the building both exterior and interior design. But, most people aren't aware of every moving part in the building.
Everything that brings the building to life is the result of consulting mechanical electrical engineers. Mostly, there are big architectural firms back in New York and Chicago maybe that have their own engineers, but most architects retain consulting engineers. They retain a structural engineer to design the concrete and the steel of the building; all the foundation design, the stresses and strains a building must endure, are designed by a structural consultant. We're the consultant that brings life to the building.