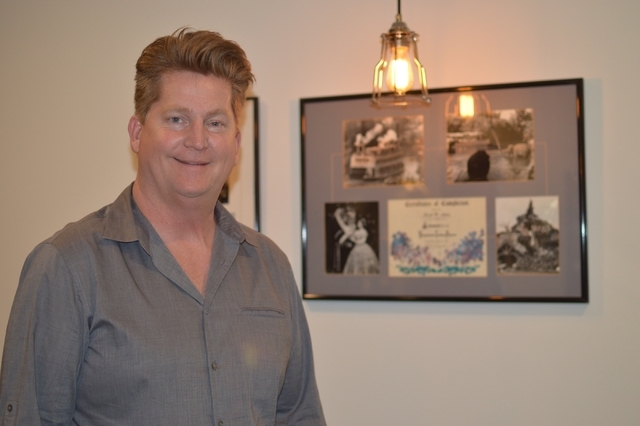 Scott Acton, owner of Forté, comes to the construction industry's creative side naturally.
He is the grandson of Huburt (Hub) Acton who started out as a union plasterer and is known for his work with the Walt Disney Co., particularly on "Pirates of the Caribbean" and "Matterhorn."
"I still have his log book from when he logged his hours as a union plasterer," Scott Acton said.
Scott Acton's father, Ken began Acton Animation after coming out of military service, where he was an air traffic controller. Acton Animation is known for its work on "Jaws," "Dracula's Castle," "Conan the Barbarian," "King Kong," and "The A-Team." Ken's focuses on animation's mechanical aspects.
Scott Acton worked with his family on and off for about 12 years before branching out on his own in 1998.
In 2005, he was honored as Small Businessman of the Year, after opening Trevi Manufacturing. Scott sold Trevi Manufacturing to a private equity group.
Forté followed in 2010 amid a chaotic economy. Scott Acton credits his business skills for guiding him through the recession. As dining, retail, and construction changed, "owners got smarter and they wanted to buy differently," he said in explaining how he was able to capture a market segment and grow Forté.
He said two concepts — implementing true value engineering along with taking the product straight to the owner — were essential in taking Forté "from $6 million to $40 million."
Forté has worked on projects with Wynn Resorts Ltd., MGM Resorts International, Caesars Palace, Aria, Bellagio, the Palms, and is waiting for word to begin work on a project with Disney and Universal Studios.
Q. How do you build on what you learned with your father and grandfather?
A. Taking what my grandfather did to what my dad did and then kind of meshing it together as a construction experiential company is, I think, the way that it's going to go on in the future. I think design-build is the way things are going to happen. They're not going to rely on a third party. They want to speak with the guy who is actually going to do it.
Q. How does your family background and lack of formal training give you a unique perspective; how do you balance the arts and business sides?
A. I think that's it's just in my blood — problem-solving and challenges. My dad gave me the greatest gift, I think, the gift of desperation. He put me in really difficult situations. I said, 'Dad, I'm not sure, I don't know" (dad's response) "Figure it out" "Come to me with three solutions." So, he forced me to solve the problem, instead of handing it to me. I'll never be able to thank him enough. I hated him at the time; it was very difficult, very painful, but out of that came the ability to ask questions. Over the last five years, we've built a reputation of real problem-solving.
Q. How did you uniquely embrace the recession?
A. I think part of it is the same — desperation. I lost a lot of money just like everyone else in the recession. How do we rebuild and innovate? That thinking, that way of thinking, I thought all my life, was how do we do it differently? How do we bring a general contracting company together with this and then bring it to the owners? At the time, what did the owner's want? They wanted to cut costs. I just brought them a possible solution. I think that's the success for any business to find out what are they struggling with, and can you help them solve that problem. And, if you can, I believe you find success.
Q. What are your newest projects on the table?
A. Intrigue, a nightclub at Wynn. It was a design-build process. So, they brought us a concept and we actually did a design-build. It was a lot of problem-solving. It was probably one of the most challenging jobs of my career. A lot of polished stainless steel, a sculpted wall panel, a lot of projections. … Lots of mirrors, lots of glass; it's a challenge.
Q. When someone gives you a budget and an idea, how do you turn what they're imagining in their mind into the reality?
A. I'm a big fan of mock-ups. It's getting to them and saying: "Is this what you want? Is this how you want it to feel?" And when we get them there, oftentimes we're able to save money, because a lot of times, people will add on to these ideas a fear factor. Well, I'm not sure what that owner's thinking so let's mark it up 40 percent, right? Going through this mock-up phase, we were able to shave a lot of structural steel out of this budget. Again, this is just lowering their costs, lowering my risk, when I'm able to do mock-ups. We're able to figure out ways to save money that way.
Q. What excites you about your business?
A. We're going through our fifth year; and, now actually getting back to the theme park world, I think, is a big step for us. For, even Disney to entertain a design-build is totally out of character for them. So, it's really going to be a big shift. And, I think owners are getting smarter about the process, and not having to control every detail, so on their side, it eliminates a lot of staff. It allows us to go right to the source and design it the way it's going to be built.
Q. How can others in the industry become more creative?
A. I've never been on a job where you built it exactly as it was drawn. Because you have architects with an idea but really who's drawing it is a second-year architecture student that's just trying to figure it out. I think it would be beneficial for anyone in architecture to get out there and build stuff, go swing a hammer, go dig a ditch, go feel it, touch it. It changes the way you look at things.