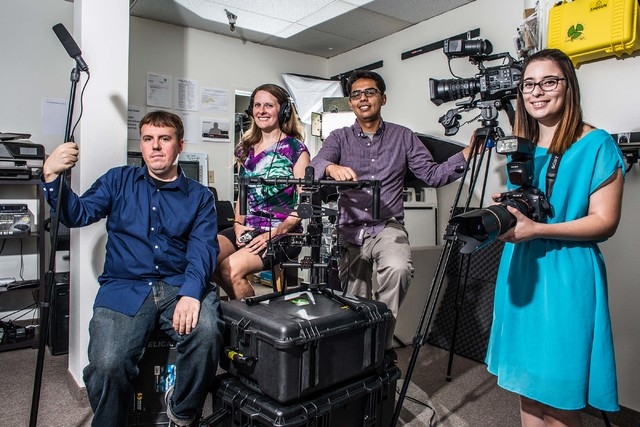 After finishing third in the Nevada Governor's Cup competition, Enrique Villar-Mendez and Lora Hendrickson formed a local production, marketing and marketing research firm — Radioactive Productions — in Hendrickson's garage with only a camera and computer.
From that meager start, the firm has grown into the winner of the federal Small Business Administration's Minority Business of the Year for Nevada.
"It's something that symbolizes the people who believed in us, and made us who we are today," said Villar-Mendez, the president.
Villar-Mendez, who earned a bachelor of arts degree in animation from the Art Institute, and Hendrickson, who graduated from UNLV with a master of business administration degree, were introduced at a college party by a mutual friend.
During the party, their conversation centered on an NPR story they both had listened to about multigenerational living. This conversation became the catalyst for the duo to develop a business around an animated cartoon series titled "Dating Brouhaha." The storylines focused on dating through the eyes of a multigenerational family.
They entered "Dating Brouhaha's" business plan into the 2012 Governor's Cup competition and earned third place plus $10,000 capital to start the business.
When securing additional funding for the Brouhaha project became a challenge, Villar-Mendez and Hendrickson quickly transitioned the business from strictly animation to a video production, marketing and marketing research firm.
Over the past 3½ years, the local company has grown out of the garage into a 346-square-foot office space with three full-time and two part-time employees. Last year, the company saw its revenue top $200,000.
"Our company has grown real quick," Villar-Mendez said. "To get where we are now, it's incredible."
The company's steady growth, according to Villar-Mendez, stems from exceeding client's expectations by "under-promising and over-delivering," garnering word-of-mouth referrals.
"I have recommended them to several departments on campus," said Lisa Davis, associate director of MBA programs at UNLV's Lee Business School. "They have completed videos for the Lee Business School Career and Professional Development and for the annual Business Hall of Fame."
Radioactive's "over-delivering" philosophy and ability to be flexible are what Villar-Mendez says sets the firm apart from its competition.
"If you do more than what they expect then they want you to come back," Villar-Mendez said. "Not only that, they'll tell others about you."
The business plan is based on a three-tier system.
The first tier builds the foundation of the business by securing local clients under $25,000. For this first tier, Hendrickson said they look for long-term client relationships.
"It takes so much time to learn about a client's brand, you really need to develop a relationship with your clients," said Hendrickson, the firm's vice president. "We look for collaborative companies. We have turned down work that isn't collaborative."
Radioactive works with several local clients on an annual contract basis including Maverick Aviation Group, LG Architects (LGA), the PENTA Building Group and UNLV. Each client receives an allocated amount of time each month for projects.
"They have come to know us so intently that they produce something better than we could have imagined, yet still have our style and voice," said LGA Administrative Manager Brittany Bleak.
Experiencing success with its tier one initiatives, the company is transitioning into the second tier of the business plan which broadens the company's scope into federal and corporate contracts $100,000 and under.
Radioactive recently secured a $100,000 contract with UNLV's Professional Leadership Studies Center. According to Hendrickson, the contract is for developing a series of professional videos.
Last year, the company was awarded its first federal contract. The firm produced eight videos over a 10-month contract for a bilingual video series on the Jimmy Carter National Historic Site for the National Park Service. As part of the production, the company traveled to the Jimmy Carter National Library in Georgia.
To help secure additional federal contracts, Radioactive recently was accepted into the Small Business Association 8(a) Business Development Program.
"It's kind of a mentor program," Hendrickson said. "It helps us find potential opportunities."
The program offers assistance for small businesses to gain government contracting.
The third tier is the final goal of the company — creating original online content.
"In the end, we want to create things like 'Dating Brouhaha,' " Villar-Mendez said. "But we have our own funding to create them. That is our ultimate goal."
The name Radioactive was chosen for its historic significance.
"If you really think about it, what's more Vegas than nuclear testing?" Villar-Mendez said, laughing. "We wanted to be part of that history so that is why we picked the name."
"We also liked the explosion of ideas concept," Hendrickson added about the name. "We have a brain on our logo. It gave us a lot of stuff to work with."
Radioactive Productions is located 3909 S. Maryland Parkway, Suite 206, in Las Vegas.