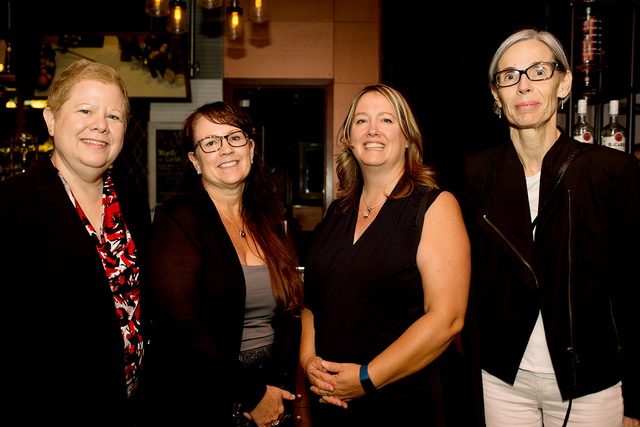 Apparently, one of the perks of being the Business Press editor is you get to go to a lot of events, lunches, coffees, seminars and parties. It's a great break from the daily grind and a good way to connect to the business community.
Take for example, the meet-and-greet Legal Connection event to unveil the Law Guide at the RX Boiler Room above RM Seafood in Mandalay Bay on Sept. 8. Publisher Debbie Donaldson was the star of the hour, and she graciously introduced me to all of the attendees, which included the event's sponsor, Holland &Hart law firm, Clark County Bar Association staffers and others in the legal community.
It was all very impressive, with drinks, food and a cool ice sculpture that encased an enlarged cover of the Law Guide. Kudos to marketing goddess Melissa McCabe. Even our Luxury Editor and Niche Director of Content Leslie Frisbee found the event up to par; and she is the party expert, knowing all there is to know of Las Vegas social gatherings.
Some photos and a lot of business cards (sometimes I even remember to bring them) were exchanged. But what stood out for me the most was the sincere way the attorneys and their associates treated Donaldson, who just returned to work this summer after beating breast cancer. From the very beginning, she has been totally open to everyone about her situation. And it wasn't the first social gathering where I noticed many went out of their way to check on her welfare, and tell her how they admired her and her courageous victory.
In the past month, I've been to several lunches and boardroom meetings where people lingered at her side to express well wishes.
On this particular evening, Donaldson told a young attorney that this was her first late event since she had returned to the publisher's seat. She explained she wasn't making it too late of a night, as she was still pacing herself. They hugged, she said her goodbyes and left.
For those who know me, I'm known as sort of a cynic. Well, that's not exactly right. I'm actually known as a really big cynic. But as I looked around the room at these men and women who listened to her remarks that night, I realized their goodwill toward her was genuine. This little community had been working with this business journal publisher for several years, building a business relationship that created an annual guide and event, which is evolving in content and design each year.
I'd almost forgotten that business relationships often can evolve into sincere friendships, where people are concerned over the well-being of their peers.
It's refreshing to be reminded of something that I learned when I first arrived in Las Vegas 27 years ago. Las Vegas people are some of the best people I've ever met. I know the city often has a reputation of being shallow, transient and shady. But that's not the Las Vegas I know. For the most part, ever since I arrived, I have been welcomed and helped by many in the community. There are many (you know who you are) I still rely on for advice and clarity. I'm glad to say that Donaldson has been added to that group.
Thanks to her, I remember that Las Vegas is a city where integrity is everything. It's the solid foundation we must build on together.