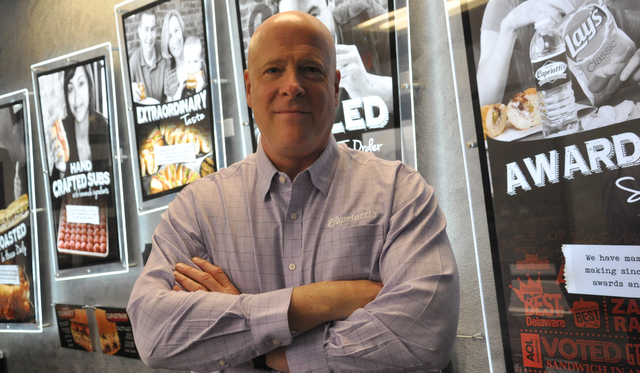 When a family-owned Wilmington, Delaware, sandwich shop named Capriotti's opened for business in a previously boarded-up store in 1976, it took 12 years for a second location to be added. The company, which now has 102 locations, is launching a targeted, nationwide expansion that is expected to increase the number of shops fivefold.
"We are on the cusp of going from an operations-focused company with organic growth to a national sandwich franchise brand that we want to grow to 500 locations," said Ashley Morris, CEO of the Las Vegas-based company that specializes in handmade subs and sandwiches.
Fresh faces and investment
Capriotti's will open 15 new shops in 2017, 30 in 2018 and 60 the following year, exponentially growing to the 500-location projection (by 2022, if this strategy adheres to the timeline), according to David Bloom, chief development officer.
"You have a 40-year-old heritage, legacy brand that is all of a sudden going national. You don't see that very often," Bloom said. "We brought in new investors a little over a year ago who are some of the premier franchise industry restaurant folks in the country. Adding to our board of directors was really significant to the management team here — from a knowledge and financial standpoint — and really that inflection point for the brand.
"The brand had grown, and has done a really good job in building that support infrastructure over the last five to eight years, and we felt like we were truly ready now to become a national brand."
Bloom, who joined the company earlier this year, has extensive industry experience. He was one of the principals who grew Quiznos from 18 stores to nearly 5,000 locations at its height prior to the 2007 recession.
New blood
All but 17 of the existing Capriotti's shops are franchised, and the company receives 40 to 50 inquiries per week from prospective franchisees, according to Bloom. Only 2.5 percent are selected.
"Most of those folks are looking to do multiple units," he explained. "They start, typically, with purchasing the rights to do two or three locations. So we are growing in a way we think is very smart, and our existing franchisees are continuing to grow and develop aggressively into new locations and bringing in new blood at the same time."
He said most accepted franchise owners have prior business success, though not necessarily in the food industry, and — crucially — share a commitment to producing a high-quality product.
"We are looking to have the best sandwich in America with the highest return on investment per location in the entire industry — which means we are going to have fewer locations, but we want them to perform higher."
Food first
"The owners of the brand, Ashley Morris and Jason (Smylie), bought the company about eight years ago because they loved the food," Bloom said. "They are the owners of that quality. We are, literally, not allowed to discuss things that would cheapen or lessen that quality. No matter how much money it would make us, you can't do it.
"We might be able to improve the bottom line by a point or two, but it would be sacrificing the brand loyalty that we have. And our customers are willing to pay a little bit more for what they want. "
He said it is important for a company to know and embrace its identity, what it does well, what it does not, and — as importantly — should not do.
"We could be bigger, we could open more locations, lower the cost and charge less, and compete with Subway, try to have $6 foot-long subs. We very clearly said that is not us."
Another key is personable service, according to Chris Preston, manager of the Capriotti's corporate shop on North Aliante Parkway in North Las Vegas.
"You care about every person who walks through the door, like they are a member of your immediate family," he said. "Know (regulars) by name, know what they want. I think that builds so much guest loyalty."
'Old school' and high tech
The company was founded by 28-year-old Lois Margolet and her brother, Alan, in a vacant storefront below their apartment in central Wilmington.
"(Lois) wanted to serve a family recipe she knew was great and do it in the old-school (style)," Bloom said. "I am originally from New York, so I grew up around great sandwich and sub shops. And that is what they were doing in Delaware. Their original recipe, the Bobbie (turkey, dressing, cranberry sauce and mayonnaise on a sub roll), is really what put them on the map. But it was always about the food. It was always about family."
Lois, who sold the company in 2008 to an investor group headed by Morris and Smylie, died last month in Las Vegas at age 68. Bloom believes the authenticity of what she created aligns well with demands of younger diners.
"Millennials want the real product," he noted. "We have been doing the real thing for 40 years. Some of our sandwiches are just like grandma used to make — oven-roasted turkey and stuffing made in stores, all of it authentic. What was cool is cool again."
Globalizing the future
The world is fast globalizing, and the food franchise business is no exception. Bloom said building a strong domestic foundation is the immediate priority, but the company is keeping an eye on future international expansion opportunities.
"We have, from an investor standpoint, relationships in those markets already. If we want to tap them, we have the local expertise and ownership that we would lean on very heavily. When you go global in a business like ours, it is all about having the right partner that understands the real estate, the economy, local tastes and politics, and has the relationships to make that all work.
"Your product line may adjust a little bit, depending on the country. For instance, our vegetarian selection here may be a little more limited than in countries that are more vegetarian-diet oriented. But the basic core product of great food crosses borders.
"I've done business in 33 countries — people around the world love good food."