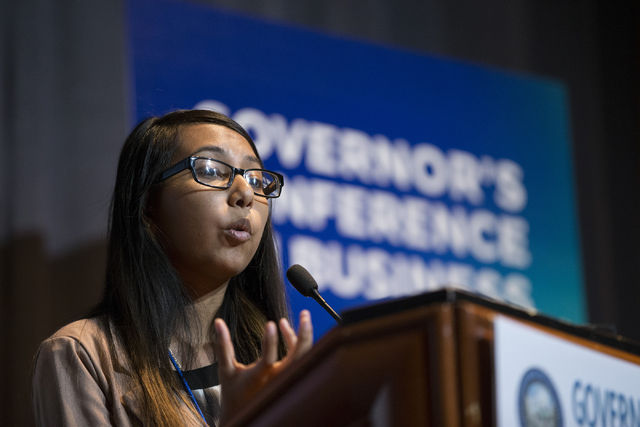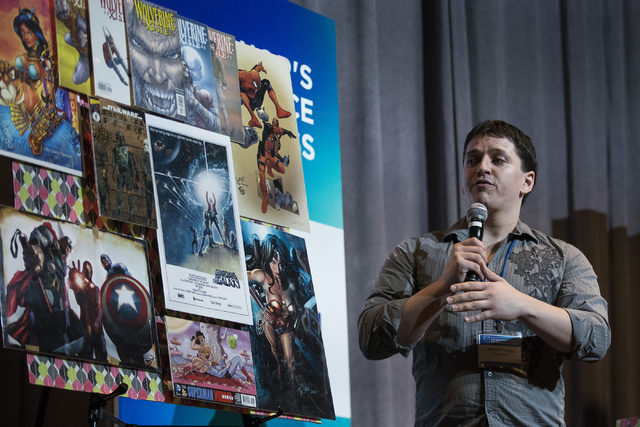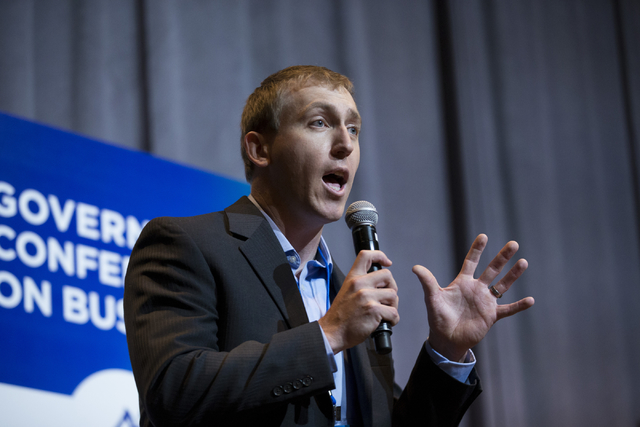 One of the judges called it "Shark Tank" on steroids – the television show on which businesses pitch investors for the capital they need.
Ten contestants at the Governor's Conference on Business Sept. 30 at the Rio vied to be the top dog in the contest, in which Nevada businesses gave their pitches to judges in a two-minute presentation and question-and-answer period. The top contestants won prizes.
Las Vegas companies took the top two spots led by thinkLaw, an educational program that helps educators teach critical thinking. From the ballots of judges, the company won $5,000 in cash for first place and $11,000 for in-kind services, including technology services, software support and virtual finance services. The firm also won $1,000 based on voting from audience members.
Colin Seale, 33, a lawyer and former middle school and high school math teacher, founded the company 18 months ago.
In his presentation, Seale said critical thinking is a key component of college and career readiness and 21st-century learning. The problem is only one in 10 educators teach it, and that's a teacher at an elite school teaching critical thinking to elite students, he said.
"I realized that if we could help students develop the critical thinking skills, habits and mindsets of the most successful attorneys, we could dramatically increase their access to this essential academic, career and life skill," Seale said.
The program works by educators teaching critical thinking through real-life legal cases, Seale said.
In its first year, the company served more than 1,000 students in 14 Las Vegas schools, and this year it's on track to serve more than 30 schools nationwide, he said. Its annual gross revenue has reached $200,000.
Seale, who has three other employees, said the prize money will be spent on educational conferences to market the company. Seale was a litigation and intellectual property attorney for Greenberg Traurig in Las Vegas before he launched the business.
"It's definitely a validation of our vision," Seale said. "To make the kind of jump from corporate attorney to educational entrepreneur, it's always a little bit scary."
One of the judges, Stephanie Tyler, Nevada and Western Region President for AT&T, said the contest is a growing success with 40 companies applying in its second year. For winners, the cash and other prizes helps, but it's more about bragging rights to say they won at the governor's conference.
"Colin Seale was a charming, engaging and a really exciting young man," Tyler said. "He could have convinced me of just about anything. This is a program he is hugely passionate about, and I think that passion will carry through."
The second-place winner was Frameless, a Las Vegas company that developed a frameless system for hanging items on walls. The business won $2,500 in cash and $4,000 in in-kind services.
AT&T was the cash sponsor, and Microsoft and VAST: Powered by the CFO group were the in-kind service sponsors for the contest.
One contestant was from Northern Nevada: Brain2Bot Inc. of Reno, a builder of artificial intelligence toys.
The others from Southern Nevada included CDL Focus of Las Vegas, an alternative licensing for commercial motor vehicle operators; Chefery of Henderson, a home and office fresh-meal delivery service; Falcon Nano of North Las Vegas, which sells proprietary transceiver chips for wireless systems and services; Healthybyte of Henderson, digital health and education services for low-income areas; Lip Smacking Foodie Tours of Las Vegas, food tours to top downtown and Strip restaurants; LRT Sunshield Screen 3000 of Las Vegas, which sells automated front windshield screens; and Remmedy of North Las Vegas, which sells water bottles.
The two alternates were Five Star Economy of Las Vegas and Happy Monkey Baby Company of Las Vegas.
Judges included Tom Doxey, vice president of Fleet and Corporate Finance for Allegiant; Nevada Lt. Gov. Mark Hutchison; Kimberly Parker, vice president of advertising for the Las Vegas Review-Journal; and David Schmall, a business sales specialist for Microsoft. News 3 anchor Dana Wagner moderated the competition.