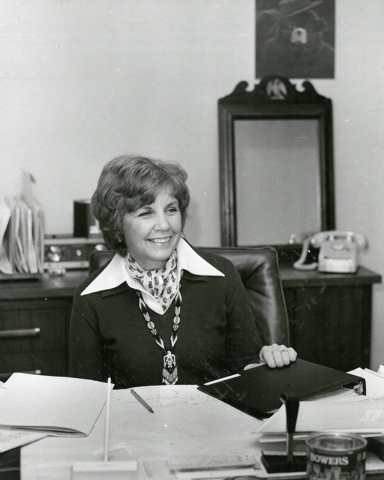 Thalia Sperry Dondero, a trailblazer for women in local politics who carved out a path to be the first woman to serve on the Clark County Commission and was an integral part on some of the major infrastructure projects in Las Vegas, died Sept. 4. She was 96.
Dondero oversaw the expansion of McCarran International Airport, flood control projects in the city and water conservation projects during her 20 years as a commissioner from 1974-1994, according to a biography in UNLV Libraries' special sections.
She also left her mark on making progress for Las Vegas' higher education during her time on the Nevada System of Higher Education Board of Regents, which she was elected to in 1996 and served until 2008, according to a writing on UNLV's website on Dondero's induction into the Business Hall of Fame in 2009.
"No one cared more about doing things the right way than she did," said William Robinson, assistant professor at UNLV Lee Business School. "We live in a state which has a strong north versus south mentality. In that environment, Regent Dondero was one of the few who was able to effectively bridge the divide and find a way to make the system work for everyone."
Robinson worked alongside Dondero during her time as chairman of the Clark County Commission and her time on the Board of Regents and as her role as president of the local Girl Scouts.
"She was instrumental in efforts to bring greater fairness to the funding of higher education, and was truly one of best friends our students ever had," Robinson said.
Dondero, born Thalia Sperry on Jan. 23, 1920 in Greeley, Colorado, came to Las Vegas from California in 1942 to work at Basic Magnesium Industries.
Three years later, she married Harvey Dondero, a teacher at Las Vegas High School. She and her husband later moved to Carson City, where he worked for the U.S. Office of Education. The couple returned to Las Vegas in 1948.
Dondero took the education of children seriously, according to information on UNLV's website about her Business Hall of Fame induction. She and her husband worked hard on improving its quality.
Dondero's involvement in public education started at Mayfield Grade School, where she was active in the school's Parent Teacher Organization. There, she was mentored by Maude Frazier, the superintendent for Las Vegas schools at that time. Frazier encouraged Dondero to run for public office, where she would make news in her refusal to play secretary to the male members of the Clark County Commission.
Dondero was also instrumental in keeping the Silver State beautified. She played a large role in expanding several recreational areas including Red Rock Canyon National Conservation Area and Valley of Fire State Park.
She also spent time on the Summerlin Hospital Board of Trustees and the Bureau of Land Management Resource Advisory Council. In 2007, Dondero was presented an honorary doctor of law degree by UNLV President David Ashley.
She is survived by her five children: Marylin Dondero Loop and Robert Dondero, both of Las Vegas; Judy Habbeshaw of Kanab, Utah; Michael Dondero of Reno; and Harvey Dondero Jr. of Greensboro, North Carolina.