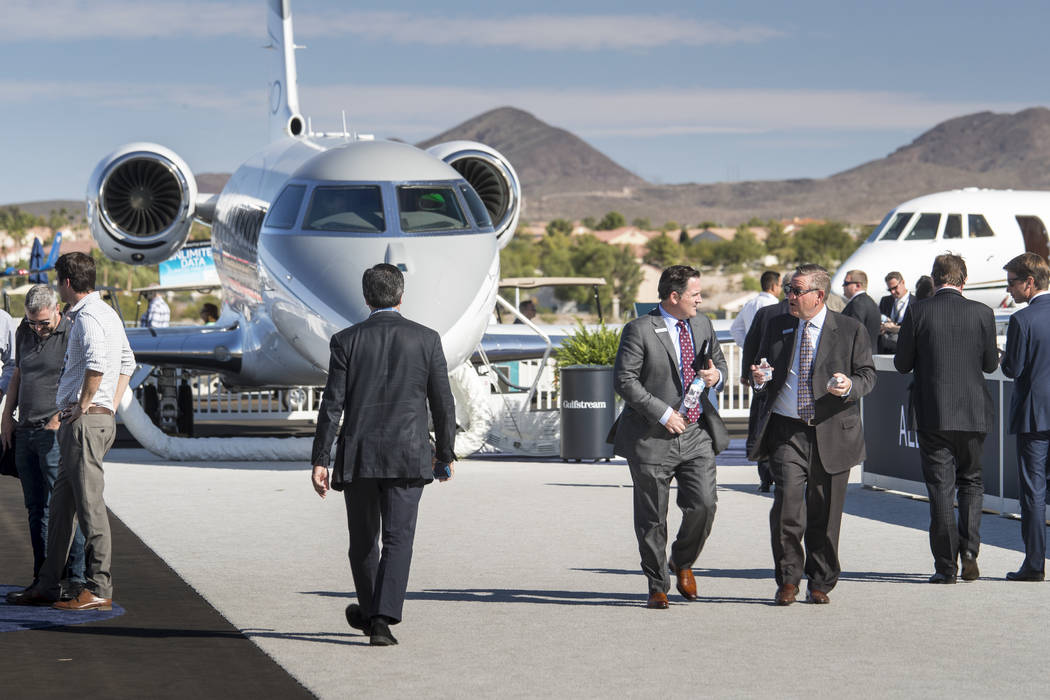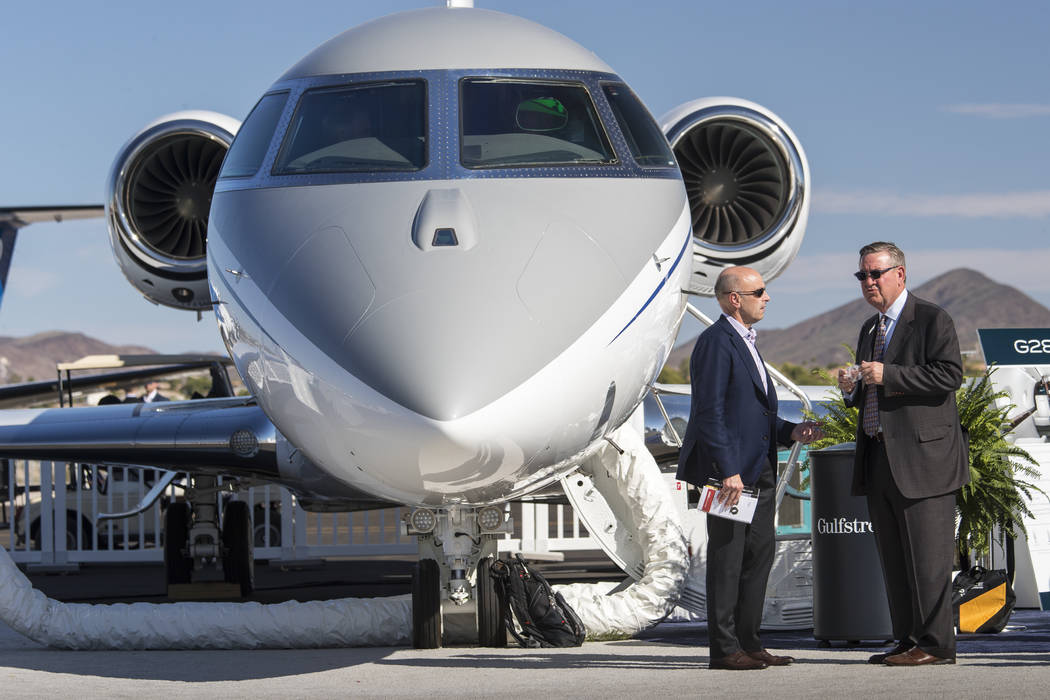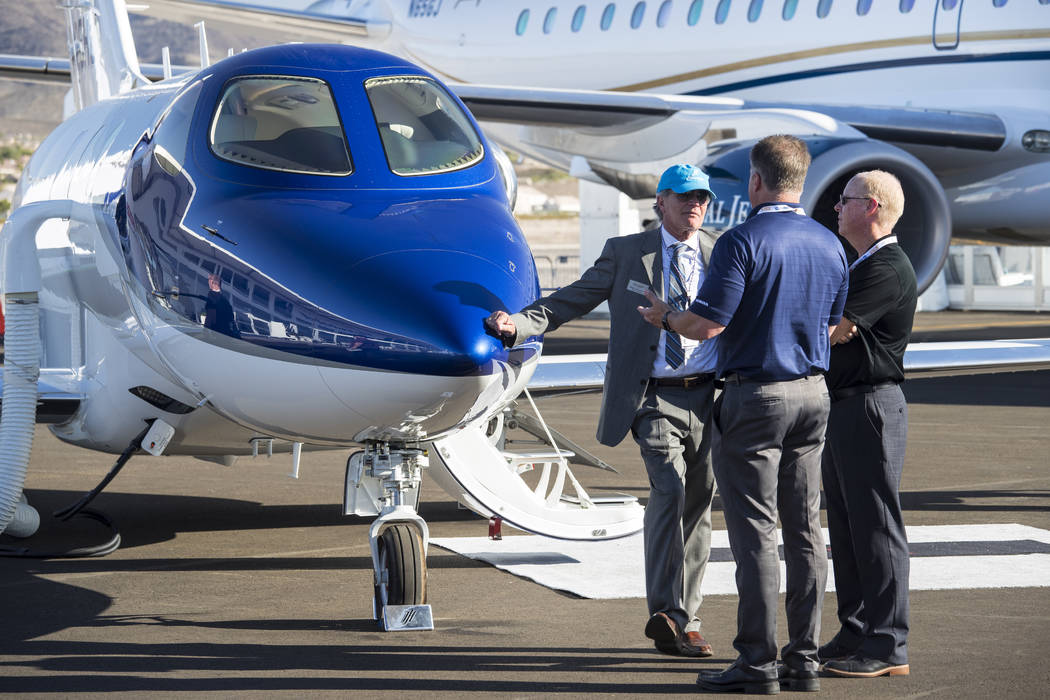 The Henderson Executive Airport and business aviation in Southern Nevada comes to the forefront this week when the valley hosts an international conference that attracts about 25,000 attendees.
The National Business Aviation Association's Business Aviation Convention & Exhibition, the world's largest aviation trade show, will be held Tuesday through Thursday at the Las Vegas Convention Center. In addition, the Henderson Executive Airport will showcase about 100 planes and jets that seat anywhere from four to 19 people and feature some of the newest technology in the industry.
The conference is expected to generate a total economic impact of $40.5 million over the course of the week, according to the Las Vegas Convention and Visitors Authority. Steve Hill, president/CEO of the LVCVA appeared at a press conference Monday where he talked about the importance of business aviation in a city that hosts 24,000 meetings and conventions a year.
Nevada is home to 47 public-use airports used by companies with a business airplane, which connect local organizations of all sizes to the global marketplace, according to Ed Bolen, president and CEO of the National Business Aviation Association.
As Las Vegas continues to grow and McCarran International Airport becomes even busier, the airports in Henderson and North Las Vegas play a vital role for companies who fly their aircraft in and out of Nevada.
The Clark County Department of Aviation, which operates McCarran International Airport along with the airports in Henderson and North Las Vegas, has invested $30 million in Henderson for additional ramp space and other renovations to accommodate more business aviation, said Christine Crews, spokeswoman for the aviation department.
In 2018, Henderson Executive Airport had 74,431 total operations, which includes take-offs and landings. Through August 2019, that number stood at 47,532. There are about 600 people who work at the Henderson Airport covering its tenants and vendors. That includes 36 country employees.
"If you look at the latest iteration of Las Vegas, and it's moving toward more sports teams with the (Vegas) Golden Knights currently having a hangar under construction in Henderson," Crews said. "You have the (relocating Oakland Raiders) headquarters moving in next. You will see even more volume of private aircraft activity."
Crews said as the Las Vegas Valley continues to grow airports like Henderson are a "convenient alternative" to McCarran. Many people don't realize the level of service and level of convenience of the Henderson airport, she said.
"When we have a big-event weekend, those with general aviation private aircraft find it much more convenient to fly into Henderson than they do McCarran due to the volume of people coming in," Crews said. "Even though it might be further down Interstate 15, there's less traffic issues."
Crews said the North Las Vegas Airport fills some of that role as well. It's the second busiest airport in Nevada, even busier than Reno-Tahoe International Airport.
"It depends on where you are doing business in the valley, but either option can be more convenient depending on what your final destination is," Crews said. "North Las Vegas has more of that base tenant and smaller aircraft than Henderson, which is more on the business (front)."
Scott Muelrath, president and CEO Henderson Chamber of Commerce, called the Henderson Executive Airport "a tremendous economic asset" for the city. People don't understand "the impressive volume and high-value net worth individuals and companies" that use the airport, and how it helps in recruiting business investment in West Henderson.
"The Henderson Executive Airport has made our city more attractive to national organizations such as the Raiders, Amazon and Haas Automation," said Henderson Mayor Debra March. "Companies are looking to have the ease and flexibility to connect people from across the country to their operations here. We view the airport as one of our unique economic development tools to help attract high-caliber companies to Henderson."
Bolen said many people are unfamiliar with the term business aviation in which companies rely on the use of mostly small airplanes to meet their transportation needs.
A study by the University of Nevada-Reno, business aviation generates nearly $130 million in economic output for the state, accounting for more than 1,600 direct and indirect jobs, Bolen said.
Bolen said the convention, which will showcase some of the most advanced products and services in aviation, returns to Las Vegas for the first time since 2017. His group tries to alternate the show on a yearly basis between the East and West coasts.
The convention attracts pilots, technicians, manufacturers and companies and individuals who own and operate business aircraft, Bolen said. It covers everything unrelated to commercial aircraft or military operations, he said. That would include business jets and turboprop planes used for business purposes.
"Business aviation provides a lot of business opportunities for communities," Bolen said. "It's the jobs at the airport but it also allows companies to come in, set up distribution channels and have headquarters in out-of-the-way places. Business aviation is about opening economic development and creating a lot of jobs."
Bolen called the Henderson airport "an outstanding facility" that serves as a reliever airport to alleviate congestion at McCarran.
"Henderson will be a primary airport for us not only to display the aircraft but also for some of the visitors coming in from all over the world," Bolen said. "McCarran is spectacular and a number of people will be utilizing it, but there are opportunities for Henderson to provide access. Companies headquartered there recognize that having a strong infrastructure of airports (in Henderson and North Las Vegas) to augment each other are critically important and what makes Las Vegas, Las Vegas."
North Las Vegas Mayor John Lee said: "The North Las Vegas Airport is an essential asset for growing and diversifying the local economy, and Clark County does a tremendous job maintaining this facility. Now is the time to expand that vision and continue to invest in the airport with longer runways and more infrastructure to better link our communities with the world and bring additional industry, jobs and commerce to Southern Nevada for the benefit of all of our residents."