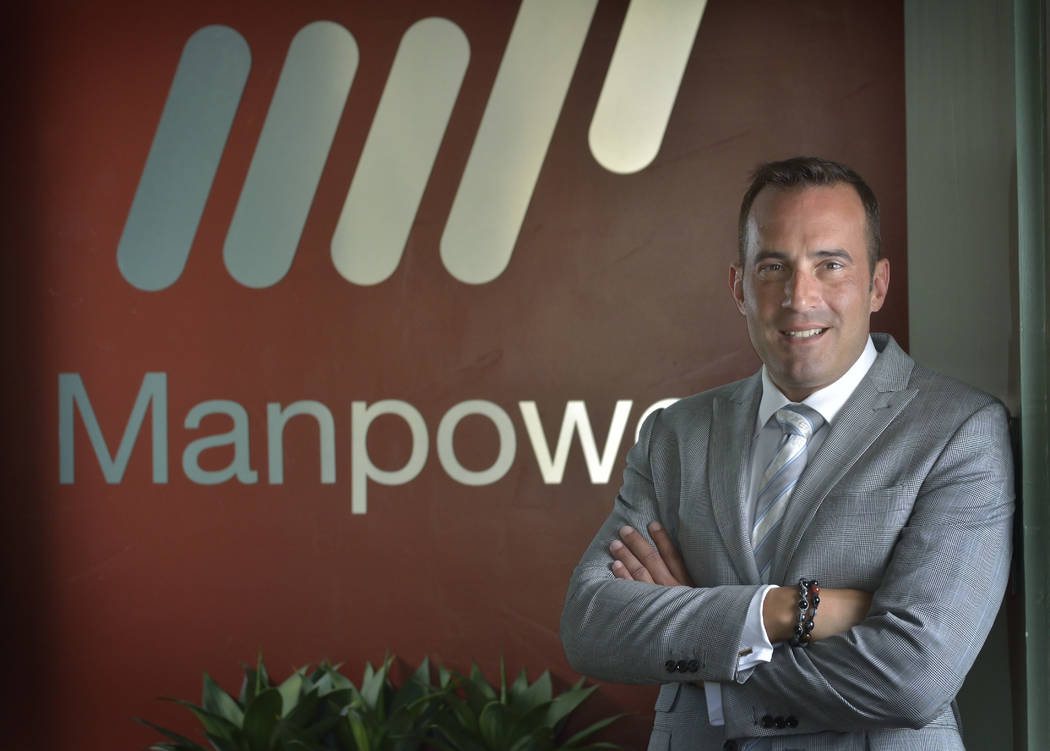 Temporary staffing agencies and Southern Nevada employers strive to better equip employees to achieve workplace excellence.
Jeff Parker, vice president of Manpower Southern Nevada, a temporary staffing agency, said the company has an online tool to train and educate employers called powerYOU. The goal is to keep employees "fresh and up to date" on the latest software used in the workplace or brushing up on Excel or Power Point. There are even foreign language classes offered, Parker said.
Manpower offices across the country are incorporating college courses into their programs, and Parker said that will be done eventually in Southern Nevada as well. Many workers need certifications to maintain their careers.
"We have always been involved in training our associates, because it's important to keep up to date on their skills and have an access and pathway to college level courses," Parker said. "Even a production position requires a higher level of math and reading skills than in the past. You're using a computer more than your hands in some cases."
Parker said Manpower doesn't manage the workplaces of its clients, but it talks with them and shares ideas of what others are doing in the marketplace to enhance skills of employees and increase their workplace satisfaction.
"I have had clients that modernized their cafeterias to provide a more relaxing place for lunch breaks," Parker said. "I have had some provide free soda, juice, pie and coffee and some light foods. A lot revolves around eating where they're bringing in food. Some offer exercise programs at the workplace to help employees. We spend so much time in the workplace that they want to make it a better place for people to be. A sterile environment in the workplace is going out of fashion."
Parker said there's been a big focus on wellness programs sprouting up among employers, because a healthier workplace creates a more productive workforce.
Manpower even has employee assistance programs offering counseling and guidance. There's a hotline and video chats using telemedicine if the employee or their child gets sick and needs to see a doctor, he said.
Manpower keeps its clients informed about employees who are looking for full-time positions and interviewing with other companies. That allows the company to hire them before they find another full-time job, he said.
"We keep the lines of communication open," Parker said.
Jennifer DeHaven, president of Millenium Staffing Solutions, helps companies with temporary staffing and even direct hiring positions that include management. No matter the position, there's regular training for its associates to be prepared for their assignments, including training on software, DeHaven said.
"We have a couple hundred clients in Southern Nevada for jobs that range from administrative and clerical positions to light industrial and warehouse, skilled trades and convention to hospitality. Some of the more professional positions are for accounting and legal."
The training matches the position, whether it's for light assembly, security or an ambassador, DeHaven said. A host is trained on how to properly greet people at a convention when working at a service booth. Those working in food and banquet service would be trained on the proper way of doing it and etiquette, she said. Millenium even partners with outside companies to provide training, she said.
"We're trying to best prepare people for assignments, and we continuously train people," DeHaven said. "People come to us because they don't just want to do temporary assignments, but some want more direct hiring positions. We're helping them build their resumes and apply for certifications that will help them succeed."
Clients also give job-specific training when the employee is on-site. They even pay employees to train and learn skills, including working in a call center or other positions, DeHaven said.
"That seems to be the trend right now," DeHaven said. "Unemployment is low, so to get the skill levels you need you almost have to do on-the-job training and investing in the entry-level employee to get the skills you need for the job to be done properly. It's a different environment than it was a year ago, because the job market has tightened up. Employers are making sure employees are receiving the proper training so they can grow into the skill level needed for the position."
Michelle DiTondo, chief human resources officer for MGM Resorts International, said the gaming company has a wide variety of programs to create great employee experiences at work and in their personal lives at home.
MGM has made a large investment in wellness coaches at each of its properties where most have exercise classes or gyms, DiTondo said.
"We have had a lot of people who have transformed their lifestyle by meeting with a coach and planning their diet and getting an exercise program," DiTondo said. "We have a strong philosophy that you're happier and more engaged if you are healthy."
When it comes to personal professional development, DiTondo said MGM offers a lot of training programs. Whether it's enhancing leadership skills, enhancing software skills or taking classes through MGM University, the company's training and development facility. Employees can get online learning through the program.
MGM offers tuition assistance for employees to take classes or acquire certifications that help them in their career path or to grow personally, she said.
In the workplace, MGM recently launched a program where employees can recognize each other for the assistance and customer service that they have provided on the job.
Employees build up points that allow them to buy gift cards, travel cards, movie tickets and other rewards.
"I think we're on the cutting-edge of recognition programs," DiTondo said. "That will reinforce our great customer service behavior."
MGM offers employee benefits such as booking discounted rooms or shows or discounted rental cars when they travel.
"We feel if our employees are engaged and happy at work, the more likely they are to treat customers in front of them with great service," DiTondo said. "That brings customers back. So the recognition program, wellness program and access to online training and tuition assistance are things we do because we want our employees to be happy at work."
Taking care of its employees in and out of the workplace in addition to their families has long been the philosophy at Station Casinos, said spokeswoman Lori Nelson.
"The more that you can do to make sure the quality of life is good inside and outside the workplace makes for happier team members," Nelson said. "In return, that's translated to good business sense that happy team members are giving great guest services at our properties."
Station Casinos offers free Rosetta Stone programs for people wanting to learn English or Spanish. It partners with the Clark County School District to help employees with their adult education and GED assistance.
Station has a citizen assistance program, helping with legal support, the application process and preparing for the citizenship test.
Station partners with online universities for employees who want to go through their training programs.
As for housing, Station partners with Housing for Nevada, a nonprofit agency that provides assistance with free credit reports, counseling and education. Station even provides grants to help with down payments, Nelson said.
With health, Station offers free annual wellness exams for employees and their families. It offers wellness classes, diabetes, heart health, nutrition, weight management, smoking cessation and other programs.
Employees get discounts at its hotels, restaurants, spas, movies and other amenities at its properties. All of the efforts have helped Station retain employees over the years, Nelson said.
"It's a win because it results in higher morale," Nelson said. "We have a proven track record with longevity in the company. You can correlate having happy employees means a more successful business."