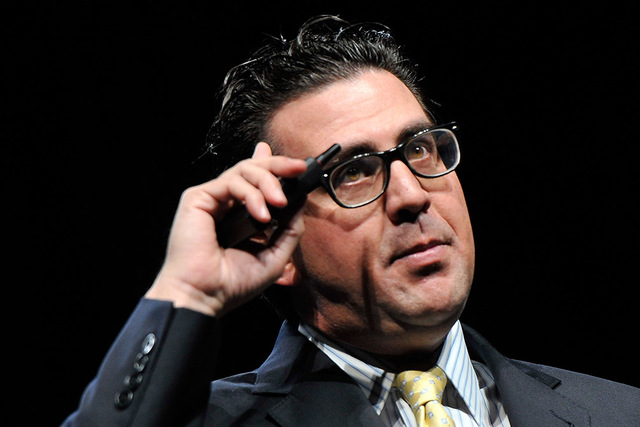 Jeremy Aguero said Las Vegas is suffering from post-traumatic stress disorder when it comes to worrying about the Southern Nevada economy in its long-standing recovery from the Great Recession, and it's time to stop fretting.
Speaking to business leaders May 24 at the annual Las Vegas Perspective sponsored by the Las Vegas Global Economic Alliance, Aguero, a principal at economic research firm Applied Analysis, said any fears that Las Vegas might be overbuilding and have an economy that's running too hot are unfounded.
"It occurs to me our community is going through some sort of post-traumatic stress disorder in terms of its ability to conceptualize that our economy is no longer in recession and that we're starting to move forward. Some of the questions I get is: 'When are we going to fall off the cliff; and are we growing too fast. Are we setting ourselves up for this to happen again?' "
Aguero said he understands how people have gotten to this point given the housing market and economic downturn last decade. It was significant and created a lot of stress and anxiety that continues today, he said. It's important to be realistic about where Las Vegas is today, he said.
"This community should not be judged on the ability to survive a recession but judged on the ability to sustain our prosperity," Aguero said. "That is what we need to do as a community. Our community is geared to grow."
Southern Nevada has a population of 2.2 million and is among the three fastest-growing metropolitan areas in the country at 2.2 percent behind Austin and Orlando, Aguero said. It's not at the top of the list as it was during the boom a decade ago. (But it) has recovered in the aftermath of the recession when it wasn't growing at all because people around the country couldn't afford to move given their housing equity and there wasn't the lure of jobs in Las Vegas, he said.
That has changed and people, especially from the West Coast, are moving to Nevada and bringing equity from their homes and other income, Aguero said. Some 33 percent of the newcomers to Clark County are from California, and the median household income of $51,638 in 2016 is up from more than $42,000-plus in 2006. Millennials are coming too with the median age of adults at 36, down from 40 in 2006.
"We can't create as many professionals as we need in the community, and we have to attract talent," Aguero said. "Particularly in the Western United States, they're coming here because we offer a better way of life."
In 2007, employment growth in Nevada was 4.3 percent and the fifth fastest in the nation. It was last in the nation in 2011 by falling 2.1 percent. In 2017, it's growing 3.3 percent, the third fastest in the country, he said.
As of April, Las Vegas had 977,000 jobs. That's more than 40,000 than the peak of the market in May 2007 of 936,800 jobs, Aguero said. During the last 12 months, Las Vegas created 8,500 jobs in construction, 6,100 in business and professional services, 5,800 in leisure and hospitality, 5,100 in education and health services and 2,200 in financial activities.
Aguero said there's some angst with the growth in construction jobs. By the end of 2017, Las Vegas will still be about 10,000 jobs short of what it needs for the projects underway and slated to begin, he said.
"Our unemployment rate was almost 15 percent and that led to out-migration," Aguero said. "We lost one of every eight private sector jobs and have gotten almost all of those jobs back. We're doing well and near full employment."
Las Vegas had 61,900 construction jobs in April, up from 38,100 in January 2011, Aguero said. The high point was 105,200 in May 2007. There's always a concern that if construction employment gets too high, that wouldn't be sustainable as it wasn't a decade ago, he said.
There are opportunities. Health care is only 70 percent of what it should be for an area of this size, Aguero said.
Aguero said the demand for office space is increasing while construction has remained at similar lowered levels since 2011. The vacancy rate is at 19.8 percent. Office employment has increased 4 percent in the last year, and 397,000 people are employed.
For the housing market, Aguero said it got all the blame during the downturn, but has gotten no credit for the comeback in the economy. Any concerns about the housing market getting overbuilt and prices being too high aren't valid, he said.
Las Vegas has 2.4 employees for every home, which is below the national average of 1.74, Aguero said.
"We're not building enough homes for all of the employees we're generating," Aguero said.
Las Vegas hasn't become unaffordable either, Aguero said. It ranked only behind Phoenix in major cities in the Western states in terms of affordability. In 2004, home prices appreciated by more than 37 percent vs. the 8 percent between 2015 and 2016, he said. Some 86.4 percent of homes have positive equity, and incomes are in line with home prices, he said.
"That is much more sustainable, and we will take it," Aguero said. "It's not nearly out of whack as some have suggested."
During the last 12 months ending in March, new home construction of 8,342 pales in comparison to the 40,000 homes built in one 12-month period more than a decade ago. New home sales accounted for 14.5 percent in 2006, down from the nearly 50 percent a decade ago. Existing home prices have grown by a 3 percent rate since 2003 and in what is line with historic averages.
"The idea of us getting over our skis," Aguero said. "We have things to be concerned about, but we should take a deep breath and not be scared by our prosperity."
Some are clamoring for the federal government to release more land to drive down prices, Aguero said. When it comes to land availability and prices, Aguero said the average price of $150,000 an acre in 2016 is well below the $400,000 an acre in 2007. That excludes Strip property.
There are 71,500 acres of developable land, and the market is developing 5,000 acres a year.
"That's 14 years of inventory left and not bad to where we want to be," Aguero said.
Retail sales have rebounded with $40.3 million in taxable sales in a 12-month period in February. The peak in 2007 was $36.4 billion. Food services and dining have grown by 4.1 percent in the last year. Motor vehicle and part sales have risen 5.8 percent. The one decline is clothing and accessories that have fallen 3.2 percent. It's part of a trend of retail sales moving from brick-and-mortar to online, he said.
Las Vegas isn't building retail space because it's not needed. It's building industrial space because it is for distribution centers, Aguero said.
More than 4 million square feet of industrial space is under construction of more than 12 million square feet planned, Aguero said.
The growth in visitor volume and increasing popularity of nongaming attractions is spurring a current wave of development activity, Aguero said. One in six people whose head hits the bed at night isn't a resident of Southern Nevada, he said.
Some 22.4 million visitors or 53 percent come from the West Coast and Mountain region, Aguero said. That's followed by 13 percent from the South, 11 percent from the Midwest and 7 percent from the East. International visitors account for 16 percent, he said. McCarran International Airport is only second in the nation to LAX as an origin and destination point.
The hotel occupancy rate has bounced back to approach 90 percent, which it surpassed a decade ago. The average room rate of $128 a night is almost back to the peak, but that doesn't factor resort fees that take it to that level, Aguero said.
While gaming revenue is below peak levels, people are ignoring that nongaming revenue on the Strip has soared to more than $11 billion. There's been more than $650 million in nongaming investments on the Strip. That includes T-Mobile Arena and Park Theater. There's another $7.1 billion either under construction or planned and $6.3 billion in gaming investment planned, he said.
People want to contrast that to $45.8 billion in resort investment in 2007 that breaks down to $24.1 billion for non-gaming and $21.7 billion for gaming, he said.
"Communities all over the United State would love to have the growth we have now," Aguero said.
The relocation of the Oakland Raiders to Las Vegas, in addition to the Las Vegas Convention Center, is only going to bring more visitors, Aguero said. Business leaders in recent surveys are even showing they're more optimistic about the Las Vegas economy than they have been in the last five years, he said.