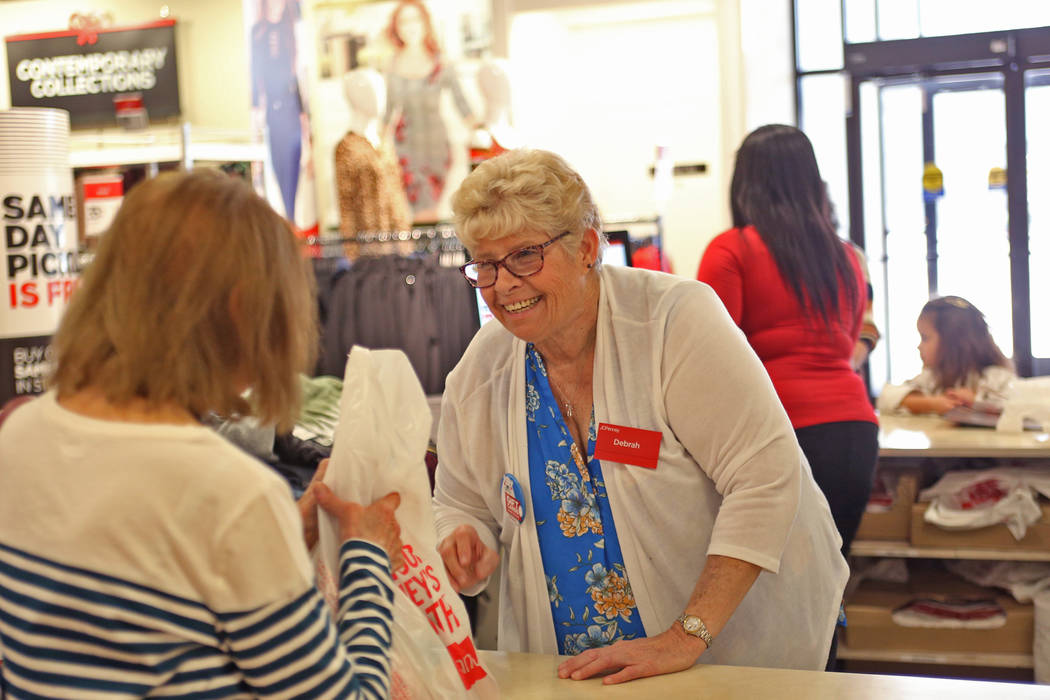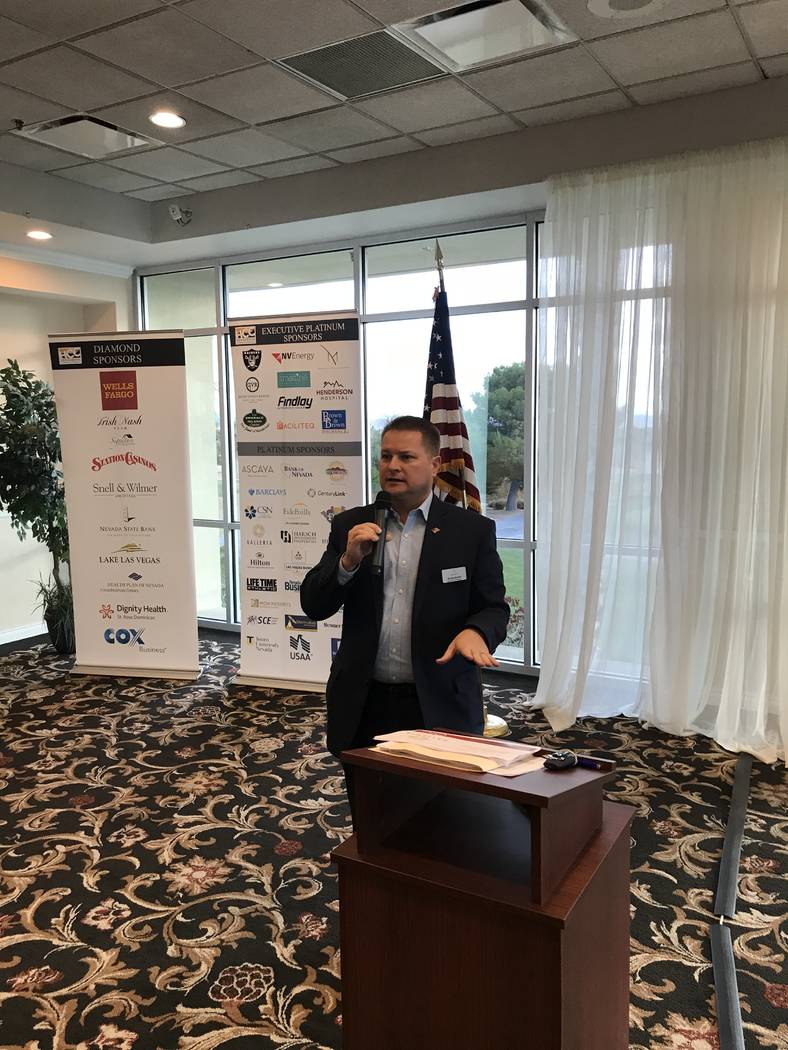 If Kevin Budny has his way, people will stop referring to the Galleria at Sunset as a mall.
Henderson's largest retail center on Warm Springs Road will celebrate 23 year in early 2019 and its general manager jokingly described to Henderson Chamber of Commerce members that he fines his employees $1 every time they mention the word mall.
"We just don't think of it as a mall," Budny said. "We try to think about as a community shopping center. It's not a box we are trying to fill but a piece of real estate, and what are we going to do with that real estate."
Budny spoke to the Chamber Dec. 11 as part of a presentation on the state of retail entitled "The Growth and Evolution of Galleria at Sunset." Further changes are coming at the 1.1 million-square-foot center as it continues to transition in its ownership.
The Galleria at Sunset was developed by Forrest City Enterprises, which earlier this month was acquired by Brookfield Asset Management and rebranded as Brookfield Properties. In 2013, the Australian-based Queensland Investment Corp., a state government-owned investment company, acquired a 49 percent stake in the Galleria at Sunset and nine other Forest City centers across the country from New York to California, The stake could grow to 100 percent in the Galleria within the next two years, and it has already converted local employees to QIC, he said.
"We have a partner silently sitting back with us for the last seven years," Budny said. "We are happy to let you all know they have taken on more of a role with what is happening at Galleria at Sunset and looking at the basis of their model of successful shopping centers in Australia."
QIC initially started by taking pension and other retirement funds and investing it for a regular return, Budny said. What's different about their executives' mindset is QIC is not a real estate investment trust subject to Wall Street, which pushes for returns of 8 to 10 percent every year, he said.
"That (from Reits) pushes revenue numbers to a point where retailers feel pain, and it starts to break them," Budny said. "With Queensland, it's lets (us) have consistent growth but let's (us) keep improving the product and bringing in better retailers and people that are forward-thinking. They are looking at growing their asset long term and not coming in and buying and flipping it like a lot of investors do in Las Vegas. They want to own it and keep it for a long time."
The plan is that a community shopping center that stays "relevant and competitive and brings new things to the market," Budny said. Executives from QIC have made many visits to Henderson, and U.S-based personnel went to Australia to see what's done there.
"The great thing about their shopping centers is it's full-service, one-stop community shopping," Budny said. "It has a butcher, orthodontist, grocer and retailers. They make it that community-driven area, and that is where we want to get to. We want to make it so you don't have to go to six places to get what you need but one place to get it all at once."
Budny said he would love to take the center vertical someday if space ever came back under their control. The staff does internal studies of what would be done in case that happens five or 10 years down the road, he said.
"I hope that we could redevelop and change some of the landscape and go vertical with an office tower or even a (boutique) hotel and do something a little bit different," Budny said. "Maybe it would have some convention space to make it more unique, and I would love to have a grocer. The sky is the limit in what we could do. It's just a matter of bringing back and controlling some of the assets."
With an office, there's more of a captive audience that supports the retail by one-stop shopping where people can go down for lunch and pick something up for dinner, Budny said.
"You won't have to travel somewhere to do that," Budny said.
Retail has been disruptive historically and Budny said people don't need to be afraid of online shopping being the end of bricks-and-mortar retail, although some national retailers continue to be in financial peril. Online sales make up 11 to 14 percent of yearly sales, and a report from the International Council of Shopping Centers says having a store brings 37 percent more traffic to retail.
The Galleria at Sunset, which is 96 percent occupied, is a regional center that pulls from North Las Vegas to Northern Arizona, Budny said. But it's also a destination for Henderson residents and the extension of Galleria Drive eastward to Lake Las Vegas makes that an easy drive for Henderson residents in growing master-planned communities, he said.
The Galleria has about 130 stores and tenants include Dillard's, Macy's, JC Penney, Kohl's and Dicks Sporting Goods as the anchors.
"The bricks and clicks is really becoming a marriage," Budny said. "We don't believe the mall is dying. They have been saying that for 15 years. Retailers are getting smarter and developers are getting smarter of how to reposition themselves in the market to stay relevant and have that experience for the customer and bring them what they want. If we are able to do that, there will always be a need for a physical location to shop."
In 2014, the Galleria at Sunset completed an $8 million interior renovation changing out flooring and colors to modernize space. In addition, there was a $25.5 million, 30,000 square-foot expansion to add five new restaurants and a 12,000-square-foot outdoor plaza for events. More improvements will be coming to further modernize the center.
It's been about creating more of a dining and entertainment experience, especially with live entertainment, in addition to retail. That will continue because in 2019 some of the new events planned include the Sunset Sidewalk Sale, Sunset Shop & Wine.
"We started introducing new retailers that reflect that mentality for doing something different," Budny said. "We wanted to make it more interesting than going to buy shirt and jeans. You can go have a glass of wine and paint a picture and it's experiential retailers we are moving toward. We're making sure we're staying relevant by bringing in new ideas."
One is the My Gym Children's Fitness Center that opened in October that came about by partnering with a Green Valley operator to have a place for parents and their children to participate in activities and classes, Budny said.
"It's a great addition to go in that direction to offer to families with young kids," Budny said. "A year ago at the chamber event we talked who was coming and great new concepts that were the first in Nevada, and they're still there and doing well and making sales above their plans. This is a great story compared to where we were at in 2008 and 2009 when everyone was running to the hills in the retail world."