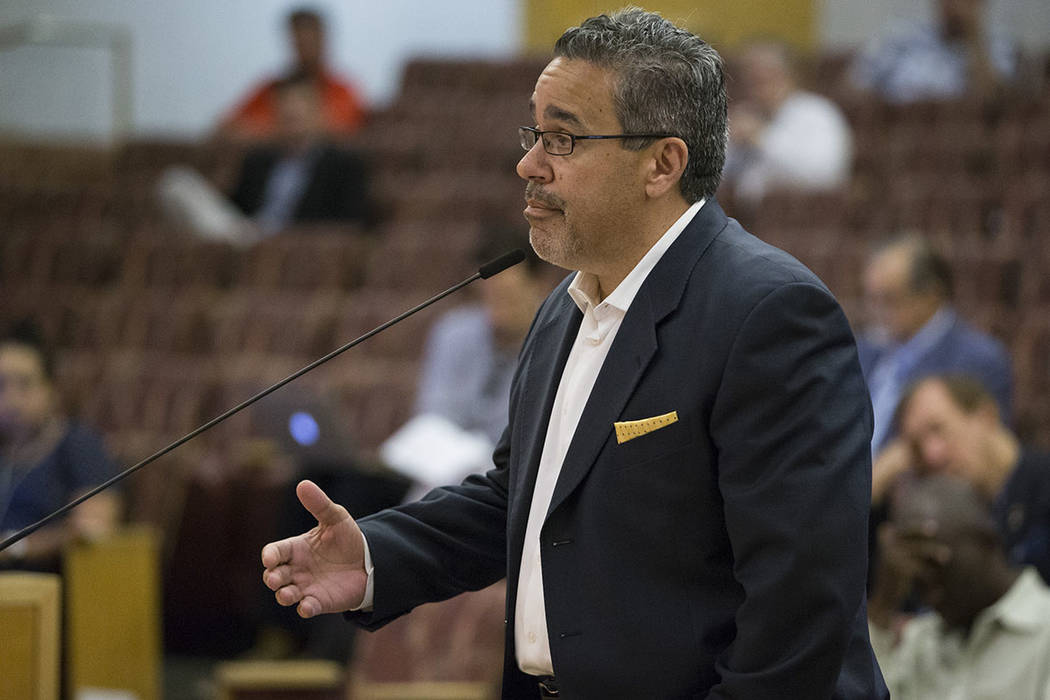 A Bank of America survey of Hispanic business owners shows they're more optimistic about 2019 and business growth and expansion opportunities with the economy than their non-Hispanic counterparts, and none of those findings surprises Peter Guzman.
The president of the Last Chamber of Commerce in Las Vegas said he sees it within his organization that has more than 1,500 members, and is growing rapidly.
The newly released national survey also shows Hispanic small business owners, more than non-Hispanic entrepreneurs, say their business has grown beyond their original vision and are more likely to pass their business on to the next generation.
"I tend to agree with the optimism," Guzman said. "What we are seeing with the Latin Chamber of Commerce is businesses booming and growing rapidly with restaurants and construction leading the pack. Latino entrepreneurs open businesses three times as much than the U.S. average, and in Nevada they fail at a 2-1 less rate than non-Hispanic businesses."
What Guzman said the survey tells him in part is the immigrant experience with Hispanic businesses.
Many come from countries where "you have to be creative and work really hard in order to make it, otherwise you get left behind because there's not a lot of infrastructure to help small business."
Guzman said those same people come to the U.S. with "a creative mind and hard work ethic" and have an infrastructure in place to help them succeed and grow.
"It tells me that because of the opportunities they tend to be more optimistic about success," Guzman said. "One of the recipes for success is to change quickly and in Latin countries change is happening every second. In the U.S. there's more stability and there's business-friendly environment like Las Vegas. The only negative is they need more access to capital. They are not considered the traditional bankable, but it's getting better."
It's not that Hispanic business owners aren't worried about a national recession that some predict will happen by 2021.
The survey said the high optimism levels persist despite lingering economic concerns and new operational challenges. Contrasting with their overarching confidence, Hispanic entrepreneurs are more concerned about many economic issues compared to their non-Hispanic peers, the survey said.
Michael Borello, the small business banking manager for Bank of America in the Las Vegas, said some of the optimism from Hispanic small business owners is, that while many businesses overall went out of business between 2007 and 2012 in the aftermath of the Great Recession, the Hispanic business segment increased by 46 percent over the same time horizon.
"Being in that start-up phase brings a much greater sense of optimism relative to their counterparts in business for longer periods of time and who have gone through different business cycles," Borello said. "We feel that sense of optimism as we talk to our clients in the community."
The survey showed, meanwhile, that the ultra-competitive job market has created a challenging environment for Hispanic entrepreneurs looking to attract and retain talent, Borello said. Hispanic business owners are much more likely to have had employees leave over the last year compared to their non-Hispanic peers. As a result, they are also more likely to adjust their hiring strategies to increase their chances of retaining and landing top talent, he said.
"That is a common of what we have heard from small business owners with a 4 percent unemployment rate," Borello said. "It's difficult to attract talent, and they've made changes in how they find it with their hiring strategies and benefits they offer, in particular in Las Vegas."
The survey showed that Hispanic business owners with 90 percent are offering a perk or benefit to a job candidate compared to 82 percent for non-Hispanic businesses, Borello said. Those benefits include flexible hours, flexible work locations,discretionary bonuses, retirement benefits and health benefits, he said.
"Those are benefits they had to bring to employees to retain them and while their companies are growing and competition for employment is increasing," Borello said.
Hispanic small businesses, of which there are 5 million in the U.S., are also change methods in how they're attracting employees by turning to social media, Borello said.