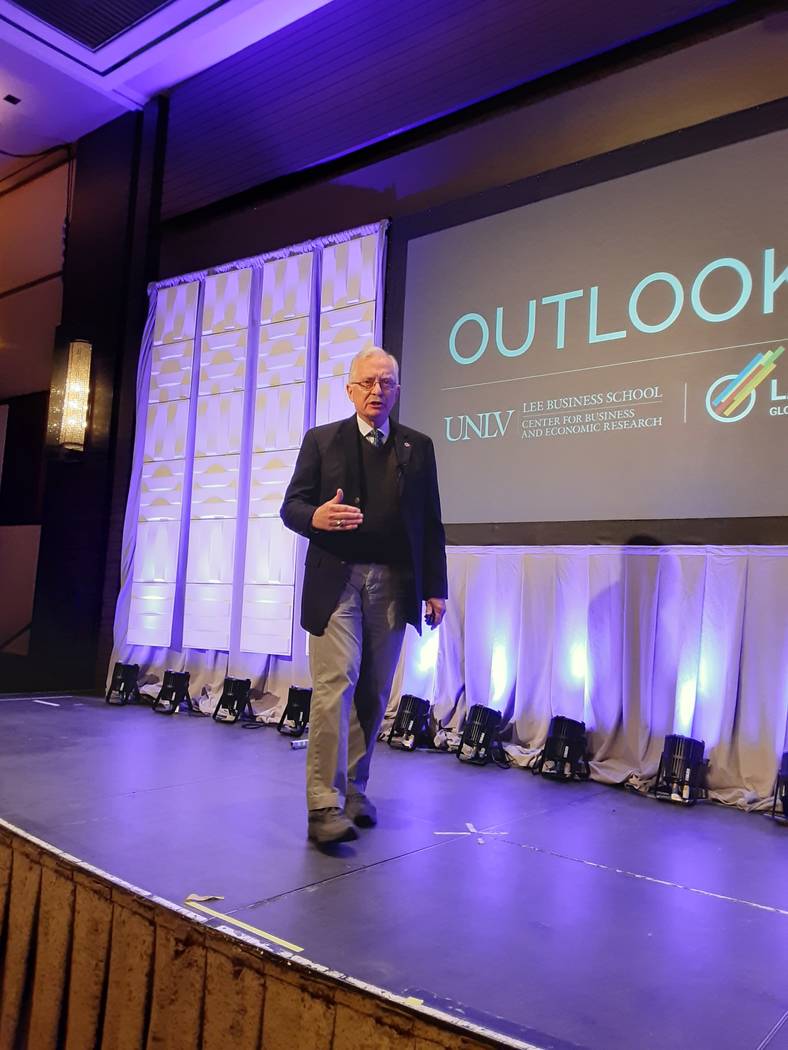 A UNLV economics professor predicted the national economy will continue its slowdown in 2020 and 2021 and that should trickle down to the gaming and hospitality industry in Las Vegas that he said is surprisingly soft given record passenger numbers traveling through McCarran International Airport.
Dr. Stephen Miller, director of the Center for Business and Economic Research at UNLV, questioned whether resort fees and parking fees or the lack of new supply of hotel rooms in a decade are impacting visitation from California. There are 500 fewer cars a day crossing the border Nevada/California border on Interstate 15 compared to 2018 but weekend hotel occupancy has been tight as well at 95 percent.
Miller said Tuesday at the M Resort in Henderson during the annual forecast breakfast sponsored by his school and Las Vegas Global Economic Alliance that the Las Vegas economy remains strong and in a good position compared to the nation with retail sales strong — up 6.7 percent through September and population growth to exceed 2 percent during the next two years.
"I think they should feel comfortable about the future of the Southern Nevada economy over the next two years," Miller said. "But as is always the case, you should keep some of your powder dry because you never know when the next recession will come."
Miller raised one concern, however, that Northern Nevada has done a better job of diversifying its economy than Southern Nevada and has positioned itself to better withstand the next recession than Las Vegas.
The center isn't predicting a recession in 2020 or 2021 as some national economists have, but Miller said he expects GDP to hover around 1.7 percent for each of those two years. GDP was 2.9 percent in 2018 and is expected to finish 2019 just above 2 percent.
The center is predicting a strong end to 2019 and that Las Vegas' visitor volume will end 2019 up 0.8 percent (it's up 0.5 percent through October), but only increase 0.3 percent in 2020 before declining 0.4 percent in 2021.
Hotel occupancy, which in 2019 is up 1.1 percent in downtown and 0.6 percent on the Strip, should be flat in 2020 before rising 0.5 percent in 2021 when more hotel rooms, including $4.3 billion Resorts World Las Vegas open that summer with its 3,500 rooms The Drew Las Vegas with its nearly 3,800 rooms won't open until 2022.
Gross gaming revenue will be flat in 2020 and 2021 with the center projecting it to finish 2019 up 1.3 percent after being up 0.9 percent through the end of October. It will be 1.4 percent in 2020 and 1.2 percent in 2021, according to Miller's forecast.
The national recovery from the Great Recession is the longest on record in its 11th year, and Miller said the Southern Nevada will continue to be stronger because it was hit so hard and had a lot of catching up to do. Despite that, hospitality hasn't boomed compared to the rest of the local economy, he said.
"The leisure and hospitality industry has been soft for a couple of years now, but the unknown factor that plays into this over the next five years is supposedly 12,000 rooms coming online," Miller said. "There was a shortage of rooms and the question is will those new rooms bring in visitors. That's hard to forecast."
Miller said what's perplexing now is that McCarran International Airport is setting passenger count records — up 3.5 percent through October — and he called it per perplexing that gaming and hospitality hasn't followed suit.
Part of the reason is a decline in visitors driving from California to Las Vegas, Miller said. Numbers from the Las Vegas Convention & Visitors Authority show traffic on the I-15 is down 1.1 percent through October at the California border. It was down 3.7 percent in October alone.
"That has got to be the answer," Miller said for the softness. "The question is whether that is parking fees and resort fees. That may play into it but whether it's big enough to keep the visitor volume soft, I don't know."
The average daily room rate at $133 is 2.6 percent higher than 2018 without calculating resort fees that can run $50 a day in many cases and parking fees.
"If we add 12,000 rooms, the average hotel price would go down a little bit," Miller said.
The center predicted the region's job growth, after growing 2 percent in 2019, will grow by 1.7 percent in 2020 and only 1.1 percent in 2021. Personal income will grow but not as fast as the 6.6 percent in 2019. The center projects it to be 5.7 percent and 5.5 percent, respectively in 2020 and 2021.
"We were setting records for employment growth," Miller said. "We're still faster than the national average even when we slow it down in our forecast."
Miller said the slowdown with the national economy comes as the risk continues from any slowdown in Europe and China and possible escalation in the trade war.
Chris Thornberg, a founder of Southern California-based Beacon Economics and director of the UC Riverside School of Business Center for Economic Forecasting and Development, said doom and gloom forecasts predicting a recession by now and or by 2020 aren't coming through.
"I call it the unrecession," Thornberg said. "It's been a year since all of these pessimists and bears have been telling us the expansion is over. You don't see anything in the statistics that suggests an economic slowdown occurring at all. Rumors of this expansion's demise are highly overrated."
Thornberg said he expects 2.5 percent GDP growth in 2020 and says there's no evidence that the trade war is having an impact on the economy.
"The biggest issue in 2020 is political chaos but that chaos has yet to spill out into Main Street yet," Thornberg said.
Thornberg said Las Vegas is benefiting from population growth because people relocating here leads to more development.
"It's booming because people are moving to Las Vegas," Thornberg said. "That's good or bad. I saw an article where people in Reno were getting upset because home prices were going up too much, there's too much competition and there's too much traffic. Congratulations. You now know what economic development looks like."
The Southern Nevada economy will be bolstered by the population growth of 2.1 percent in 2020 and 2021, just edging the 1.9 percent for 2019, Miller said.
"I think it's not as fast as before the Great Recession," Miller said. "It's pretty fast, but I think we can manage it."
Miller said, meanwhile, that the Reno economy is strong and called it "A Tale of Two Cities." It has diversified "much more" than Las Vegas with its Tesla giga battery factory and its thousands of jobs and with other industries. He's not sure of the answer to that.
"We in Southern Nevada were looking at Faraday Future (planned car plant in North Las Vegas) that turned out not to be a future," Miller said. "For the state, we have done some good work, but we have some more to do. As an economist, we say we are smarter than the market and try to plan and give incentives to locate here, but are we smarter than the market? I am not so sure we are."
Miller said although diversification is "a lot slower in Southern Nevada" that's to be expected because gaming and hospitality is more than 70 percent of the economy.
Some 15 percent of Reno's employment is tied to leisure and hospitality and Southern Nevada is closer to 30 percent, Miller said. Las Vegas was in the low 30s before the recession, and Reno was in the high 20s, he said.
"We have come down a little bit but not a lot, and they've come down quite a bit," Miller said.
Thornberg said it wasn't a surprise that business owners realized that heading east on Interstate 80 across the California border would find business-friendly Nevada to build a factory without all of the regulation faced in California.
Thornberg said, however, it doesn't matter if Northern Nevada is diversifying its economy more than Southern Nevada. The region is doing well with population growth.
"When you think about how bad Vegas got whacked during the last downturn, a lot of it had to do being a one-horse town for entertainment," Thornberg said. "What does Vegas want to be? What are they worried about? Somehow the idea that diversity is good and a lack of diversity is bad is glib. The idea of one of the most rapid-growing cities in the nation and wringing your hands because you don't look like somebody else, how about appreciating with you do have."