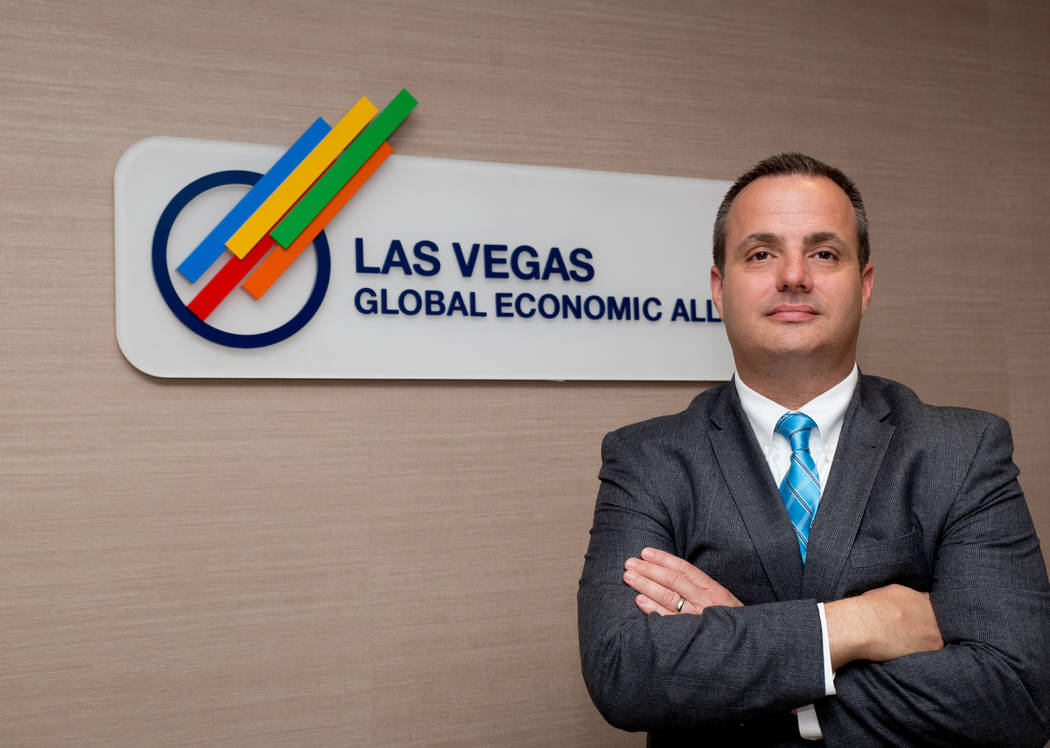 Five Southern Nevada companies are expanding their operations and four are moving into the region as part of incentives approved by the state of Nevada.
The Las Vegas Global Economic Alliance, the region's economic development authority, projects 1,775 jobs will be created among the nine that were approved for state incentives by the Nevada Governor's Office of Economic Development board of directors.
Caremark (CVS), Sephora USA, KRS Global Biotechnology and Fortress Innovations are among the companies moving operations to Southern Nevada. Locally based companies expanding are Ritchie Bros. Auctioneers, 3PEA International, Pictographics, Alpha Guardian and Cannae Holdings Inc.
LVGEA Chief Operating Officer Jared Smith said it's exciting to see manufacturing and logistics companies locating to Southern Nevada in a continuation of the trend of companies like Amazon and Fanatics.
"What we have seen in the last two years is a resurgence of manufacturing and logistics," Smith said. "When people make products, they need to ship it out. More than half of our pipeline of companies we are working with are manufacturing and logistics related, which is awesome. What that tells me is we have the workforce they are looking for, and the value proposition is better here with a lower cost of living. The same wages they might pay people in California goes a lot further here."
Caremark said it will create 500 jobs with an average wage of $25.73. It plans to create a prescription management service center that will support operations for pharmacy care services and disease management support for CVS/Caremark members, according to Smith. He said the company chose Southern Nevada because of the low cost of operations.
Sephora USA plans 460 jobs over five years with an average wage of $24.05. The French cosmetics chain is opening a 715,000-square-foot facility that will serve as a new regional distribution center shipping products to stores and customers in 11 Western states.
Featuring nearly 300 brands, along with its own private label, Sephora offers beauty products, including makeup, skincare, body, fragrance, nail color and haircare. It operates approximately 1,900 locations in 33 countries worldwide, with more than 430 stores across the U.S., Smith said.
KRS Global Biotechnology Inc. plans to create 320 jobs with an average wage of $25. Its plans call for building a 150,000-square-foot pharmaceutical manufacturing facility that would house new clean rooms, production lines and warehousing, Smith said.
KRS Global Biotechnology creates custom pharmaceuticals, sterile products, such as syringes and IV bags, purified water for drug manufacturing and kits used by hospitals and other compounding pharmacies to test their technicians.
Fortress Innovations plans to create 180 jobs with an average wage of $25.18. It plans to build a 315,000-square-foot manufacturing facility. The company distributes insulation paints and coatings for commercial, industrial and domestic and residential use, Smith said.
Both Caremark and KRS Global received catalyst funds — money that covers expenses like training, as well as the standard abatements — Smith said. The other seven companies only received the standard abatements, which are modified business tax, personal property tax and sales and use tax abatements, he said.
Since January, the LVGEA has assisted in the expansion and relocation of 20 companies, projecting a total of more than 3,312 jobs over five years, Smith said. The latest batch of nine companies, however, is the largest number of projects that has ever presented at a GOED board meeting, Smith said.
"It's exciting to see companies that have been in our pipeline, reaching the point to make an announcement," Smith said. "It seems over the last 24 months, projects are coming faster and more furious. We can't as a community take our foot off the gas pedal. What we are doing right now is working. We have a formula for success."
Among companies that already have a foothold in Nevada, includes Cannae Holdings Inc., which will create 65 jobs with an average wage of $36.90. The diversified investment firm plans to build a headquarters operation adjacent to its existing Las Vegas facility. The company plans to hire financial, information technology and accounting personnel to support its headquarters and operations, Smith said.
The executive group of Cannae Holdings includes Bill Foley, owner of the Vegas Golden Knights. The firm primarily invests in restaurants, technology-enabled health care services, and financial services, Smith said. The company has 17 employees in Nevada.
Ritchie Bros. Auctioneers will create 55 jobs with an average wage of $22.94. It's expanding its Southern Nevada operations to establish a 169,080-square-foot warehouse that will be used to manage the storage and distribution of equipment. This warehouse will be the central processing center in the region that handles storage, logistics, inventory management, auction management and delivery orders, Smith said.
RBA is the world's largest industrial auctioneer, and the company sells a broad range of used and unused industrial assets, such as equipment, trucks and other assets utilized in construction, according to the LVGEA.
The company chose to expand within Southern Nevada in part because of the logistics hub that supports the Western U.S., Smith said. It has 14 employees.
3PEA International Inc. will create 85 jobs with an average wage of $40.20. It designs and develops payment solutions, prepaid card programs and processions services under the PaySign brand name for corporate consumers and government applications, Smith said.
In order to accommodate its Southern Nevada expansion plans, 3PEA International plans to relocate from its 11,541-square-foot-space to a 21,000-square-foot facility, Smith said. It has 50 employees.
Pictographics will create 50 jobs with an average wage of $27.35, Smith said. The company, an industry leader in print technology, plans to expand its existing Southern Nevada manufacturing facility by bringing in multiple 3-D printers. The manufacturer produces graphics for events and trade shows, Smith said. It has 20 employees.
Alpha Guardian will create 60 jobs with an average wage of $26.92. A leader in the residential safe, security and storage industry, it's planning to expand its Nevada operations and relocate its Chicago Stack-On brand operations from Illinois to Las Vegas. The planned expansion would require a facility of at least 100,000 square feet, which would house the company's corporate operations, Smith said. It has 63 employees in Southern Nevada.