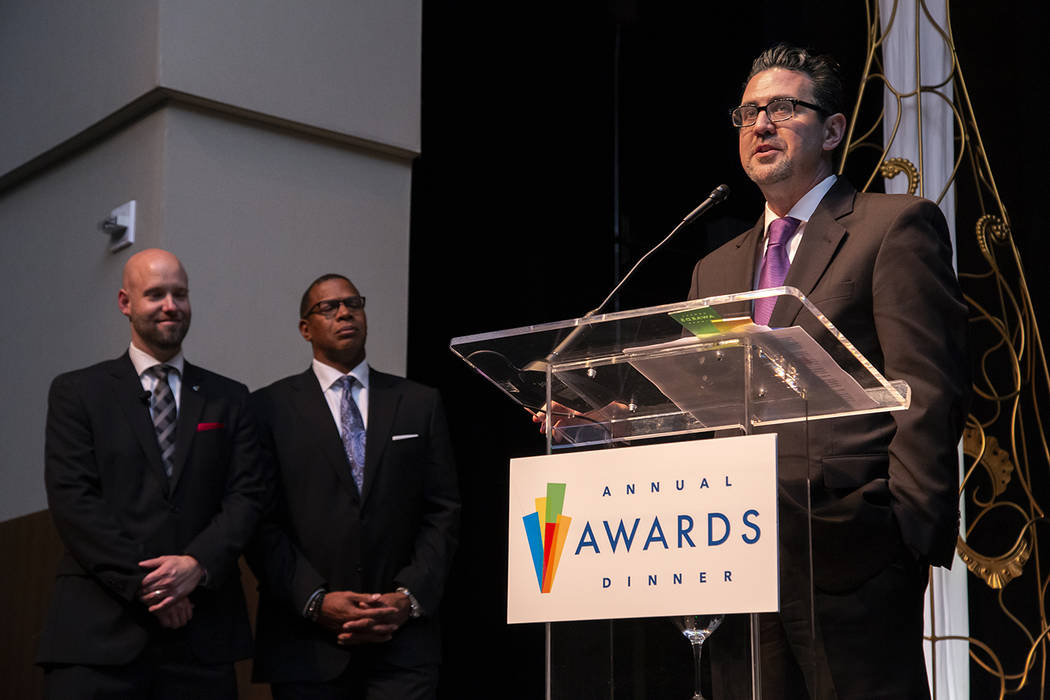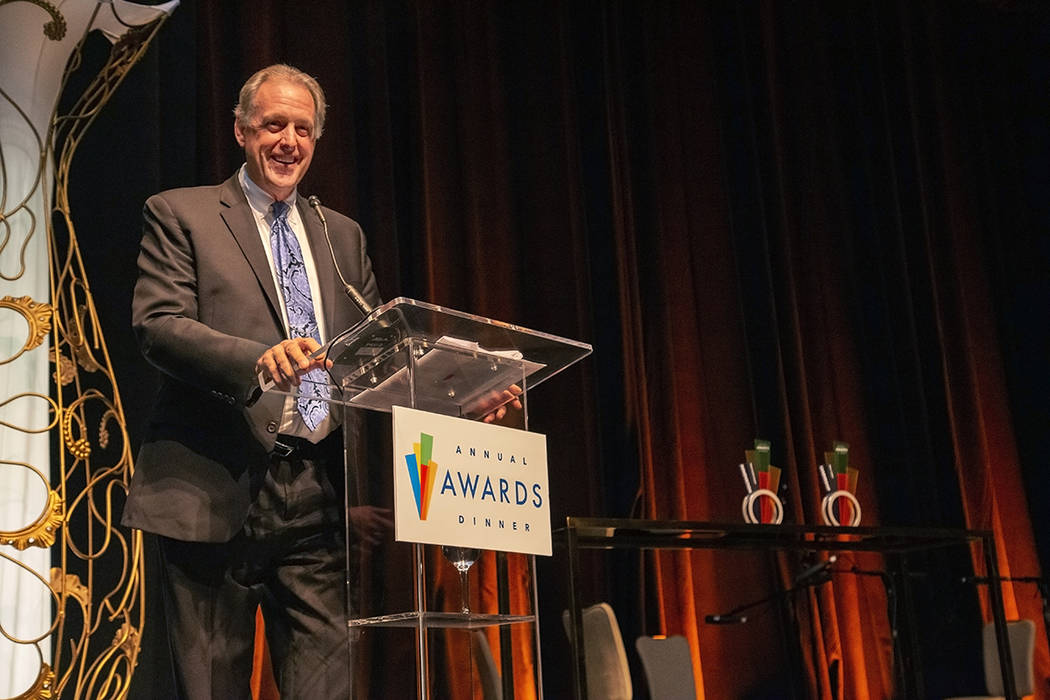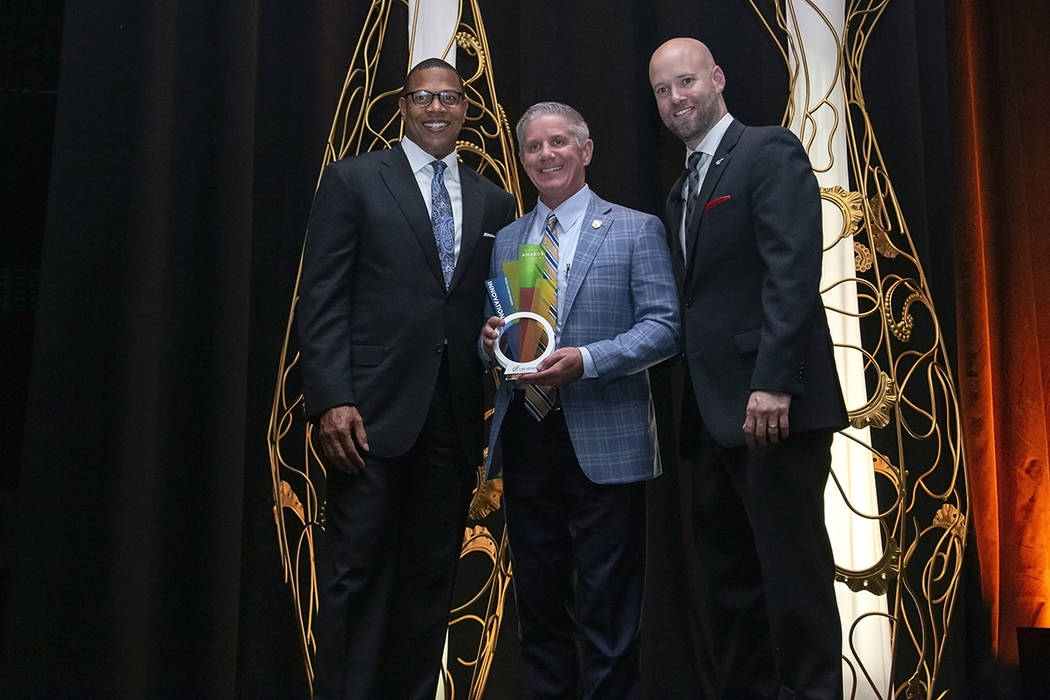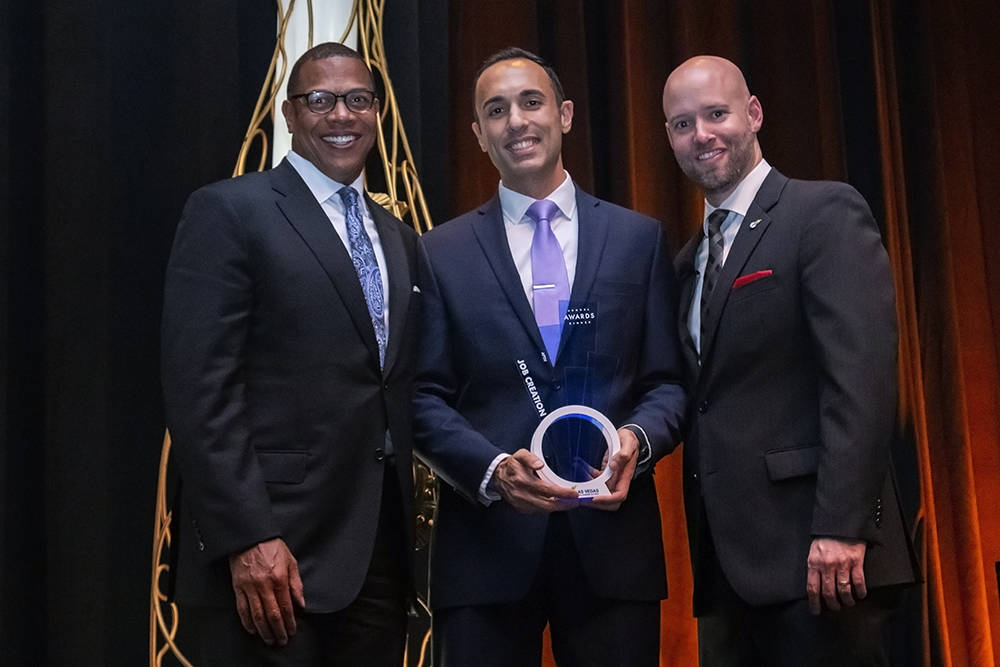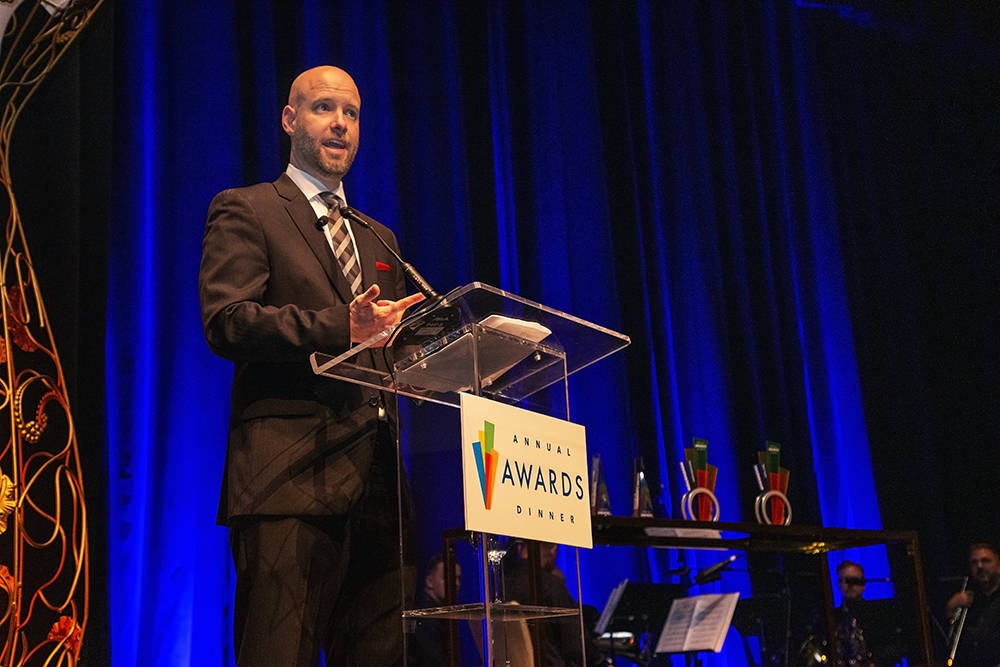 Applied Analysis Principal Jeremy Aguero and North Las Vegas Mayor John Lee along with the Vegas Golden Knights were among those honored this year by the Las Vegas Global Economic Alliance.
Every year the LVGEA celebrates an impact on economic development with achievements in leadership, innovation, partnership and job creation in Las Vegas.
The LVGEA, the public-private partnership that works to grow the economy, gave its Leadership Award to Aguero, a principal of the research firm, who was recognized as someone whose vision and influence has had a positive impact on the economy.
Aguero, along with the Nevada Legislature, drafted a new school funding formula to modernize the state's education funding system. Additionally, under Aguero's direction, Applied Analysis operated as the lead research firm in support of Southern Nevada's Tourism Infrastructure Committee, which ultimately led to the expansion of the Convention Center and creation of Allegiant Stadium, according to Jonas Peterson, the president and CEO of the LVGEA.
CHAIRMAN'S AWARD
Lee was recognized "for his vision, influence and accomplishments in positively impacting the economy of North Las Vegas and greater Southern Nevada," Peterson said.
Since taking office in April 2013, Lee "has transformed the city of North Las Vegas into an economic powerhouse and fulfilled his pledge to diversify Southern Nevada's economy," Peterson said.
In four years, Lee has recruited multiple Fortune 500 companies and high-tech startups to North Las Vegas, including Amazon, Fanatics, The Honest Co., Hyperloop One and Bed, Bath and Beyond.
"Under his leadership, thousands of jobs have been created, 14 million square feet of commercial and industrial space is in development, and more than $1 billion has been invested in North Las Vegas," Peterson said. "Mayor Lee and his team have expanded and enhanced the city's libraries and parks and recreation facilities; hired more than 100 public safety personnel; and supported the development of hospitals and charter schools in the city."
INNOVATION AWARD
The Golden Knights won the Innovation Award in which it competed with two other nominees in the Nevada State College and Three Square. The award recognizes a business or community organization whose breakthrough achievements impact the Southern Nevada economy.
The Golden Knights broke records and spurred tourism in making it to the Stanley Cup Finals in June 2018 in the team's first season as an expansion franchise.
"They deserve high praise for innovations in sports marketing, partnership development, community integration and live event entertainment," Peterson said. "With the team's incredible success, Vegas has gained a new sense of pride, and the National Hockey League has a new standard for innovation."
Three Square, Southern Nevada's exclusive food bank, provides assistance to more than a quarter-million residents in Lincoln, Nye, Esmerelda and Clark Counties. It has the country's largest after-school feeding program.
Nevada State College, the public state college based in Henderson serves about 5,000 students. It was recognized as serving as a critical need between the two-year colleges and research institutions. In the 2019 legislative session, NSC successfully advocated for two new buildings, Education Academic Building and Health and Sciences Building, to help address critical statewide shortages in teachers and medical professionals.
JOBS AWARD
Aptiv was recognized was a global technology leader providing automated driving solutions. In 2018, the LVGEA assisted Aptiv in its relocation to Southern Nevada to bring 150 jobs over a five-year period.
"It's at the forefront of solving mobility's toughest challenges, built on decades of experience in automotive performance and has a strong foundation in delivering safe technologies," Peterson said.
Las Vegas is home to Aptiv's largest self-driving fleet, a portion of which is available through an ongoing partnership with Lyft. The autonomous vehicles support more than 1,600 destinations across Clark County, including the Las Vegas Convention Center and City Hall. In December 2018, Aptiv opened its Las Vegas Technical Center. The investment was a milestone in the company's continued expansion of its revenue-generation automotive vehicle activities, Peterson said.
PARTNERSHIP AWARD
The Las Vegas Metro Chamber of Commerce was recognized for its focus on helping Nevada businesses succeed and create jobs. The Metro Chamber provides a variety of resources, including a full-time government affairs team at the local, state and federal levels. It offers educational opportunities and expertise to help business owners make smarter decisions. This LVGEA and Metro Chamber are collaborating on the Workforce Blueprint 2.0, a follow up from the Workforce Blueprint and will highlight recent economic trends, existing employer needs, expected target industry growth, and aspirational community goals.
In August, the LVGEA appointed four new members to serve on the board of directors. They include CityCenter President & COO Steve Zanella from MGM Resorts International, Henderson Mayor Debra March, Boulder City Mayor Kiernan McManus and Las Vegas Councilman Brian Knudsen.