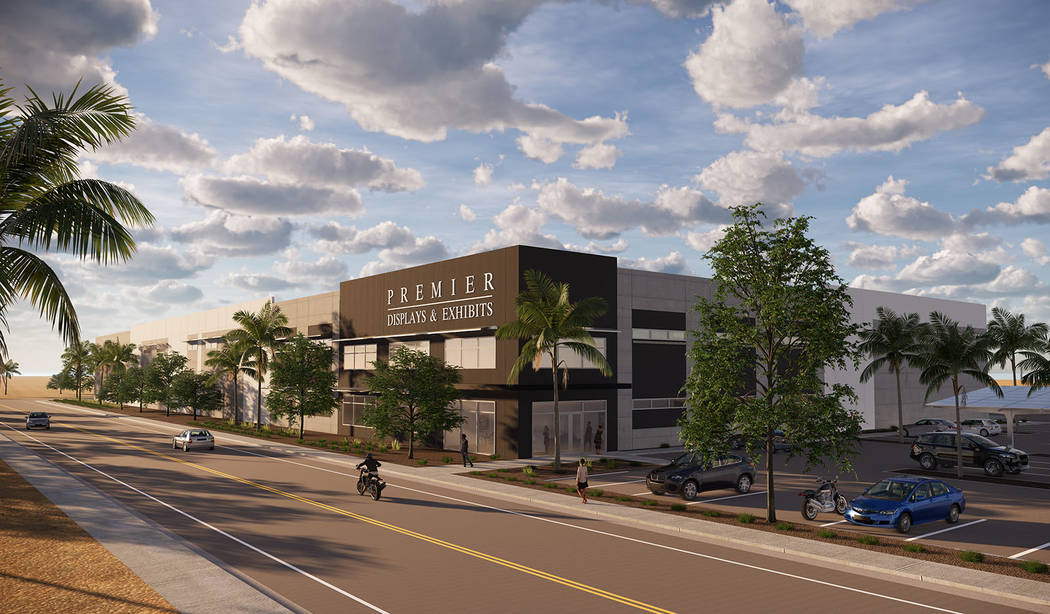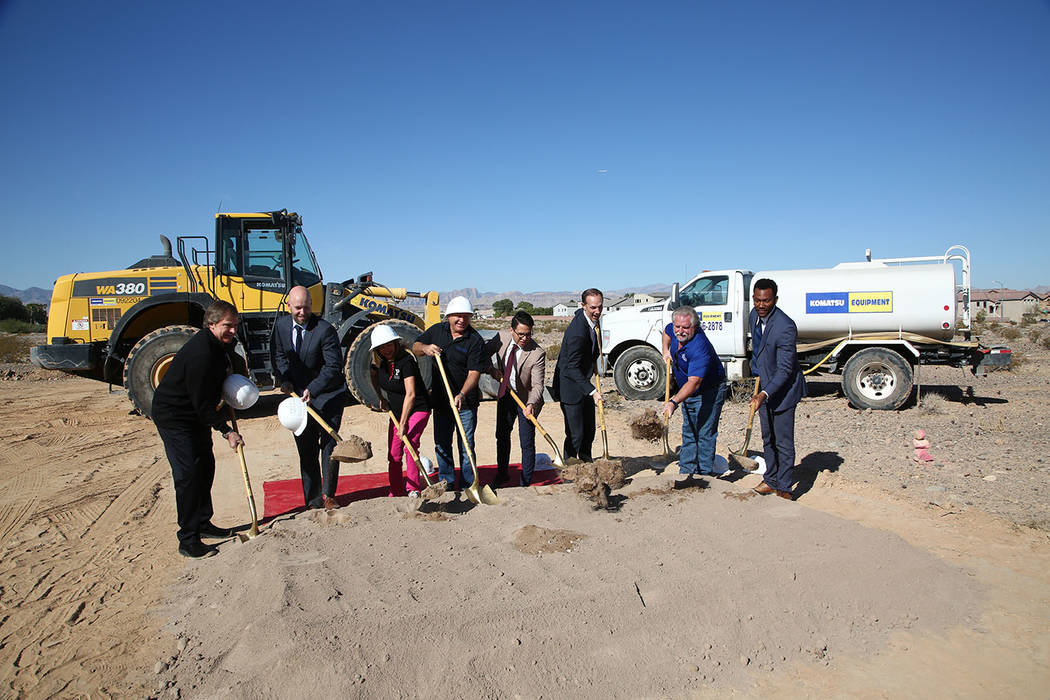 While it remains a small part of the Southern Nevada economy, nothing epitomizes the bounce back in manufacturing jobs in Las Vegas since the Great Recession than the relocation of the corporate headquarters of Premier Displays and Exhibits from California to Las Vegas.
The company's 100,000-square-foot manufacturing facility is under construction in the southwest valley near Jones Boulevard and Blue Diamond Road will, when its fully operational later this year, create 125 permanent jobs and 25 corporate executives and production managers.
The project that has created 150 construction jobs is projected to generate $45 million in annual revenue with a general economic impact of $65.5 million, according to the Las Vegas Global Economic Alliance.
Manufacturing jobs hit a Las Vegas high of 27,700 in September 2006 before falling to 19,400 during a three-month period at the end of 2010 and early 2011 after the Great Recession.
Manufacturing jobs surpassed 26,000 in September for the first time since December 2007 and stood at 26,300 to end 2019. That's up 1,200 jobs or 4.8 percent from 25,100 at the end of 2018 during a time the rest of the nation has started to lose manufacturing jobs in the wake of the trade war with China.
Las Vegas hasn't fully recovered from that point last decade when manufacturing made up 3 percent of the total jobs.
It's only 2.5 percent of the jobs in Las Vegas compared to 10 percent in the Reno-Sparks metro area, which has 27,300 manufacturing jobs, 1,000 more than Las Vegas. Nationally, manufacturing as a percentage of jobs, continues to decline to below 9 percent, down from more than 30 percent in past decades.
In its Workforce Blueprint 2.0 released in the fall, the LVGEA highlighted job growth by 2026 of all sectors including, manufacturing. The business headquarters and services sector is projected to see its jobs grow by 36 percent by 2026 or by more than 47,000 between 2016 and 2026. Emerging technology will grow by 29 percent or 2,681 jobs; logistics, manufacturing and supply-chain management by 33 percent or 2,681 jobs; autonomous systems by 36 percent or 1,854 jobs; finance, insurance and banking by 17 percent or 4,432 jobs; health care services by 27 percent or 19,561 jobs; and gaming, tourism and conventions by 18 percent or 50,878 jobs to bring the total to 336,043 by 2026.
The state has been providing incentives to companies, including manufacturers, to expand or relocate to Las Vegas as it did with Premier Displays.
Since 2017, the LVGEA has assisted more than 40 companies that have provided about 4,600 jobs. That includes such slot makers as Aristocrat with 34 jobs and Scientific Games with 100 jobs and Xtreme Manufacturing which added 381 jobs.
In December, Xtreme Manufacturing, a company founded in Nevada in 2003, was given state incentives from the Governor's Office of Economic Development to create 60 jobs with an average wage of $22.55. It's a manufacturer of heavy equipment and construction machinery including lifts, loaders and telehandlers.
GOED gave Premier Displays incentives for the creation of 51 jobs with an average wage of $37.08. The company is an end-to-end exhibit production house specializing in the design, fabrication and activation of convention and trade show exhibit spaces, retail environments and brand experiences across the globe. The company's clients include Pixar, HondaJet, Skechers, KB Homes, Nike, The History Channel, Electronic Arts and Discovery Communications. It's for conventions, corporate headquarters, hotels.
Premier Displays CEO and President Chris Bullard said he's been doing trade shows in Las Vegas since 1980 and bought a home here five years ago and has been thinking about bringing his business here for three years. He said he wouldn't have made the move 10 years ago because he knew business owners who relocated and couldn't make it because they didn't have the workers.
Bullard said corporate tax abatement from the state will save him about $250,000 a year for a company that does about $50 million in revenue a year. It currently rents the building in Orange County and will reduce its footprint in California by half. Some 15 employees are relocating.
"The move to Southern Nevada was a no-brainer," Bullard said. "The business climate and tax structure in Nevada is unparalleled, and we will be able to take advantage of the close proximity to one of the most forward-thinking convention cities in the world and the extraordinary transportation access to market destinations across the country and the globe. We are confident that moving to Las Vegas will add great value to our long-term objectives and to our continued business development and growth."
Machine tool builder Haas Automation, which is based in Southern California and makes machines for companies, plans to start work this year on a facility south of the Henderson Executive Airport that it will open in 2022. It's relocating from Oxnard in Southern California.
It has plans to build a 2.3-million-square foot manufacturing facility valued at $327 million. The city of Henderson sold the company 279 acres for $27 million, including parcels in which it will build facilities for other companies. The state has provided $10.5 million in incentives. Haas will create 1,400 jobs.
"In Southern Nevada we're seeing a boom in manufacturing, logistics and assembly," said Jonas Peterson, president and CEO of the LVGEA. "It's roughly five times the pace we have seen over the past five years. It's growing rapidly, and we expect it to continue with firms like Haas coming in and Premier where we can turn gaming and hospitality into manufacturing. They are great jobs and sustainable. Haas is exciting because not only will they create thousands of jobs but we hope they'll help us attract other firms that are related to what they do and grow out that industry. It's a powerful addition to our manufacturing base."
Peterson said about a third of the manufacturing coming to Las Vegas has ties to California and those businesses range from gaming-related to food to advanced equipment and even clothing.
"You have a great opportunity to serve the Southwest United States, particularly California without being there," Peterson said. "We have a tax-friendly environment and low regulation and tremendous quality of life. Sometimes, companies see their peers making the move to Nevada and want to be a part of that trend."
In Las Vegas, John Restrepo, an economist and principal with RCG Economics, said 14,800 of those manufacturing jobs were durable goods and 11,100 non-durable goods. Another 3,900 were miscellaneous manufacturing. Durable manufacturing is hard goods, including slot machines. Non-durable are soft goods that include food products.
"We're moving along," Restrepo said. "But we're still in the infancy here. The LVGEA and others are trying to create more manufacturing jobs because they're higher-paying but that ties into the skillset of the workforce. It's a complex issue to go from a service-based economy to one with a growing manufacturing. It takes a lot of time, talent and treasure to do that. We are moving in the right direction, but it takes a long time to get to where we want to be."
Restrepo said there are trends to more robotic manufacturing that doesn't create as many jobs in the future.
"It's not like the 1970s or 1980s with automotive factories where it was a given that it created a lot of high-paying jobs," Restrepo said. "It does produce high-paying jobs, but it may not be a lot of them."