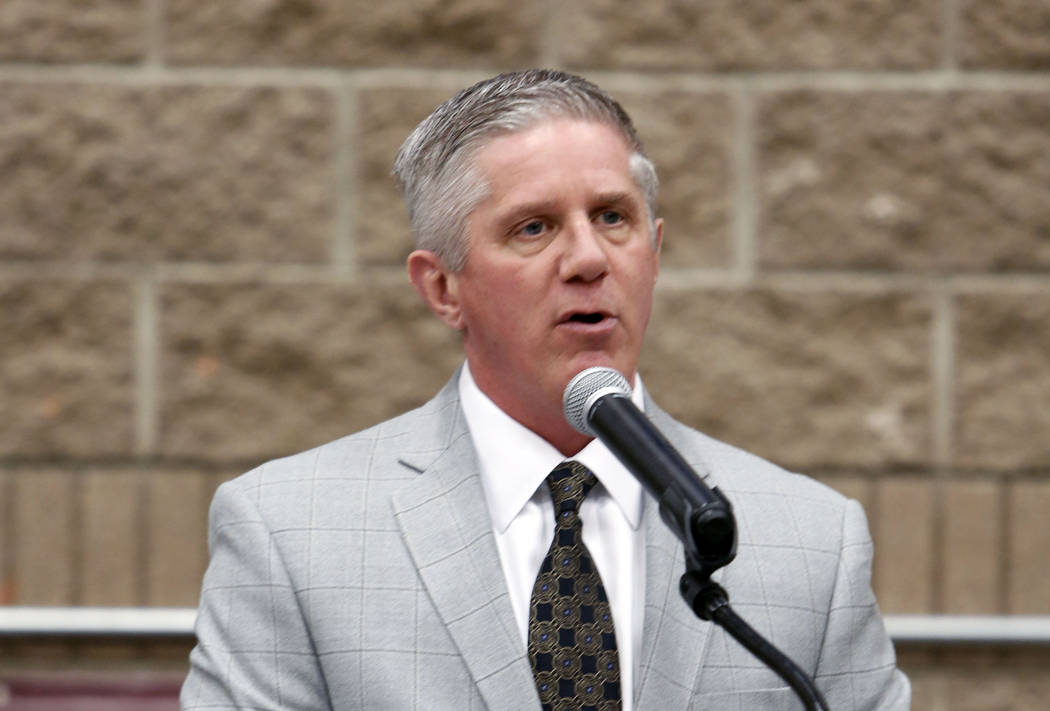 The president and chief operating officer of the Golden Knights said today (May 15) the success of the expansion NHL franchise that's three wins away from the Stanley Cup finals is changing the narrative about Las Vegas and will help attract business.
Kerry Bubolz said 200 media members will be in Las Vegas to cover Wednesday's (May 16) game with Winnipeg in the Western Conference Finals tied at 1-1 and another 300 would cover the Golden Knights if they make the Stanley Cup finals.
"We're changing the narrative of Las Vegas and sports and the Golden Knights are playing into that," Bubolz told 600 business leaders today at an economic conference hosted by the Las Vegas Global Economic Alliance at Park MGM. "There's a new narrative that Vegas is the sport and entertainment capital of the world."
The Golden Knights won their division and have built a national narrative as the most successful expansion team in professional sports history, and that sends a powerful statement about Las Vegas, Bubolz said.
"All around the world, people are proudly wearing the Vegas Golden Knights gear to help extend our brand and our community around the world," Bubolz said.
There has been a lot of articles written on the Golden Knights on a national and international basis, and when media come to town to cover the team, they're covering more than just about the game, Bubolz said. They are going around the city to write and cover the community, he said.
"They're writing things like did you know people actually live in Las Vegas," Bubolz said jokingly. "Did you know that they have schools in Las Vegas? People go to church in Las Vega and believe it or not they have grocery stores. These stories have actually have been written, but you know as simple as it may sound that's an important part of a new narrative that I think that is think is important for the (LVGEA, the region's economic development authority) to help attract new business."
Bubolz said he understands the obstacles Las Vegas faces when it comes to perception. He said he used to be the guy who only knew McCarran International Airport and the Strip until he moved to Las Vegas with his position with the Knights.
"We will have 200 member members here Tuesday night and if we get to the Stanley Cup finals that's another 300 and that's an international media set," Bubolz said. "We have the opportunity to tell this great story about what this community is. The Strip is an important part of who we are, but it's not the only thing we do. … We will put a shingle out and ask business leaders as a group to believe it and that the substance is here. If you say it enough, you will believe it and a new narrative will be written."
But he said sports is a growing part of that narrative in a city that attracts 43 million visitors a year.
When Minneapolis attracted 100,000 to the Super Bowl this year, Las Vegas attracted 300,000. Twice as many people came to Las Vegas for the NCAA basketball tourney opening weekend than went to opening round games across the country, he said.
In addition to the Knights, there's the arrival of the Raiders in 2020, professional soccer, WNBA, rodeo finals, NASCAR, PGA Tour, UFC, minor league baseball, NBA Summer League and college conference tournaments. It won't be long before Las Vegas gets Super Bowls every four to five years and lands a Final Four for college hoops, he said.
All of the Las Vegas sports franchises are working together and promoting one another as well, Bubolz said.
"What we have done as a group of sports and entertainment entities is come together through the LVGEA and formed Team Las Vegas to go and tell people we should look at this as the Sports and Entertainment Capital of the World and not just the Entertainment Capital of the World."
As for the Knights, Bubolz said he believes the team will win a Stanley Cup for the community.
"We never put limits on what this team could do," Bubolz said. "They truly are the golden misfits and incredible guys who work hard every night. We're not putting any cap on what we think we can do, and we think we are going to go out and win a Stanley Cup this year."