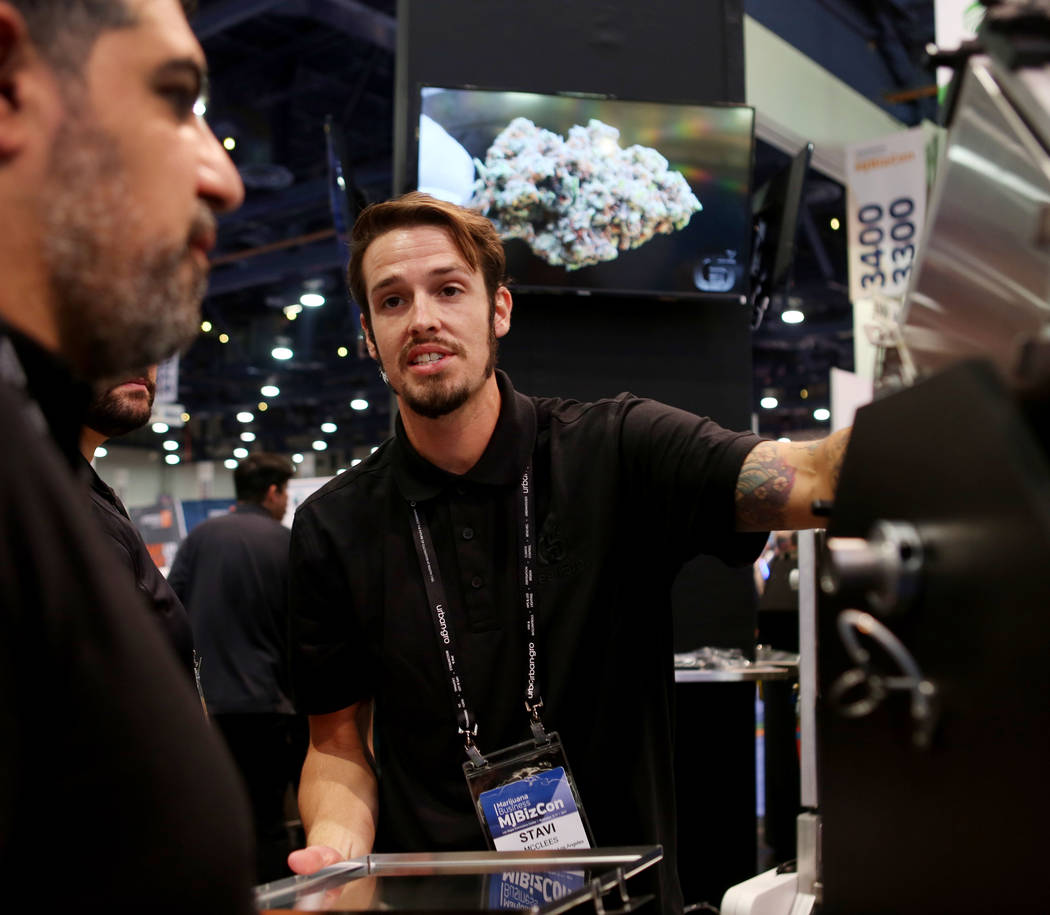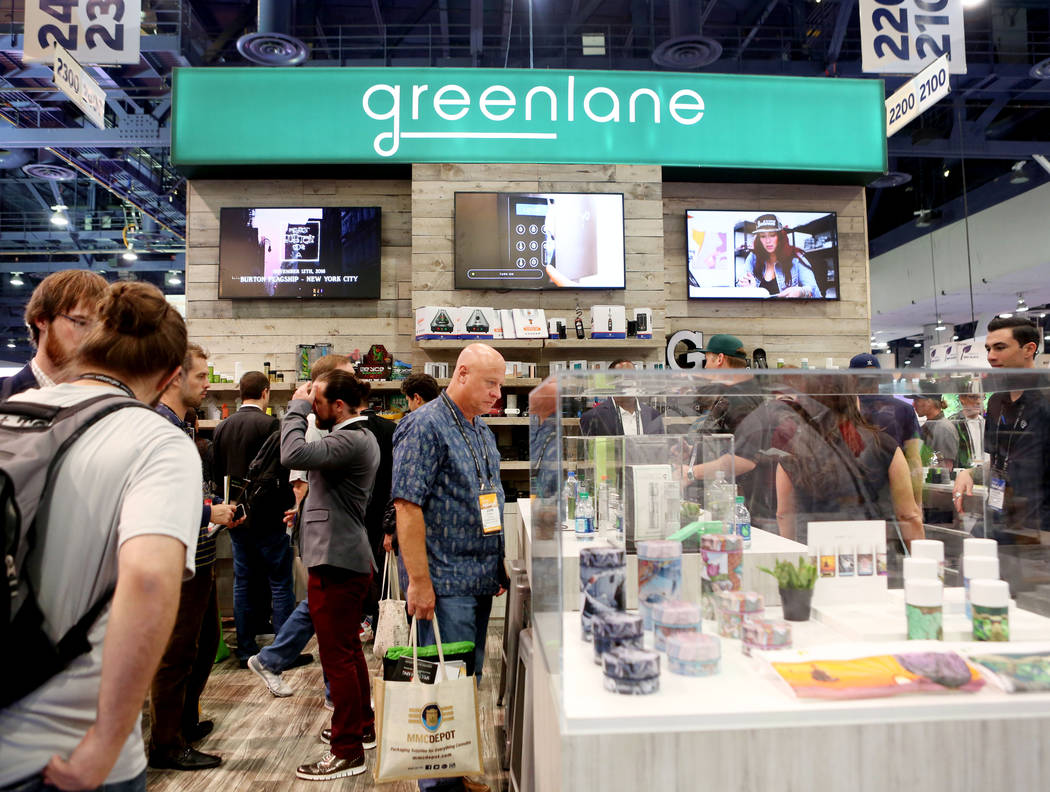 A year after Nevada voters approved the recreational use of marijuana, the buzz for the industry is stronger than even its biggest advocates could have imagined.
More than 18,000 people from across the country descended on Las Vegas last week for the fourth consecutive MJBizCon to talk about the industry, its growth and business opportunities, especially those in Southern Nevada.
There's was no marijuana on the show floor at the Las Vegas Convention Center but hundreds of booths represented consultants, law firms, cultivation and other technologies, equipment companies, greenhouse makers, retailers and infused product companies.
It's not a conference of people walking around in sandals or wearing Grateful Dead T-shirts but rather suits and businesses attire for forging relationships and potential investments. It's like any other trade show in town.
"These are serious business people and investors and a lot of business deals get done on the show floor," said Chris Walsh, founding editor of Marijuana Business Daily, which founded the business expo in Denver in 2012 before it ultimately relocated to Las Vegas in 2014. "There are people who want to know what it's all about and if they can make a play in it."
That's especially true for Nevada where marijuana sales reached $27 million in July — the first month of its recreational legalization — and grew to $33 million in August.
"Before sales began and based what we were seeing in other states, we thought there would be $75 million to $150 million in recreational sales," Walsh said. "It's going to be like $250 million to $300 million. It's blowing the other states out of the water. It's off to a roaring start and shows no signs of slowing."
When MJBizCon moved to Las Vegas in 2014, Walsh said they realized Nevada "could big part of the industry going forward," even though the state hadn't legalized recreational use at the time. With its proximity to other Western states allowing pot use such as Washington and Oregon, it was likely Nevada would go in that direction, he said.
"It's a great place to have the entire industry come together," Walsh said. "And look at the state now. It has just started recreational marijuana sales and is so far the fastest growing recreational state that we have seen in the country. This blew away everyone's expectations of how big and quick this would take off."
One of the reasons is that Nevada allowed those who sold medical marijuana to sell recreational marijuana, Walsh said. That sped up the process of launching sales rather than going through a new permitting process as other states have done.
"The Nevada tourism industry is playing into that as well," Walsh said. "We haven't seen recreational marijuana up and running in a city like Las Vegas that is just a tourism mecca. It has led to tremendous sales."
It's illegal for people to smoke marijuana outside their home properties, which makes it more difficult for tourists to use. Walsh said there's nothing stopping tourists, however, from eating candy infused with marijuana while they're walking down the Strip.
Besides sales with tourists, Walsh said the growth of the local market shouldn't be discounted.
"There was a question of Washington and Colorado that the novelty would wear off, and it would settle down but it hasn't. That plays out over time and is significant," Walsh said. "A lot of people don't try it at first, but you find they might try edibles to help them sleep. They may vaporize for the first time in 20 years."
This is the first year the conference has been held at the Las Vegas Convention Center after three years at the Rio because of the need for more space, Walsh said. The attendance grew from 10,881 last year to 18,121 this year with nearly 2,000 from outside the country. Some three quarters were from Canada which recently legalized marijuana.
There were 678 companies that had booths at the show, more than double from last year, and there was a waiting list of 150 companies, Walsh said. That's a long way from 402 people and 30 booths in the first show in 2012.
"It's a reflection of what you're seeing in the marijuana industry in general and rapid growth across the country and now across the world when it comes to cannabis," Walsh said.
The marijuana industry can't stop talking about the move in October by alcohol giant Constellation Brands, which sells the Corona beer brand, to pay nearly $200 million for a stake in a Canadian seller of medicinal marijuana products. Companies have stayed on the sideline with marijuana prohibited at the federal level but that's expected to change if it becomes legal.
"You're seeing signs big mainstream industries are coming in or poising to enter this industry," Walsh said. "You have Scotts Miracle-Gro making a huge bet on this industry, and (its) CEO said this is the biggest opportunity they've ever seen for their business. You can bet the major players in industries from pharma to tobacco to alcohol to big Ag are kicking the tires waiting for the time they can get involved in the industry."
That has people in the industry fearful that mom-and-pop companies will have a hard time competing in the future, Walsh said. It might be like beer where there is Budweiser and Coors but a thriving craft beer scene, he said.
"The retail might get ugly in the long run," Walsh said. "You're seeing the rise of chains in Colorado and other states were competition is getting gobbled up. Down the road, it will be like other industries."
More than 200 high-net worth investors gathered last week at the M Resort for a "Shark Tank" pitch hosted by the Arcview Investor Network. Its investors have placed more than $150 million into more than 160 cannabis-related companies, according to CEO and founder Troy Dayton.
"They're very excited about the cannabis sector right now," Dayton said. "California will become legal in a few months and Canada will go legal, which are some of the biggest economies on earth. The valuations are still pretty low, and they see the possibility for explosive growth."
Much of that explosive growth will be in Las Vegas, which is going to do cannabis different from everyone else, Dayton said. There's a "real opportunity for creativity" like Las Vegas has done with adult entertainment," he said.
"There are all kinds of interesting tourist possibilities with cannabis," Dayton said. "I can imagine a whole complex devoted to (teaching) about plants and celebrating various pieces of it. Colorado saw a huge spike in cannabis tourism. Vegas is already such a magnet for tourism and cannabis is going to be a huge boon to that."
The Las Vegas Paiute Tribe, meanwhile, is looking to capitalize on the growth of the industry in Nevada after its Oct. 16 opening the Nu Wu Cannabis Marketplace for medical and recreation marijuana sales.
Tribal attorney David Colvin who attended the trade show said sales "are going very well," even without doing any formal advertising. It has relied on word-of-mouth and social media. Much of their customer base has been local residents, but it's looking to attract tourists with shuttle runs on Fremont Streets and plans to add stops at the Strip in the future.
"From a business angle, tourists are certainly something we want to capture," Colvin said. "(The tribe) is very pleased with how things are going thus far even without having a lot of tourism in the store itself."
The tribe has one of the first drive-thru operations in the country, and it plans to start a vertical operation of growing and producing program in addition to selling it from the store, Colvin said.
The growth of the marijuana industry has gotten the attention of law firms, including those that operate in Nevada. Howard & Howard, which also has offices in California, Illinois and Michigan, announced the formation of its Cannabis Industry Group.
The national firm has been working with medical cannabis companies and ancillary businesses for several years, including representing General Hydroponics Inc. and Bio-Organic Solutions in their acquisition by Hawthorne Gardening Co. (a subsidiary of Scotts Miracle-Gro).
"We see a lot of mergers and acquisitions in this arena for the next 10 years," said James Kohl, a Las Vegas attorney at the firm that deals with marijuana issues. "Once it is legalized federally, there will be a significant amount of money coming into the industry. You will see a lot of consolidation. We expect to do a lot of work with the formation of entities and acquisition of properties."