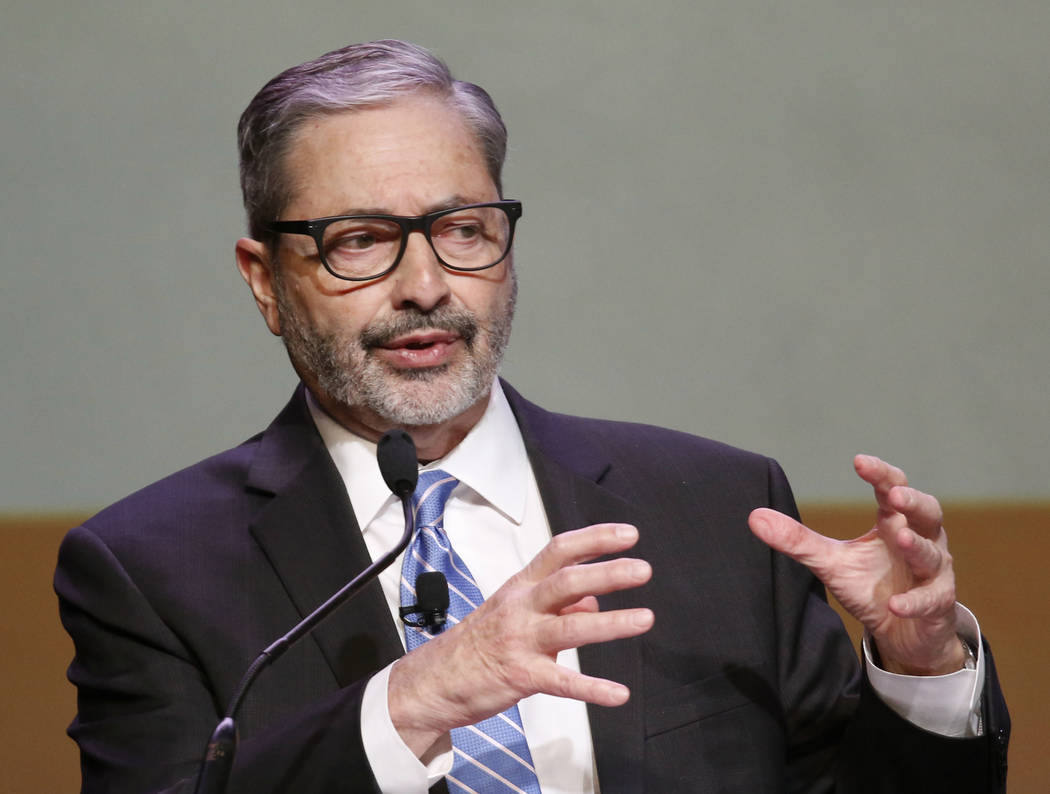 The Las Vegas economy and gaming and hospitality industry is bouncing back from a dip in tourism in 2017 and should continue to strengthen through the end of the year and into 2019, according to a report released by UNLV's Center for Business and Economic Research.
"The outlook looks pretty good for Southern Nevada," said Dr. Stephen Miller, the center's director. "We anticipate continued expansion. We're catching up with a lot of other metro areas. We had a deeper and longer recession than many areas in the country. The national and international economies are doing well, and the future of gaming and tourism in Southern Nevada remains bright."
During a June 15 symposium at the M Resort in Henderson, Miller projected that Las Vegas' visitor volume will increase by 0.4 percent in 2018 and by 0.5 percent in 2019. That's an improvement over 2017 when visitor volume fell 1.7 percent.
Tourism slowed after the Oct. 1 mass shooting at a country music concert on the Strip that left 58 dead and more than 500 injured. Las Vegas has been helped by the international attention of the Golden Knights making the Stanley Cup Final in its inaugural season, he said.
"The Oct. 1 event is having some affect, but the downtrend in visitor volume started before then," Miller said. "I know the LVCVA (Las Vegas Convention & Visitors Authority) said there was a larger inventory of rooms out of service for renovation. That's probably accurate that it contributed, and as those come back online, visitor volume will pick back up. I don't see any reason why visitor shouldn't come back, but we don't see a robust growth rate over the next couple of years."
Southern Nevada casinos will see gross gaming revenues rise by 3.7 percent when 2018 is completed and grow by another 2.5 percent in 2019, Miller said. Gross gaming revenue rose 2.7 percent in 2017, he said. Since the Great Recession, gaming revenue has risen on average 1.5 percent through 2016 compared to more than 5 percent in the 2000s before the recession.
"Gross gaming revenue has been quite volatile since the Great Recession, and we're still below the previous peak," Miller said. "But our numbers are still very positive for gaming revenue."
The economic growth will filter down in the community, Miller said. He forecast personal income should rise by 3.5 percent this year and 3.9 percent in 2019.
"The local economy is growing so we're starting to see wage increases," Miller said.
The unknown factors to the forecast are taking places outside of Nevada, with the biggest uncertainty being what's going on with trade, either with China and especially with Canada and Mexico, Miller said.
"If we ended up with a trade war, that could significantly affect our national economy and to the extent that impacts tourism, that could affect us as well," Miller said. "Because of NAFTA (The North American Free Trade Agreement) will have supply chains in and out of the country several times for the production of some products. Workers in all three countries would be affected by that."
The other concern is whether the Federal Reserve will continue to hike interest rates to slow economic growth and limit inflation, Miller said.
Given the strength of the national economy and the unemployment rate at low levels, Miller said the tax cut legislation implemented in 2018 should boost GDP this year by about 2.6 percent. It grew by 2.3 percent in 2017.
"On the positive side, business and consumer confidence signal a bullish outlook for future developments," Miller said. "On the negative side, the potential for political roadblocks on the Trump economic agenda as well as the on-again, off-again approach to policy-making signal a bearish outlook."
Despite the continued recovery of the Southern Nevada economy since the Great Recession, it's still in the back of the mind of many business owners. In CBER's most recent survey, some 22.8 percent said "economic uncertainty" was the most important challenge in the current economy.
Finding qualified employees at 28.3 percent topped the list of concerns. Higher operating and production costs was third at 17 percent, followed by higher interest rates at 13 percent.
In the conference, John Restrepo, principal at RCGEconomics, talk about how Las Vegas stacks up to its other Western neighbors and cities as a whole based on the Urban Land Institute.
Las Vegas is No. 34 in the nation in investment opportunities and No. 40 in development opportunities and No. 27 in homebuilding.
"Part of it goes back to the size of our economy, the concentration of the economy — because we're not one of the most diverse in the country — and the skill level of our workforce," Restrepo said.
Restrepo said he talks to representatives working on-site selection for companies and hears the "Sin City" image about Las Vegas and how it hurts.
"There's one other thing we don't like to bring up, and you don't notice it until you leave Vegas and maybe go back East. The LVCVA (Las Vegas Convention & Visitors Authority) and that message sometimes is a discouragement to certain companies to come here. It's not companies on the West Coast. They know who we are. They know we're more diverse and broadly based community than some of the message that go out. But getting bombarded with the message of come to Vegas to party does have an affect how they view us in terms of opening a satellite office here."
Restrepo warned the National Association of Business Economists did a recent survey that showed more than 70 percent that there may be an economic correction by 2022 because of rising interest rates and trade issues.
"Kind of prepare, but stay calm, because we're still going to stay healthy in Southern Nevada for the next several years," Restrepo said.
The population growth continues, and it's primarily singles and couples without children as opposed to families moving here, Restrepo said.
The job market for Las Vegas job market should grow by more than 60 percent through 2045 despite automation-reducing positions, he said.
"That's a pretty healthy job market," Restrepo said. "That's being in the West and our tax base being next to California."
In his outlook on the housing market, Miller talked about permits went from 4,000 a month during the boom last decade to 500 a month during the downturn. It's been running about 1,200 a month over the last year and expects them to be up about 10 percent this year and 9 percent in 2019.
Despite concerns about rising home prices, Miller said Las Vegas and other Western market remain affordable when compared to California. He said most of that is the recovered equity lost during the recession.
While the housing market has continued to recover, Miller said the recession may have caused some "permanent changes in the normal vacancy rates in some (commercial) categories."
The office market remains the highest vacancy rate at 18.3 percent after surpassing 20 percent during the downturn. The retail and industrial markets remain the best sector with a 7.8 and 7.9 percent vacancy rate, respectively, Miller said.
In the next two years, office absorption should increase by 2 percent and decline 13 percent in industrial because there's not enough space to accommodate it, Restrepo said.
Retail should absorb more with growth in food and beverage, he said.
"It looks like a pretty decent 2019 that we are coming into," Restrepo said. "We see higher growth. Compared to 2005 and 2006, it's slowed compared to 2009 and 2010, 2011. This is great. We're back to a more normalized period of growth. That being said, what happens in Washington with trade wars and tax policy we can't predict? Barring any major black swan event, we are going to have decent growing 2019 and into 2020."
Restrepo called the industrial segment "full," but the sector isn't building because rents haven't reached the point of warranting new construction.
"We are observing our vacancy," Restrepo said. "There's some antiquated stuff we need to worry about, but we need to start building more industrial."
There's a shortage of space because there's a shortage of land, Restrepo said. Henderson and Clark County are working together to get legislation passed in Congress to make more federal land available in the south county area near Primm for commercial development, he said.
While there's a high vacancy rate, Restrepo said there's a shortage of high-end Class A office space.
"We're starting to see some pent-up demand for office space for certain types of space in certain location, and we haven't seen that in years," Restrepo said. "The office market could be on the precipice of really growing quite a bit in the next couple of years if we can get projects built on schedule and for affordable rents. That is the challenge. The land restraints combined with construction labor costs are causing some concern in terms of stymieing our growth. We don't need to worry about California. We need to worry aboutPhoenix, Salt Lake and Denver that we compete with for those companies coming out of California.
If we can't provide the space because our land is too expensive and we have labor issues, we lose some ground in our economic growth to other cities."
As for retail, Restrepo said there continues to be growth in food and beverage but weakness in apparel due to e-commerce. Hair salons, spas and gyms are doing well and anchored retail centers are stable, he said.
"We have some good activity going on, but we still have some lagging indicators," Restrepo said. "The wage growth is still lagging a little bit. Companies aren't giving wage increases as great as they could be. Part of that is automation and part of that isthe gig economy. There's spending power issues we have to deal with but overall people are going out to dinner and lunch again and their spa treatments and all of these other services like nail salons that we talk about."