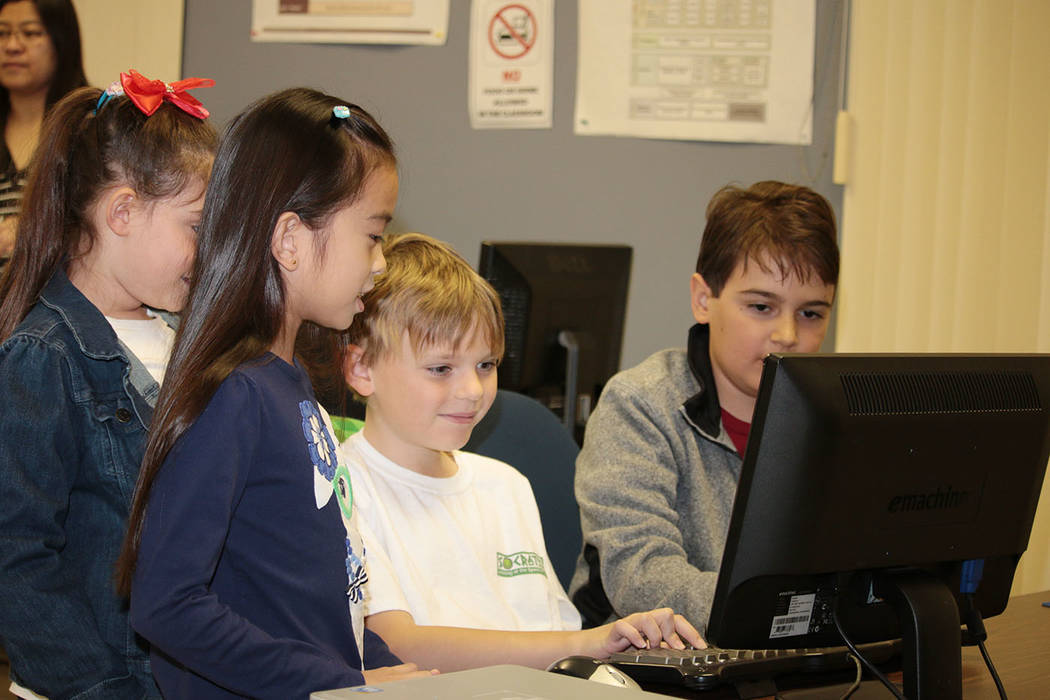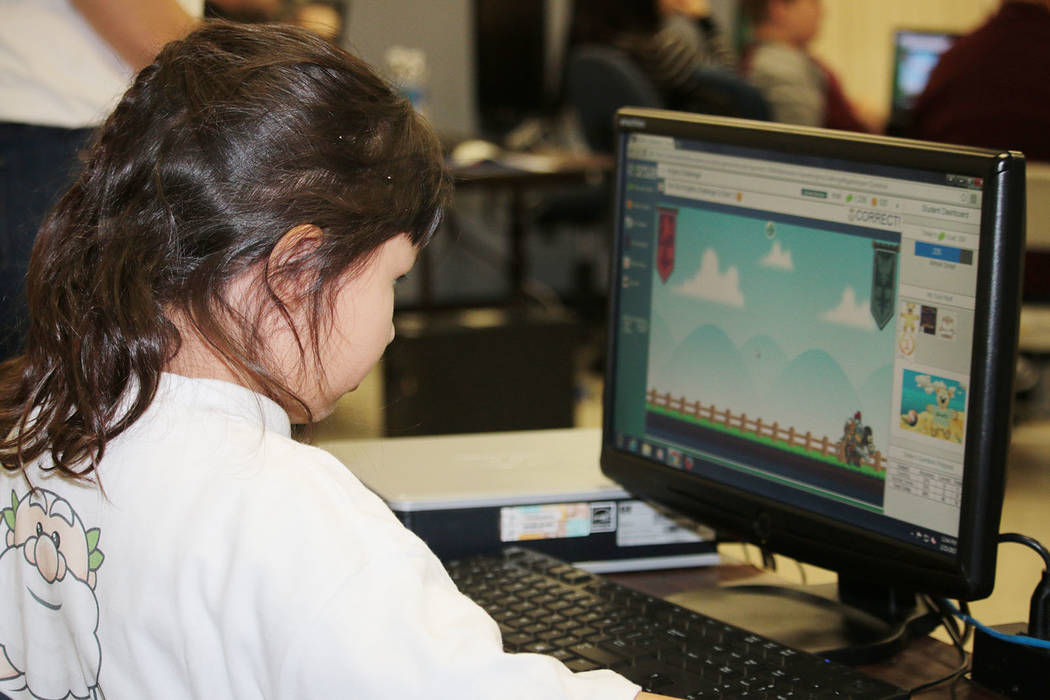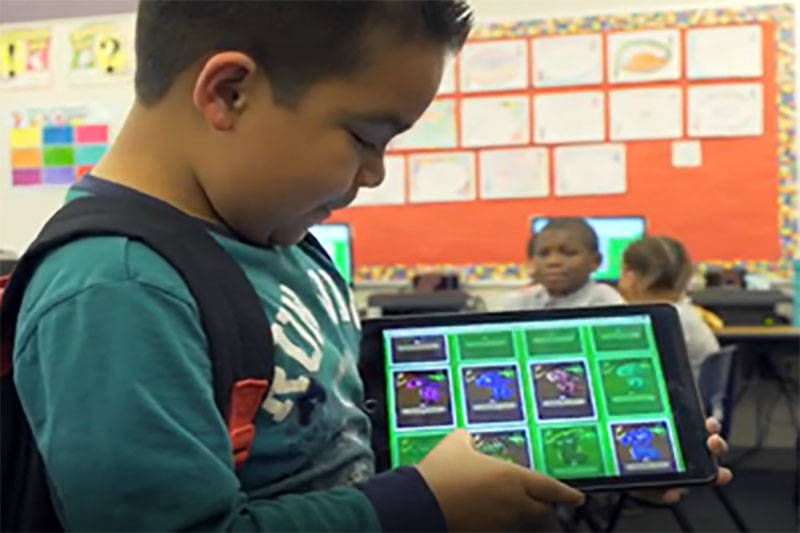 A Las Vegas startup's artificial-intelligence learning platform called Socrates is already used by schools and parents across the country. It has its sights set on being $1 billion company someday.
That's part of the hopes and dreams of entrepreneurs Brian G. Rosenberg and Dr. Ralph Thomas, who started their company, With Socrates, in 2017 and released their Socrates' platform in 2018.
In its first full year, Rosenberg told angel investors at a conference earlier this month that the company would earn between $250,000 to $300,000 in revenue this year. Within 10 years and even sooner, Rosenberg said With Socrates has the potential to have yearly revenues in the hundreds of millions of dollars.
With Socrates is among a limited number of tech startups in Las Vegas that have launched with funding from family, friends and angel investors.
At the StartUp NV conference in which the business incubator brought together budding entrepreneurs with angel investors, With Socrates received a check for $200,000 from an investor. That funding was in addition to $800,000 it has raised over the last year from investors. It has also received a $225,000 grant from the National Science Foundation for small business innovation research.
Socrates is an online learning platform that connects home and classroom learning experiences and develops individualized learning paths for each child across categories of math, science and English, Rosenberg said.
These learning paths are dynamic — meaning that they adjust and adapt as the student answers each question, making it easier as they struggle and more challenging as they succeed, Rosenberg said. That helps find the optimal learning style for each student, he said.
In addition to that artificial intelligence that adjusts learning for each student, Socrates also includes a gamification system where students earn and spend tickets and tokens for fun activities, including games and cards outlining the history of presidents. That keeps the children engaged and wanting to play more, which in turn leads them to learn more, he said.
Rosenberg has more than 20 years of experience overseeing technology implementations and change in health care organizations. He moved to Las Vegas from Baltimore five years ago and led an electronic health records project at University Medical Center that was completed in 2017. Thomas taught mathematics at UNLV, University of Chicago and Princeton University before becoming an expert in data science in the gaming industry.
Rosenberg said the two took lessons from their experiences with their children in developing the platform.
"We looked at some of the applications our kids were using and thought we could make something better — something more educational and more fun and entertaining for the kids so they want to play more," Rosenberg said.
"We both have worked to improve outcomes in other industries," Thomas said. "As parents of young children we wanted to apply our skills to improve educational outcomes for all children regardless of their income levels or school funding."
The company did a pilot in mid-2018 and launched in elementary and middle schools by the fall of 2018. It's in 50 schools to date and that could reach 100 by the end of the year, Rosenberg said. The platform is used in 20 states, including in Clark County and the valley's library systems. It's also utilized in Mexico with a platform in Spanish.
Teachers use it as part of classroom instruction and it's also available in the school's computer labs, Rosenberg said. Students can access it at home for their homework and parents can sign up for it independently from school to help their children improve.
An assessment helps determine gaps in a student's knowledge and the program works to reinforce those skills until mastery is achieved, Rosenberg said. Teachers or parents can override the program to see where the child needs help and allow them to progress beyond their grade level.
"A big part of it is every child learns differently with strengths and weaknesses so our platform adjusts automatically using artificial intelligence, to meet those kid's needs across concepts," Rosenberg said.
Rosenberg said because Socrates is fun, there's a high usage on the weekends and evenings. The more virtual currency that's awarded the more that is learned, he said.
"Kids are playing video games all of the time and so we wanted a way for them to combine that experience and feeling with an educational experience," Rosenberg said.
The platform, which is available on computers, tablets and phones, will be expanded in the next six months to include social studies, financial literacy and emotional learning.
Since Socrates serves as an ongoing assessment of students for teachers to know where they stand, Rosenberg said it can be a better assessment than standardized tests whose outcome can be influenced by how a student is feeling that day.
"This is continuously testing them in a way in which the pressure is off but motivated to continue to learn and expand their knowledge," Rosenberg said. "It's hard for teachers to accommodate differences in real time in a classroom."
The platform is designed for kindergarten through eighth grade, and there are competitors, such as the home-based ABCmouse, Rosenberg said. He said Socrates' advantage is that it combines an artificial intelligence that can adjust to a child's knowledge rather than repeating the same exercises while being fun at the same time.
"There's nothing like it in the home space to expand and grow that knowledge and take them to the maximum of their capabilities," Rosenberg said. "The ones in schools that adjust learning aren't fun so kids engage in the classroom but not at home. We wanted to have a solution that accomplishes both objectives."
Rosenberg wouldn't disclose the rate that schools pay but said the home edition costs $8 a month. The home-school edition costs $14.95 a month.
Today, the company employs 10 people in Las Vegas, including tech and educational content developers. The company could employ 50 within three years. The $200,000 in equity funding will be used to help with sales and marketing, he said.
The company is looking to create more content to expand to other areas. Creating more content makes the application more valuable to kids, he said.
"We're focusing on growth and expansion, now," Rosenberg said. "Sales staff will help get the word out across the country. The challenge is creating awareness in the marketplace because once we are there and try it, they love it. There's such a big market out there with so many schools and lots of households. There's no limit to the opportunity."
At some point, Rosenberg said the company will look to raise additional funds from investors if it wants to grow rapidly.
"We're finding so much opportunity to grow that we're evaluating further investment," Rosenberg said. "This has the potential to be hundreds-of-millions, if not a billion-dollar, company, and if we're going to grow aggressively that will require raising additional funds over time."
Rosenberg said they were disappointed there wasn't more of an angel investor community in Las Vegas when the company launched but said what's happening with StartUp NV holding its first conference is exciting. It's vital to have angel investors and an incubator program to build businesses and and get then to stay in the region.
There's other cities across the country that offer grants and incentives for companies to move there, Rosenberg said.
"We've had opportunities to go somewhere else, and it's important Las Vegas keep businesses here," Rosenberg said. "Tech people go to where the tech money is and this get-together with angels was a big first step for the city."