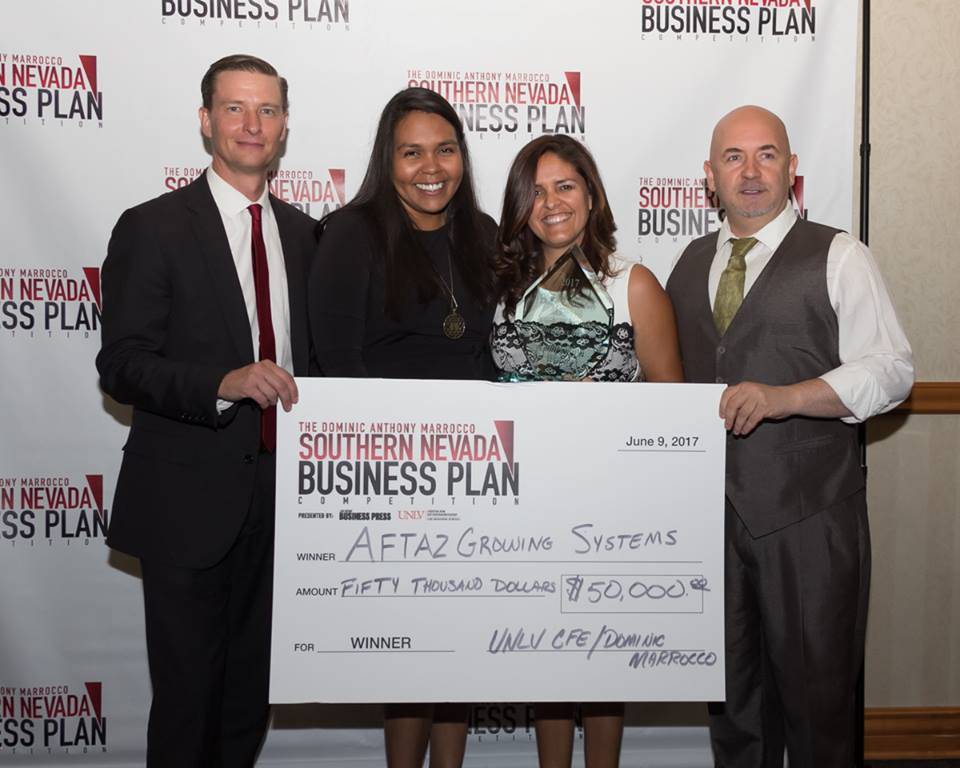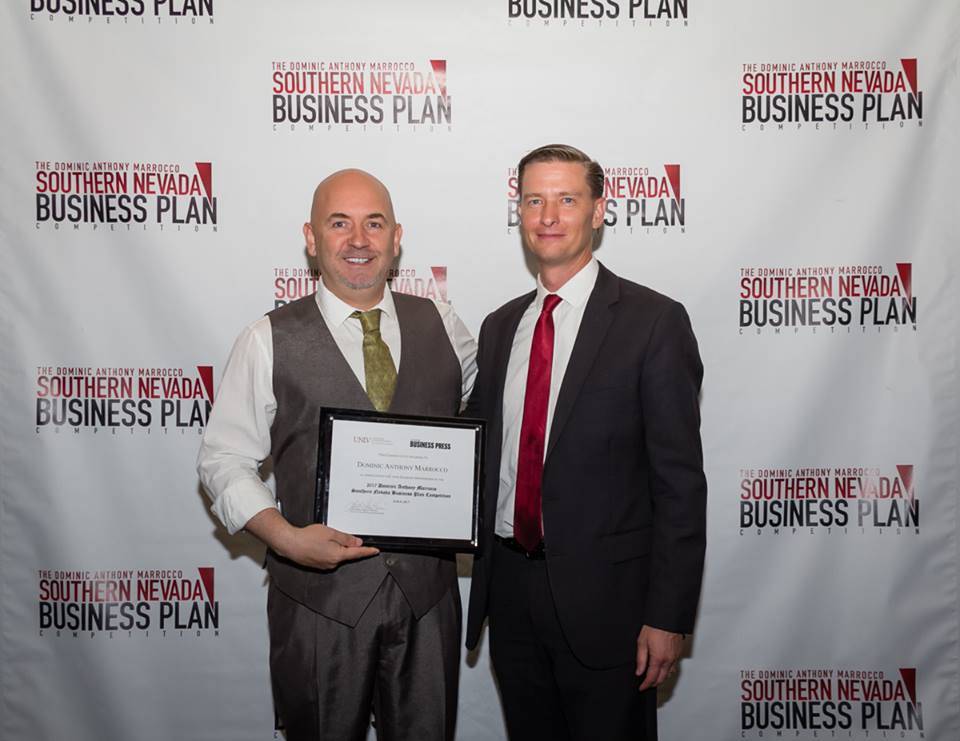 Beyond the glitz and glamor of the Las Vegas Strip, sequestered behind office doors, in garages and tiny laboratories, visionaries work tirelessly, often foregoing life's luxuries, in a quest to create something incredible and perhaps life-changing.
Such is the case of the five teams that made the final cut in the eighth annual Dominic Anthony Marrocco Southern Nevada Business Plan Competition, this summer.
The competition is managed by the UNLV Lee Business School Center for Entrepreneurship.
"Through these types of events we can continue to help diversify the local economy, as well as support local entrepreneurs in their efforts to build companies here in Las Vegas," said Leith Martin, director of the Center for Entrepreneurship.
On June 9, Aftaz Aquaponics Systems was selected as the winner. Designed to grow vegetable crops in the arid desert, Aquaponics is a two-stage system that uses hydroponic technology combined with aquaculture (the raising of fish) to grow vegetable plants. The plants are grown in a hydroponic tank and the fish are raised in their separate aquaculture tank. As waste from the fish builds up, it is pumped from the tank and treated with natural bacteria that converts the waste matter to nutrients that are usable by the plants. In exchange, the plants absorb the beneficial nutrients and provide fresh, clean water that is transferred back to the fish tank. Because of the closed loop system, very little water is lost except through natural evaporation making the technology highly water efficient. Also, the plants survive on natural nutrients without the need of chemical fertilizers. For more information about the company, visit aftazgrowingsystems.com.
Other contenders for the top prize included
• RADs (Resilient Arthroplasty Devices), which was developed by R. Thomas Grotz, M.D. as an alternative to knee replacement surgery. RADs are 3-D printed polymer caps that are arthroscopically fitted over arthritic knee joints to preserve joint integrity, reduce pain and improve function with the goal of avoiding radical knee replacement surgery.
• Tech Start Academy, a program designed to teach children as young as 4 how to build websites using WordPress. The company also teaches students how to create professional graphics and a YouTube channel, techstartacademy.com/pages/academy.
• Window Magic is developing a product that combines existing computer and smartphone technologies to control your living environment beyond what is currently available today. The key to its success is an organic light emitting diode that is installed into a window and is used to change the glass from transparent to a visual scene like a painting. The team plans to market Window Magic to high-end resorts.
• Revive, makes sports gear and its biggest seller is a round bag with a handle and shoulder straps for carrying a basketball. The trio of partners, who in 2011, started their company in the garage of their east Las Vegas home, have already achieved moderate success. They will be featured on an upcoming episode of Steve Harvey's "Funderdome," a new series developed by Mark Burnett where budding entrepreneurs go head-to-head to win over a live studio audience and win a cash prize, revivebrandco.com.
Aftaz Aquaponics Systems won $10,000 in cash from the competition sponsor Dominic Anthony Marrocco. In addition, the winner received over $41,000 in prizes were awarded, including $10,000 in legal services from Howard and Howard, $11,500 in accounting services from Eide Bailly and $9,600 in virtual office services from St Rose Executive Suites and $10,000 in advertising from the Las Vegas Review-Journal. The winner of this competition cannot collect its prizes unless it incorporates and take its product to market.
During the past seven years, more than $600,000 in cash and prizes have been awarded to the winning teams.
In late May, 18 teams submitted a three- to five-page executive summary, outlining the key aspects of their business concept. All submissions were rated by at least two judges from the community and UNLV Lee Business School faculty. The 10 highest-rated summaries advanced to the semi-finals.
The teams selected to be semi-finalists were required to submit a full business plan, including financial projections, for review by a panel of judges, comprised of professional investors, entrepreneurs and advisors. However, unlike other business plan competitions, specifically organized around academics and based solely on the business plan composition, this contest looks at the viability of the proposed business. One of the questions the judges had to ask themselves was: Would you consider investing in this team? The five highest-scoring teams then advance to the finals.
In the final round, the five finalists were asked to give a 15-minute investor pitch, followed by a 15-minute question-and-answer period in a daylong event held at UNLV.