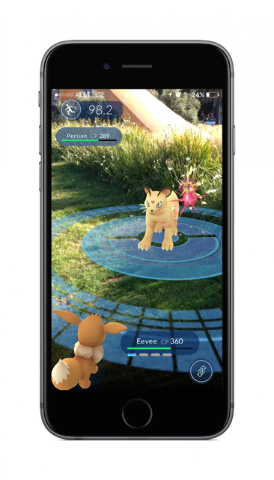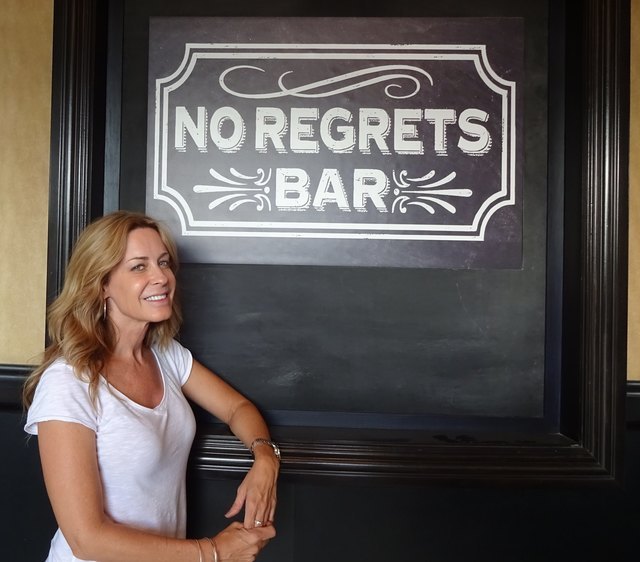 The Pokémon GO mobile game has exploded in popularity causing thousands of players to hit the Las Vegas streets trying to capture as many of these virtual pocket monsters as possible.
Pokémon GO is Nintendo's latest invention, a mobile app that features the lovable Pokémon characters from the 1990s video and card games. There was a TV show and tons of memorabilia.
And while the Pokémon world is virtual, the locations in which they can be found are quite real and often times right outside the doors of local businesses.
Shawn Lane, the owner of No Regrets Bar, 8349 W. Sunset Road, did not know what was happening at first. "My graveyard bartender called me in a panic to say that all of these cars keep pulling up in front of the bar, sit there for a few minutes with their lights on, and then driving away." Worries that the bar was being cased for a future robbery or used for drug deals were soon abated when she found out the bar was identified as a Pokémon gym.
Pokémon gyms are places where teams of players gather to battle their Pokémon. Players capture Pokémon by flicking Pokéballs at them with their fingers on their mobile phones. The app uses the GPS tracking system on your mobile device to create a map for nearby Pokémon. When a player finds a Pokémon, the game accesses the smartphone camera and places the Pokémon into the camera screen, so that the player can try to catch it.
Once Lane figured out what was happening, it didn't take her long to find a way to capitalize on the new-found accidental business. She put up a sign telling players that if they win a battle at her location, they receive a free drink. "Even if players didn't win, they can still drown their sorrows with our Pokémon 2 for 1 Margaritas," Lane said.
Damian Barton, owner of Rocket Fizz Las Vegas in the Village Square shopping center at Sahara and Fort Apache, is another business owner that was blindsided by the game. He saw people walking around, staring at their phones, and asked Nick, his young, tech-savvy employee, what was going on. "I thought the game sounded exciting and give a 10 percent discount to any player who drops a lure inside the store," Barton said.
A lure is collected by players who capture a certain number of Pokémon and reach a level of game expertise. As in fishing, a lure increases the amount of Pokémon in your area for 30 minutes, and they can only be used at PokéStops. In turn the increased amount of Pokémon attracts the players who try to capture them.
Not taking any chances, Barton purchased $50 worth of lures, which can be dropped at various times. As a result, Barton's Rocket Fizz cash register sees a 15 percent boost whenever he drops a lure inside his store.
Popular shopping centers are full of these virtual Pokémon monsters, and apparently so are the casinos.
David Strow, vice president of corporate communications for Boyd Gaming, has counted nearly a dozen PokéStops in and around The Orleans.
PokéStops are locations in Pokémon Go where players can pick up Pokéballs for catching Pokémon and seem to be gathering points for the Pokémon monsters.
"In our business, we are always looking for ways to expand the customer base, and there are a lot of different ways to do that, either through advertising, public relations and special promotions. We see something like Pokémon Go as another way to attract a customer who may not have visited The Orleans in the past. This is a way to get them in the door for the first time to show them what The Orleans is all about and hopefully retain them as a long-term customer," Strow said.
Players who capture Pokémon in The Orleans can take advantage of drink specials in the restaurants and at the bars within the casino. While Boyd Gaming has other properties in town, The Orleans is its only property trying to capture Pokémon players.
MGM Resorts sees this phenomenon as a big marketing opportunity and is opening all of its resorts to Pokémon players. "We are actively looking for opportunities to leverage the excitement and energy for MGM Resorts. We conducted an audit of our properties to identify existing PokéStops and suitable locations to drop lures. Over the last two weeks, we have dropped several lures around our properties and the team is looking to expand the PokéStop locations at our properties, while we simultaneously learn how best to leverage and operationalize this latest cultural phenomenon," said Lilian Tomovich, chief guest experience officer, MGM Resorts International.
While players can download the app for free and earn lures by capturing Pokémon, businesses can purchase lures, PokéStops and gyms to help generate business. Lure modules are sold in the app at the going rate of one lure for 100 Pokécoins or 99 cents, and five lures for 550 Pokécoins or $4.99. At approximately $1 for a promotional lure that lasts for 30 minutes, an alert business owner can get a pretty big bang for the buck if a lure is dropped at the right time.
In addition to buying lures and putting posters in store and restaurant windows, many businesses like Lane's No Regrets Bar are using their Facebook page to advertise the presence of Pokémon at their location and discounts available to participants.
Across the country, many small businesses are joining together to create fun events for game players. Locations with a concentration of restaurants are hosting PokéCrawls, which are Pokémon-themed pub crawls that encourage participants to dress up as their favorite Pokémon.
How long the Pokémon craze will last is anyone's guess. But it is safe to say that business promotional opportunities are only limited by the imagination.