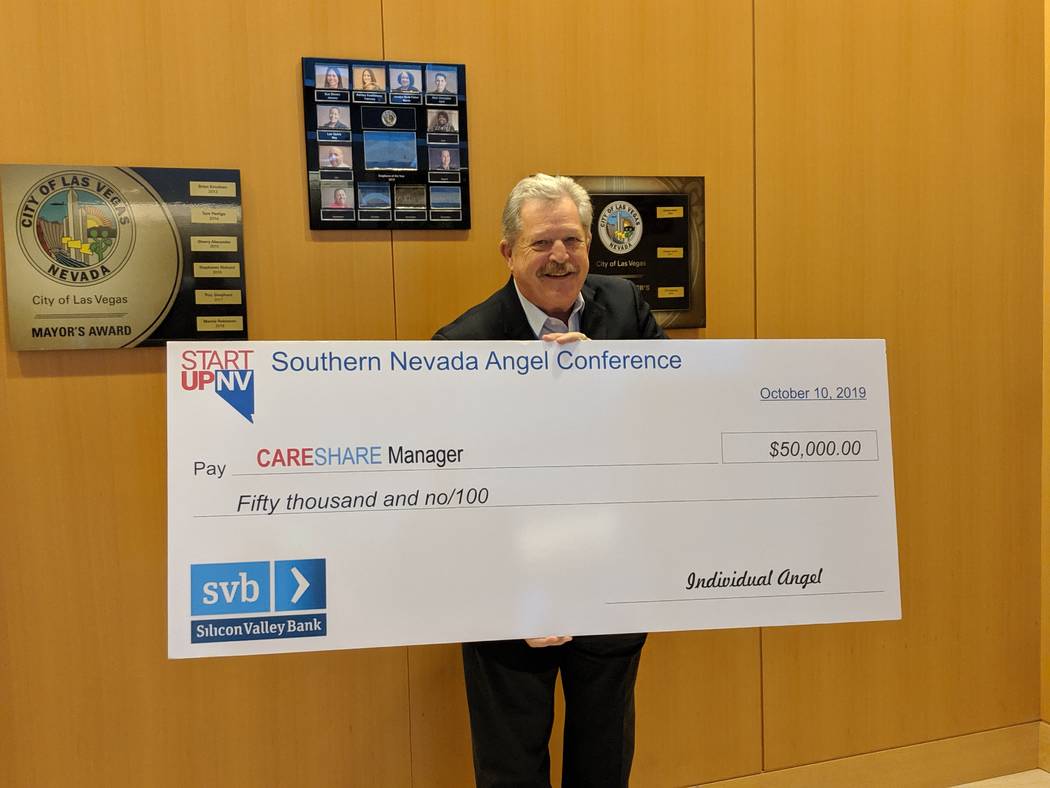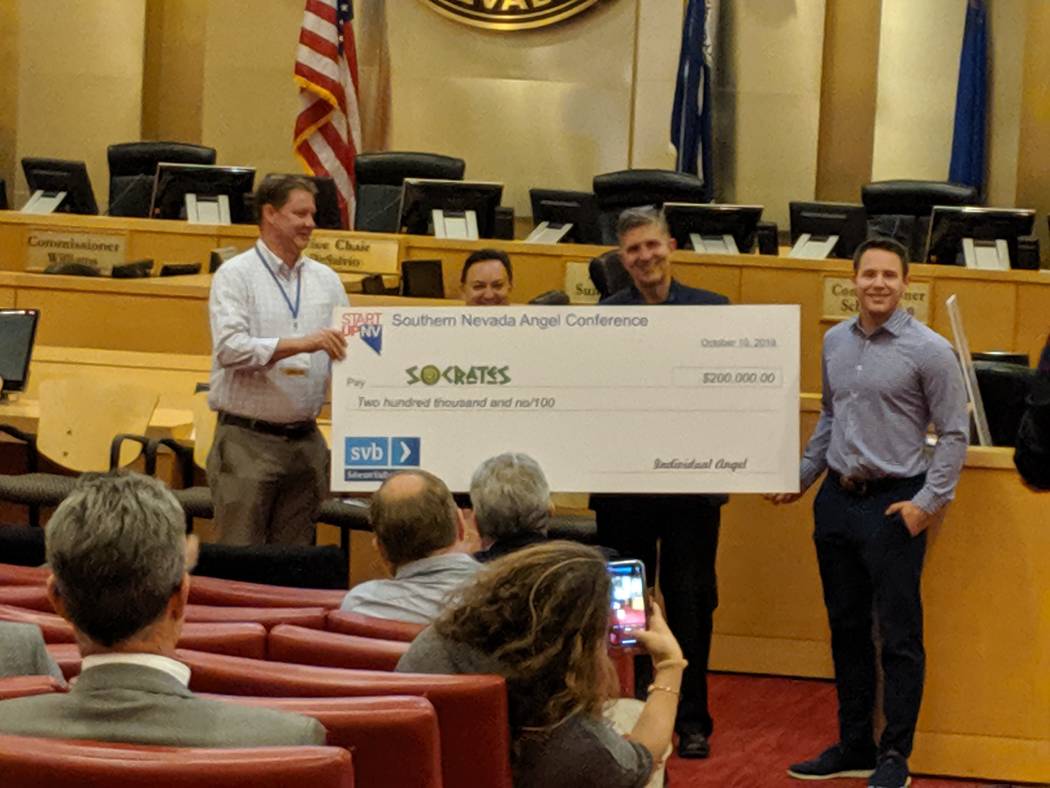 Angel investors awarded more than $1.2 million to five companies last week as part of an effort to fill a void in fostering startups in Nevada.
It was part of a daylong investor conference, Oct. 10, at the Las Vegas City Hall in which business incubator StartUpNV brought together individuals and groups of investors to meet with executives of companies in their early stages of development. More than 160 attended, included about 50 who were investors.
The goal of the first-ever conference, funded in part by a grant from the Economic Development Administration of the U.S. Department of Commerce, is not only to provide much-needed funds for startups as part of a Shark Tank-like pitch to investors. The event also helped inform companies and those wanting to start an enterprise what angel investors are seeking before they fund and how to capture their attention.
"Our goal is to create a vibrant ecosystem for both startups and investors," said Jeffrey Saling, co-founder and executive director, StartUpNV, which itself is a 2-year-old startup. "We just don't have enough funding for the startup founder here, and that's the purpose of this conference. Silicon Valley and other tech hubs were created in part through events like this, and we are seeking to replicate that same vibe in Las Vegas."
Sailing said financing startup can generate billions of dollars of economic impact in a region.
"These companies hire people and buy inventory and start making money," Saling said. "Then they hire more people and those people go out and spend money."
Some 108 companies applied to be funded through the investor conference, and that list was narrowed down to 10 finalists — companies who need it for expansion such as paying for inventory or hiring people for sales and marketing.
Two Las Vegas and three Reno companies received funding.
In Las Vegas, Socrates, an artificial-intelligence learning platform, received $200,000. Care Share Manager, which helps manage seniors' schedule, activities and care, received $50,000.
Reno startup Right Hearted Weddings, which calls itself Tinder for wedding planning, received $50,000. Panty Drop, a women's underwear subscription box, received $425,000. iDemand Insurance of Reno raised $525,000.
BRINGING INVESTORS TOGETHER
Sailing said he started the conference to make more early-stage capital available, and the best way to do that was to bring the angel investors together. It's not from a lack of wealth in Las Vegas that there's not more angel investing, but instead it's people who have that wealth and aren't participating, Saling said.
"I'm assuming it's because they haven't been educated," Saling said. "Maybe they are real estate people who don't know how to invest in startups. We train them and inspire them that there are good deals and awesome companies and that they should invest. We wanted to give them the tools they need to do the investments properly so they don't write a check and lose their money and stop doing it, At the same time we educate the startup founders so they know what the angels want and how to pitch."
In many cases, the founders are selling a share of their business, which in many cases is 15 to 20 percent. Some investors also do a convertible note — a loan that converts to equity at a price to be named later, Sailing said. Some of the individual investors may give anywhere from $50,000 to $150,000 and a group fund will give more, he said.
"These are people who have $1 million or more outside of their primary residence or making $200,000 to $300,000 a year," Saling said. "You would be surprised somebody who is a state worker who has been putting money into a pension plans for many years are probably an accredited investor and don't know it. We're not talking about investing their life's savings. We're talking taking $10,000 to $50,000 and putting it into a fund that invests in 20 companies. If you got $1 million or $2 million in your 401(k) and pension, you can take $10,000 or $20,000 and $30,000 and invest in somewhat risky startup. Even if you lose it all it won't kill you."
Sailing said 90 percent of startups fail. Companies that get involved in an incubation program like StartUp NV, however, see that that number drop closer to 60 percent. The longer a company is in a mentoring program the lower that percentage is, he added.
STARTUP NV DOING FUND
StartUp NV is putting together a $1 million fund to invest in companies over the next two years, starting in January at the latest. Those who believe they have a scalable business idea — growing a business that will have value of mid-eight figures and up — should make a pitch to StartUp NV, Saling said. He said they can also connect businesses with groups of investors as well.
"The individual angels who invest in companies are angels, but a fund like the one we are raising we intend to invest in 20 companies," Saling said. "We picked 20 because if you look at the history over the last 10 years, you take any group of 20 companies, one of them is a home run that kills it. Three or four do OK by maybe doubling your money or tripling your money. All the rest go to zero. Twenty is the magic number."
WHAT INVESTORS ARE SEEKING
Bill Payne, himself an angel investor who helped moderate the conference and is an advisor to StartUp NV, said investors are interested in the team and whether the company will scale.
"If it can only be a small, tiny company we're really can't afford to invest because they all have the same risk with 70 percent failure rate," Payne said. "We're also looking at differentiation, so a bigger competitor can't jump in and copy them and displace them."
Since most companies investors put money in give them nothing, Payne said if a group invested in 20 companies, it would do $10,000 to $25,000 each, they would expect returns of 20 percent a year.
"You got to hang in there and be around for 15 years to appreciate your returns," Payne said.
Investors are looking to diversify their portfolio, but there are other motivations. They like to give back to their community because small companies create jobs, Payne said.
"They want to help entrepreneurs and mentor them," Payne said. "They might be retired and want to get out of the house. This is something that's an active investment class than passive so they can spend time with these companies and help them with what their expertise is."
Payne said startups should get advisers and understand the capital food chain and pitch the right investors at the right time.
"Own your pitch if you're trying to raise money," Payne said. "Get that thing down pat."
Las Vegas' hasn't been a fertile ground for startups and angel investors but that's changing, Payne said.
"Companies less than 5-years-old create almost all of the jobs in the U.S., and this is an important business sector we need to support."
StartUp NV has a $300,000, 3-year federal grant that helps fund conferences and used for educational purposes. It can't be used to invest in companies.
The conference included economic development staff from the area cities and Nevada Governor's Office of Economic Development to learn about what other cities across the country from Portland to Austin do help with startups, Sailing said.
"That helps we as a community get comfortable becoming a vibrant and quickly growing startup community," Saling said. "We love everything Vegas has here and wouldn't change a thing. We just think we can add to it."