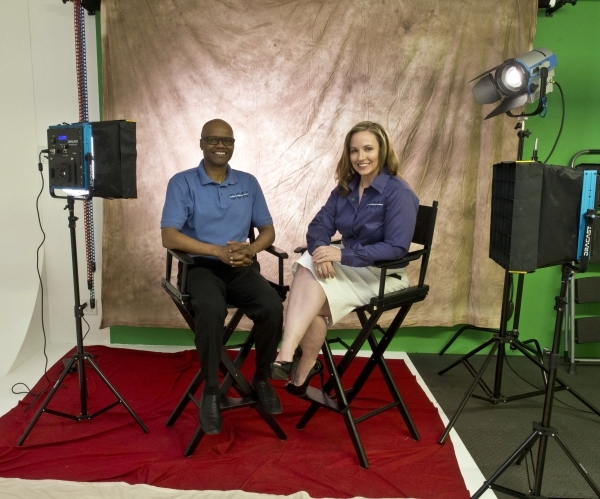 After launching Transformation Photo Services in 2012, owner Jennifer Walsh brought on longtime friend, Greg Chambers, and the duo had an aha moment when they realized their clients weren't fully using the images they were giving them.
"We were talking to our customers about what they were going to do with the photos and many weren't sure," Walsh said. "Here in Las Vegas you see digital signage everywhere and while small- to medium-sized businesses want to provide it, it takes quite a lot."
Walsh and Chambers decided to put those images to use by creating Screen Content Management, a company that creates, delivers and manages custom content for television screens.
"What sets us apart is that our product is 100 percent customized and we follow all of our client's branding guidelines," Walsh said. "People's attention spans are small so providing information on a screen is a greater way to educate their customers."
Screen Content Management's prices start at $230 a month and increase depending on the amount of customization the company is seeking.
Walsh said the company mainly focuses on the medical and dental practices and produces content about their social media campaigns, staff bios, and information about their other locations as well as advertising for products, services and specials.
"The medical industry has changed in recent years and it's becoming much more competitive," she said. "Even a general practice has to work to gain patients and we felt like it's a good area to focus on."
Kristi Bybee, director of Marketing and Industrial Relations for Las Vegas-based Monos Health, said the company has been receiving custom digital content for its waiting room since May.
"We have multiple providers in our practice with multiple specialties so we wanted our patients to know we offer many options," she said. "We also wanted a way to increase traffic to our social media platform and for our patients to know they can post their reviews on different websites."
Bybee said the company has received more "likes" on its Facebook page and seen increased website traffic since signing up for Screen Content Management's services.
"We're looking to get televisions in each of the patient rooms so we can stream videos of the procedures we do and make the patients feel more comfortable about having these certain procedures done," she said. "We're excited to learn more about the services that Screen Content Management offers so we can digitize our office."
Screen Content Management, Walsh said, has also been able to offer an alternative for medical and dental practices that play DVDs or stream Netflix in their waiting rooms as they are subject to fines of up to $150,000 by the Motion Picture Association of America if they play entertainment in their lobby, exam, operatory, or recovery areas without securing rights.
"Many dental and medical practices mistakenly assume they can play DVDs they have purchased or access Netflix to stream movies," she said. "When you purchase a DVD or a Netflix account, you own the actual disc and have purchased usage rights, which allow it to be played in small groups in private so long as no fees are collected. These rights specifically prohibit any display in a commercial or public setting."
Walsh added that the Motion Picture Association of America has an investigative staff of 10,000 who roam communities across the country looking for those violating copyright laws.
"When we approach our customers who are doing it, we try to educate them and let them know they may be fined and that we can offer an alternative," Chambers said. "It's a nice way to open the door and facilitate a conversation."
Chambers said he expects that the digital content he's creating will become more interactive in the future.
"In the short time we've been in business there have been so many changes in the digital signage business and the biggest thing I see is expanding customer engagement through signs," he said. "For example, if its 80 degrees outside, in addition to posting the temperature, you can also add information about a local ice cream shop. There will be so much more connectivity with the information that's given."
For Walsh, receiving feedback from the company's nearly 20 clients has been the greatest reward since launching the business.
"We can perceive the value and understand it but when we hear from them that they've seen results it validates that we're doing something that's a value to our customers," she said. "We want this to be a benefit for them."