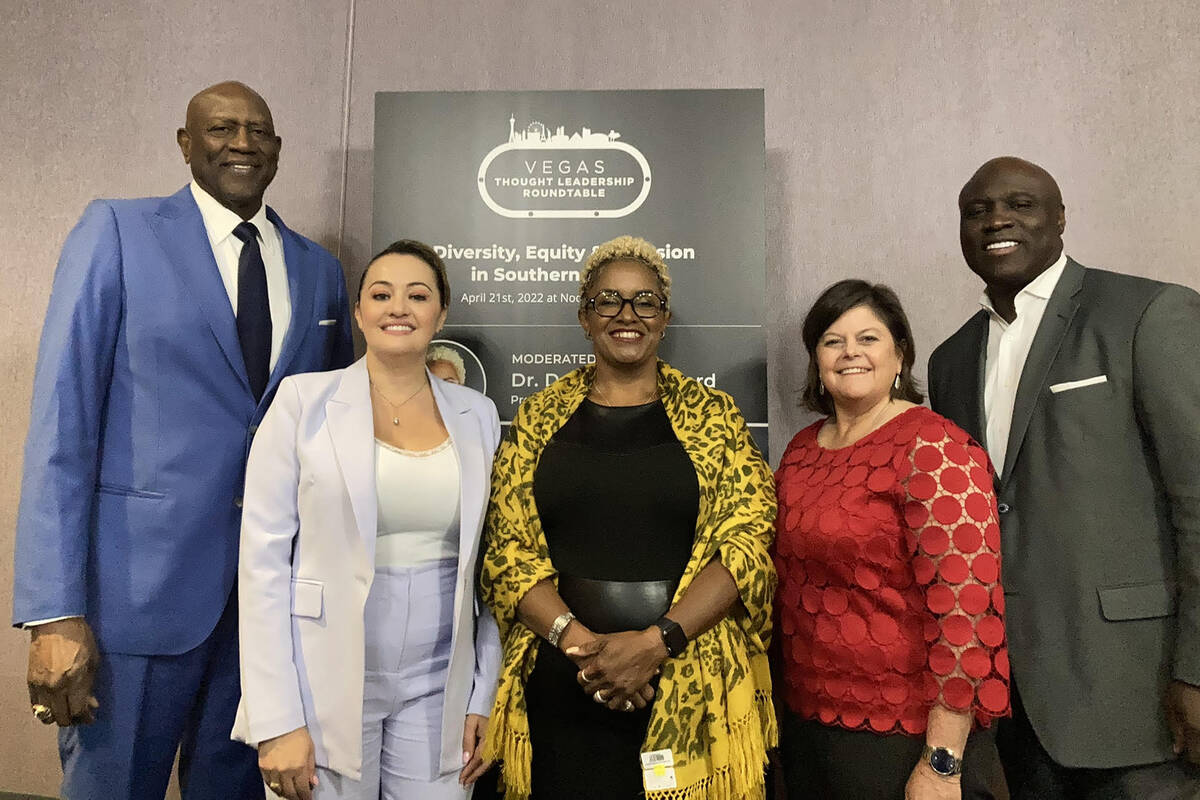 The Las Vegas Thought Leadership Roundtable held its third program, focusing on Diversity, Equity and Inclusion (DEI) in Southern Nevada.
The program presented by the Vegas Chamber, REQ and Las Vegas Review-Journal, featured Tony Gladney, vice president of National Diversity Relations with MGM Resorts International; former National Basketball Association (NBA) Hall of Famer Spencer Haywood of the Dean's Advisory Council at Roseman University; Rosana Romero, digital news anchor, 7@7 Espanol and Alise Porto, vice president of Sustainability and Strategic Initiatives at Switch.
Nevada State College President Dr. ReRionne Pollard moderated the program sponsored by Circa Resort and Casino, Causal IQ, Nevada State Bank (NSB) and The Center.
The panelists said they've committed, both personally and professionally, to DEI and how that manifests itself in the way they choose to do the work.
"For me, diversity, equity and inclusion have always been that pursuit that has naturally come about," Gladney said. "When you look at diversity, it's about appreciating differences and appreciating them. You can talk about it, but you have to be about it and get to do it."
Gladney, a former UNLV wide receiver who had a brief NFL career with San Francisco, said he carries lessons from playing football. That put him in a mindset that if they don't move in a systemized direction, they will not progress as a community should.
"I've taken on that personal responsibility along with the company taking on a big responsibility and commitment," Gladney said.
As part of the Latino community, Romero said she has thought about how she wanted to be treated. She said sometimes the most important information immigrants can get is from a television station or newspaper. When her family arrived in Las Vegas in 2000, it was difficult to get information in Spanish.
"For those who didn't understand English like my mom, I had to tell her everything and be with her everywhere—to the market, store and church," Romero said. "We didn't even have mass in Spanish, so it was very difficult for us to continue with our lives. As a journalist, I'm always looking for those stories and information where I can help my community get informed and have everything they need so they can succeed and move forward."
Haywood said diversity is so important. In the 1970s, he challenged the NBA and its then-rule of inclusion that players had to wait for years from high-school graduation before entering into the NBA.
"I sued the league for the right to play because I was then a junior in college. They said no, and the case went all the way to the Supreme Court; with help from (Justice) Thurgood Marshall and (Justice William) Douglas, we won the case and opened the floodgates for the NBA and growth for the league. This is the 50th anniversary of that."
Porto told the people on the panel that they have a lot of courage by translating for their mom, taking a case to the Supreme Court, and taking what they learned from the football field and applying it to an international corporation.
Porto is a former city manager for Las Vegas and looked back on her career and professional opportunities.
"When you look back on your career, I am kind of numb to that," Porto said. "I didn't let that hold me back. For a long part of my career, I didn't talk about my sexual orientation because I feared it would hold me back."
Porto said when her sexual orientation was outed, it put her in a position to advocate for change and rights and opportunities for all individuals.
"Using that personal experience and leadership experience to really make a difference," Porto said. "I'm excited for this conversation and think it's an important one."
Pollard said DEI work is not one-and-done and that the problem is suddenly solved. That was visible when Barack Obama was elected as the first black American president, and people thought the country no longer had a race problem.
"I think a lot of folks think just because you're the first, you have the opportunity to amplify all of the other issues that are there," Pollard said. "There's still work to be done."
Pollard said there's a broad way of thinking about DEI.
She said she uses the definition as the intentional practice of identifying and dismantling an unjust system, structured policy and processes that perpetuate systemic oppression.
"It's not limited to issues of race, ethnicity, gender identity and language, ability, sexual orientation, economic status and religion. We also want to establish corrective action to hopefully undo that. When I think about us here in Las Vegas, I think about stepping into a gloriously diverse community. I also offer to you that many of the things we are doing well in Las Vegas with diversity, equity and inclusion, we need to name the things that still need to be further addressed."
Gladney said the good news is they realize it needs to be a priority. He said that what the community is doing well as people and leaders, whether in the public or private sector, is the need to take advantage of the opportunities to make an impact from a diversity standpoint.
"The company I work for, MGM Resorts, started their diversity initiative in 2000," Gladney said. "We were able to look at it and say where are our opportunities. At that time, we were building many buildings, and construction impacted minority and women contractors and subcontractors.
"We hired a lot of people from the grassroots up through the ranks," Gladney said. "How are you impacting this community from the standpoint of women, minorities, and LGBTQ businesses to be able to get them to wherewithal to be in that consideration to do business with us."
Gladney said that some don't have the same opportunities as others, but it's important to realize that and put that in your system and prioritize it.
"I think that's what we're doing well, and we put a pressure on others who haven't had those practices and say, 'listen, this is an important factor in our community,'" Gladney said. "We challenge them and embrace that and take that walk with us because it's not a competitive thing but all of us moving forward together."
Haywood said he started a company, American Community Builders, a diversity company, and worked with MGM on CityCenter and at The Smith Center. They did the flooring at the Discovery Children's Museum and other projects.
"There is only one other city or state I can look at that and say they are doing equally the same amount in terms of diversity for women, African-Americans and Hispanics," Haywood said. "That's Detroit and the state of Michigan because of the auto industry. I took that mold and brought it here. The opportunities here are so vast and great. We have just to keep doing what we're doing. We are in the right place at the right time."
Porto said Las Vegas is "doing an incredible job taking full advantage of that diversity." That's an important message for the community, but more can be done.
"I think things are underway to help, particularly large companies, to perform better in those areas," Porto said. "Those kinds of evaluative processes in the corporate world help move the needle, which has happened at Switch. We've been able to make huge headway and build out new procurement systems, and advance the hiring of individuals who are diverse in nature. I think that's made us a stronger company. All those viewpoints come into how we perform and how we become a regional, national or global leader in our field of expertise because of that diversity and acknowledgment that we need that diversity to be at the best we can be and a high-performing organization."
Romero said when she started her career at Univision in 2005 on the assignment desk and later as a reporter, the city of Las Vegas had one person who spoke Spanish for interviews. Clark County only had one person but was only available one day a week. She had a similar problem with the Metro Police Department, but that problem has been solved with all of those agencies.
Romero said even employers like casinos have Spanish-speaking staff to conduct interviews.
"There's more to do in every aspect, but I saw the change and am very happy we helped them make that change," Romero said.
Gladney said there are still scenarios today where people are left out of access to opportunities. The question is, "how do you level the playing fields and give opportunities to every individual to get up to the plate and swing the bat. That's what this is all about. It's not about whether we want to give you this or this. We want to give you these opportunities to everyone, no matter your sex, race, sexual orientation, or disability. We have to make sure that we position the conversation in a way where if we are talking about diversity and a white male, for example, is resisting because they feel like they are being beaten up when we talk about this issue, we are not going about this the right way. It's about educating and making sure individuals understand."
Pollard often said that DEI work focuses on race and gender, and they're starting to see conversations around sexual orientation and gender identity. There's not enough talk about servicing equitable access and opportunity for those living with disabilities and navigating systems that weren't designed for them.
Haywood said some players boycotted the 1968 Summer Olympics because of racial injustice in the U.S. Those players were Lew Alcindor, Wes Unseld and Elvin Hayes, who signed their professional contracts before going to Mexico City. He said they somehow put together a team that included the freshman Haywood.
"We put together this squad and won it all because we had white, black, Hispanic, and this great team's diversity to go out and try to win this gold medal," Haywood said. "No one expected us to win it, but we went out and won that gold medal because of diversity and inclusion. That is the American way. We have to let everyone feel comfortable that it's not stepping on your space but let us go forward in this inclusion."
Haywood said that Nevada has more women in any state legislature in the country. That is echoed throughout Nevada in terms of jobs and opportunities.
"It's a great time, and you have to include everyone," Haywood said. "Don't feel frightened if you're not on this panel today because you will be on this panel the next time."