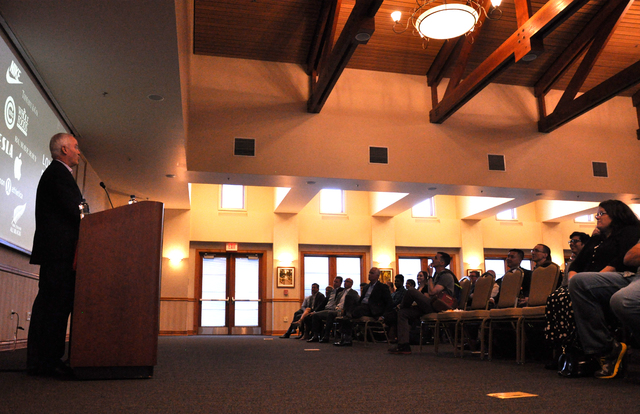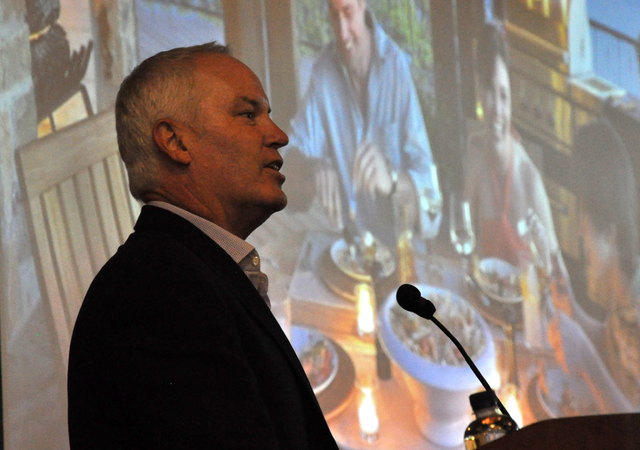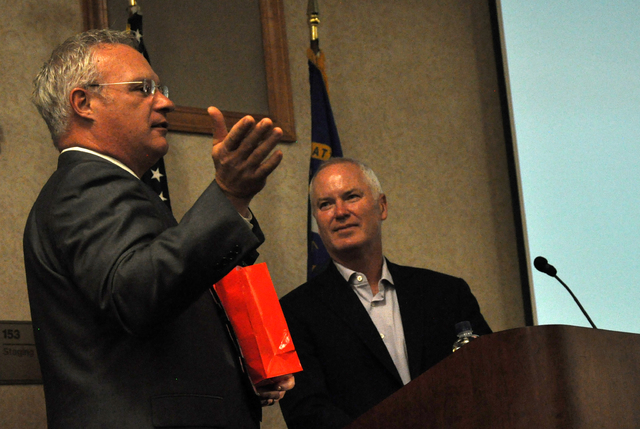 It was a journey Jim Stuart never planned or expected to begin. The businessman, now 49, had just retired from business after successfully co-founding Colliers International Nevada. In 2008, as he turned toward purchasing appliances for his family's new San Diego home, he experienced frustration, followed by an epiphany.
"It is the spirit of an entrepreneur to ask the question, does it need to be this way," he explained. "So that is a curse and burden I carry with me endlessly through my life."
The result of that question was the birth of PIRCH, a retail chain showcasing some of the top brands in appliances for the kitchen, bath, laundry and outdoor spaces. The company is predicated on the idea that consumers of luxury appliances desire to see these products in action, rather than sitting lifelessly in a showroom.
Stuart, a University of Nevada Las Vegas alumnus, shared his experience with students and faculty at Lee School of Business, Oct. 11, as part of the inaugural Executive-in-Residence Lecture Series.
"In this particular journey it seemed inevitable that the category needed to evolve," Stuart said. "Those products, from the moment you get up in the morning until the moment you go to bed at night, permeate your daily activities. Yet the category was never organized in a way to let you truly understand how this product can contribute to your life and it has been routinely dismissed as a warehouse and sold in boxes and crates. The industry, because of fragmentation and its size and weight, was never forced to evolve and it never did. It was in dire need of someone to take it on. We just happened to be the ones that had the ambition to do it."
Last year, PIRCH was named on the Forbes list Most Promising Companies, and in 2013 received $62.8 million in investment capital from Connecticut-based venture capital and equity firm Catterton Partners. The transaction more than doubled PIRCH's total venture capital since it was founded in 2009 and is expected to allow aggressive nationwide expansion. The company operates four showrooms in Southern California, as well as New York, Chicago, Dallas, Atlanta and Paramus, New Jersey.
"We use sensory immersion as one of our early ways to imprint our brand and that experience on the memory," Stuart said. "So people can walk out and – for reasons they may not be able to fully explain – they will know that that experience and that store is something that is memorable and something they want to revisit."
That immersion begins at the store entrance, where each customer is offered a free craft beverage from a café.
"Each store is staffed with a team of professionally trained chefs who are there to do nothing but teach," Stuart said. "It doesn't matter if you are a customer or not. If you sign up for a cooking class, our chefs are going to teach you their techniques and show how the products can bring those techniques right into your own home. It is done without expectation, but as it has turned out, the chefs have become the greatest salespeople in the entire company."
Stuart believes everyone craves human experiences, an idea that he says has come to define the company. PIRCH ensures this approach carries to the showroom floor by immersing every new employee in a weeklong program – called the University of Joy — inside the company headquarters in San Diego.
"We don't talk about human resources, legal review — we talk about the elements of living a good life," he said. "How to become compassionate, empathetic. How to walk in someone else's shoes. So you can understand a guest and embody the experience we want you to convey to them."
UNLV hosts a variety of speaker series focusing on ethics, sustainability and other aspects of business, but this is the school's formal executive residence program.
"We ask executives to come and spend multiple days here and in small settings with our students," said Business School Dean Brent Hathaway. "I think that is a model we can flesh out in the future. Hopefully, a year from now we can have a slate of executive residents who can come throughout the school year."
Hathaway said providing education that integrates the academics of business with real world experience is challenging, but also provides opportunities students find valuable.
"Having someone with Jim's background and experience level visiting in small groups or individually with students is an asset," he said. "It is a great chance for students to ask questions that may not be as targeted to a faculty member as to someone in industry who has had that type of career.
"One of the things I like that we do all the time is ask students to do group projects that are connecting students and a project with industry," he said. "So we work to the theory, which is important, but we also try to integrate the practice side of that as well. People like Jim and others that we bring to campus help them visualize, 'would I really be happy in this kind of environment, or am I willing to take the risk to do a start-up?' Sharing these stories is very powerful for them."
Stuart is quick to say that although he conceptualized the need for a business like PIRCH and began the process of creating it, the work of others has turned it into the growing, high-profile retail player it has become.
"I'm incredibly proud of our people," he said. "To sit back and watch what they accomplish on a regular basis, that's where my humility comes from because I know it is their work and their effort and passion and daily activities that makes this all possible."