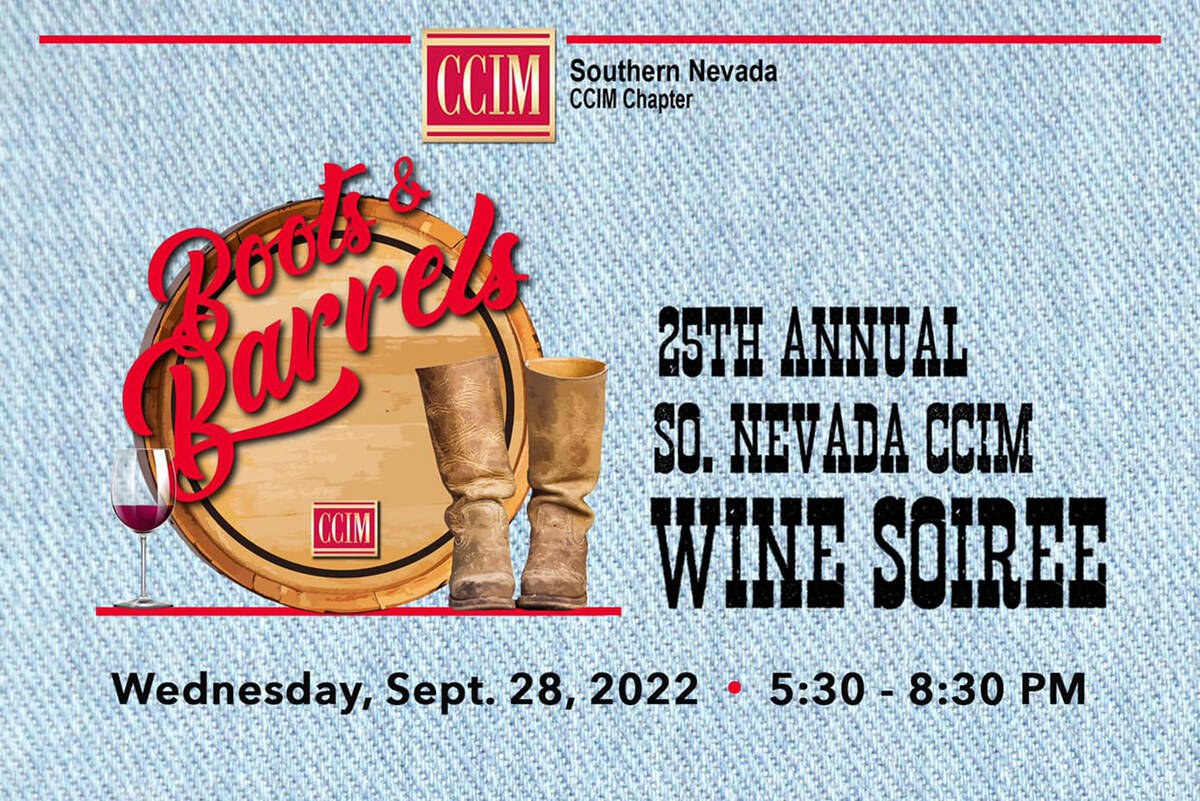 BOOT SCOOTIN' BOOGIE FOR A GOOD CAUSE
Put on your boots and join the Southern Nevada CCIM Chapter 25th Annual Boots & Barrels Wine Soiree and Silent Auction event tomorrow, Sept. 28.
This organization's primary fundraiser and charity event of the year will benefit John S. Park Elementary School, the Southern Nevada CCIM Education fund and Southern Nevada CCIM preferred charities. This will be the 25th year the Southern Nevada CCIM Chapter has partnered with John S. Park Elementary School. The money donated to the school significantly impacts their students' lives.
Items, such as great restaurant and golf packages, will be available during the silent auction. Raffle tickets are available now and can be purchased online at snccim.org/Store, grand prize winner does not need to be present to win.
Commercial Alliance Las Vegas, Universal Engineering, DC Building Group, KONE, First Savings Bank and NextGen have committed to various sponsorships. Opportunities are still available for sponsorship and can be found at snccim.org.
The Southern Nevada CCIM Chapter will be holding the 25th Annual Boots & Barrels Wine Soiree and Silent Auction event at Stoney's Rockin' Country, Town Square Las Vegas, 6611 Las Vegas Blvd S. on Sept. 28. Hours are 5:30 to 8:30p.m. For more information, visit snccim.org.
CCIM (Certified Commercial Investment Member) is a recognized commercial and investment real estate expert. The CCIM lapel pin is earned after successfully completing a designation process that ensures CCIMs are proficient in theory and practice. This includes brokers, leasing professionals, investment counselors, asset managers, appraisers, corporate real estate executives, property managers, developers, institutional investors, commercial lenders, attorneys, bankers, and other allied professionals.
NEVADA BANKERS ASSOCIATION TO HOST CONFERENCE
The Nevada Bankers Association (NBA), the united voice of Nevada's diverse banking and trust company industry, is presenting its 2022 Credit & Lenders Conference on Oct. 25 and 26 at Park MGM in Las Vegas.
Lending professionals from across the state will hear from experts and strategists and experience interactive sessions and networking opportunities. Conference topics include commercial real estate markets throughout Nevada, succession planning, credit conditions, appraisal and valuation trends, small business data collection and managing digital assets, to name a few. Special industry panels will focus on credit scores, federal regulators such as OCC, FDIC and the Federal Reserve and tribal and gaming lending.
"Our goal is to have attendees leave with deeper insights into markets, programs and conditions impacting lending in Nevada," said NBA President and CEO Phyllis Gurgevich. "Focusing on building stronger partnerships with customers, creating strong loans and closing more business, the conference content should prepare attendees to better serve Nevada businesses."
Top-level speakers scheduled to present at the conference include John Restrepo, RCG Economics; Heather Brown, StartUp Vegas; Andrew Woods, UNLV Center For Business Economic Research; Darwin Hopwood, UNLV Department of Finance and SBA counselor; David Mooeny, College of Southern Nevada; Saul Ramos, Nevada Small Business Administration; Mendy Elliott, Giudici Government Affairs; Roger Mellies, Valley Bank of Nevada; Robert Charles, Lewis Roca; Kristin Schuler-Hintz, McCarthy & Holthus; Patty Juarez, Wells Fargo Bank; Clark Wood, US Bank; Kenneth Mundt, Town & Country Bank; Ming Lam, Bank of America; Shannon Peterson, Nevada State Bank; Phil Potamitis, Bank of Nevada; John Thompson, PNC Capital Markets LLC; Matt Lubawy, Valbridge Property Advisors; and Albert Forkner, former Wyoming state banking commissioner now with Fortress Blockchain Technologies, Fortress Trust.
For more information and to register, click here or call 702-233-8607. The cost is $695 per person to attend the day-and-a-half conference. The early bird member rate of $515 per person expires Sept. 30. Visit nvbankers.org.