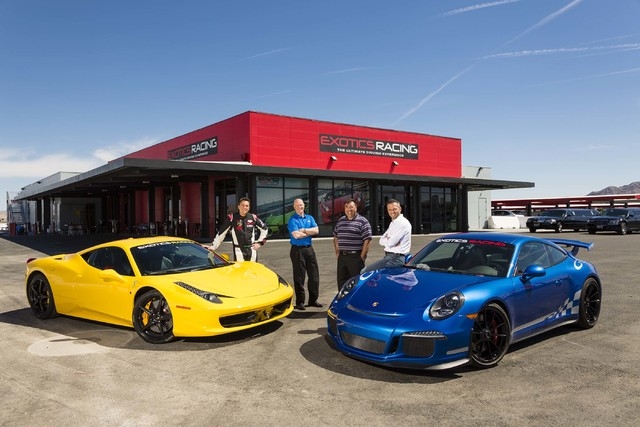 Exotics Racing has created its own successful niche at Las Vegas Motor Speedway.
Now it's expanding.
The company plans a grand opening later this spring for its new facility at the racetrack, the first buildidng visitors see.
But what they offer tourists and locals is an adrenaline rush they can't get on the Strip.
Drivers have the option of more than 50 exotic race cars to drive around the speedway's 1.2-mile course. Or if you're too scared to get behind the wheel, there is an option to ride along with a professional driver.
The company, owned by two former race car drivers, took its own serious risk opening its 14,000-square-foot facility in 2009, at a time when Las Vegas was in the midst of the Great Recession.
They not only survived, but this year Exotics Racing expects to generate $25 million in revenue. According to the company, driving experiences at the Las Vegas track averages about 45,000 miles a month.
Now, Exotics Racing, which also runs a business at the Auto Club Speedway in Fontana, Calif., is looking to expand and add a new racing championship series.
To expand, Exotics Racing received a $7.5 million financing package from City National Bank consisting of revolving lines of credit, commercial real estate, construction financing and equipment lending.
Ramon Perez, senior client manager and vice president for commercial banking at City National, said Exotics Racing's success is not a sign that the Las Vegas economy has fully recovered from the recession.
Perez said the region's economy is coming back, but the company's pitch is for the "tourist dollar." He said a look at the business model reveals that is where the money was even in the midst of the recession.
Exotics Racing business plan is simple: Offer customers a chance to drive exotic cars around a professional race course. The company has priced the experience within reach of average the NASCAR or Formula One fan.
According to its website, exotic car experiences are priced from $199 to $299 for five laps. So not only does the experience put a thrill seeker on the 1.2-mile Las Vegas track, it also offers such brands as Ferrari, Lamborghini and Aston Martin to drive 110-120 mph.
"Las Vegas was the perfect fit for our company," said David Perisset, CEO and co-owner of Exotics Racing. Perisset is a former investment banker who drives professionally in the NASCAR Euro series.
He said the financing package will "help us grow and expand our business in Las Vegas and Southern California."
Perisset and co-owner Romain Thievin were both born and raised in France.
Thievin is an accomplished driver himself, being a five-time champion in French GT car racing and a stunt driver who has worked on more than 150 movies.
"David and Romain embody the entrepreneurial spirit and business acumen that City National seeks to do business with," said John Wilcox, Nevada regional executive of City National Bank. "We look forward to helping Exotics Racing grow and expand their driving experience business in Las Vegas and in other markets."
So beyond the supportive quotes that follow the announcement of most business deals, why did City National back Exotics Racing's expansion?
"They fit into what we do … support entrepreneurs," Perez said. "Also, looking at their financial performance given what they do, it was a no-brainer."