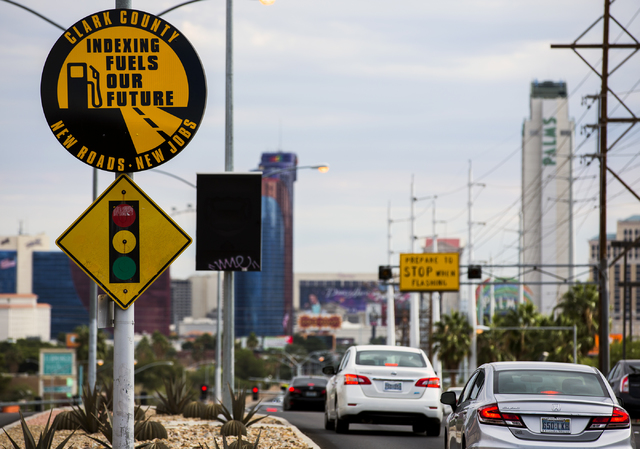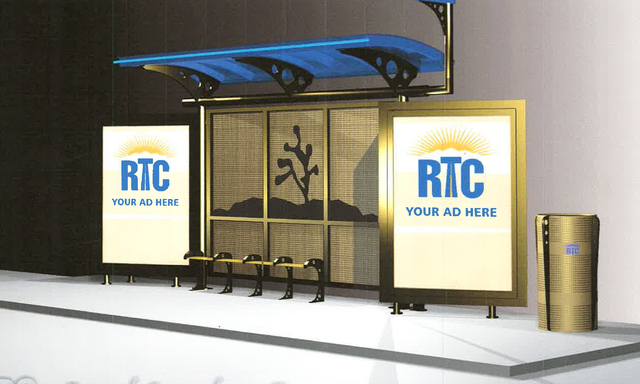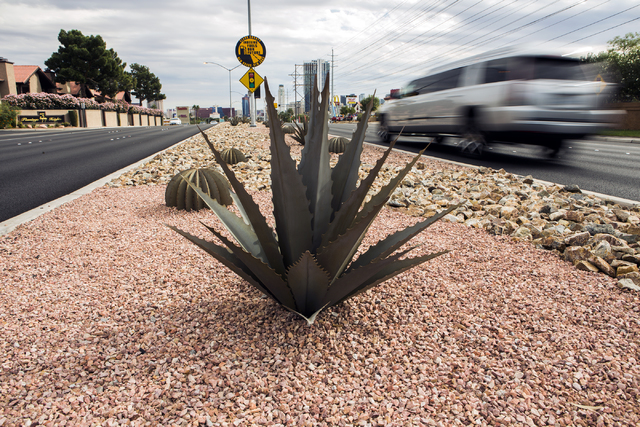 The Oct. 28 completion of a 17-month construction project came as welcome news for businesses along Flamingo Road, as well as the 90,000 drivers and 12,000 transit riders who daily travel this major thoroughfare.
The addition of a dedicated bike lane, upgrades to pedestrian crosswalks, traffic lights and intersections and the placement of more than 100 new bus shelters were part of the $46.4 million Flamingo Corridor Improvements Project, which also included fresh paving of a 14-mile section of the road between Jimmy Durante Boulevard and Grand Canyon Drive.
"We worked in small areas incrementally to minimize the impact on nearby businesses," said Clark County Commissioner and Regional Transportation Commission board member Chris Giunchigliani.
"We got constant feedback from the businesses," said RTC Principal Project Engineer Brij Gulati, who believes the strategy significantly eased a difficult situation.
"The contractors were only allowed to work half a mile at a time," he said. "We also asked them to keep at least two lanes of traffic open at any given time if at all possible. And we instructed our contractors to keep the driveways clear at all times. A week ahead of any construction activity in a given area, we would get out there and let them know what was coming to their doorstep so they could be aware of what was going on."
Sales representative Nick Martinez of Bike World, 2320 E. Flamingo Road, says the construction did not cause any decrease in customers visiting the location.
"There was no drop-off at all," he said. "They blocked the front entrance for one or two days only, but we have a back entrance, so it wasn't a problem."
"I had one constituent, he owns a barbershop, who was very concerned, but when he learned we weren't going to impact the entire corridor at one time, he was relieved and his business was not too affected," Giunchigliani said. "It really helped a lot, working portion by portion the way we did."
Twelve businesses provided the RTC with 5-foot easements, including St. Rose LLC, Gold Coast, Silver Sevens and the Clark County School District.
"It wasn't hard to get the easements because businesses were aware of our concerns that shelters were too close to the roadway," Gulati said. "The research shows that the farther you put the shelters from traffic flow, the safer it is. They were more than happy to help us out.
"We used enhanced LED lighting for the bus stops, which enhances the safety aspect, and the lighting is actually connected to the streetlights," he said. "So when it gets dark and the streetlights come on, so do the shelter lights. We worked with our manufacturer — which is a local company — to have an art display that would require the least amount of maintenance. The manufacturer came up with metal silhouettes — pedestrians, bicyclists, some plants, bighorn sheep."
"It gives people a much cleaner, nicer location to wait for buses and will entice people to use them more, hopefully," Giunchigliani said. "And that will help reduce traffic congestion, also."
Flamingo Road serves as a major artery connecting drivers to the University of Nevada, Las Vegas and the Las Vegas Boulevard entertainment corridor. Originally named Monson Road, it was renamed after the Flamingo Hotel and was extended westward to Rainbow Boulevard during the 1980s.
Partial funding for the project came from the $13.3 million Transportation Investment Generating Economic Recovery grant. The federal program focuses on innovative projects containing elements that support a region's economic revitalization and that are difficult to fund through traditional grants for reasons including multiple jurisdictions and various modes of transportation being addressed.
It has awarded more than $5 billion to 421 projects nationwide since it began in 2009. The Flamingo Road improvement was among the 72 projects selected by the U.S. Department of Transportation to receive last year's grant out of 795 applications.
The county has provided $32.1 million — representing more than two-thirds of the total price tag — in project funding, including $8 million from Fuel Revenue Indexing.
"Improvements along Flamingo Road will provide safer, more efficient travel for thousands of commuters and students, and also support strong economic development in the corridor," said U.S. Transportation Secretary Anthony Foxx in a statement.
Gulati said the project created 168 local jobs through build-out but believes the largest economic benefit will come from having efficient infrastructure that moves commuters through the corridor more easily than in the past. "This is the busiest residential route for the RTC," he said. "It carries over 12,000 people per day to business, retail, the university — essentially it aids people getting to their jobs."