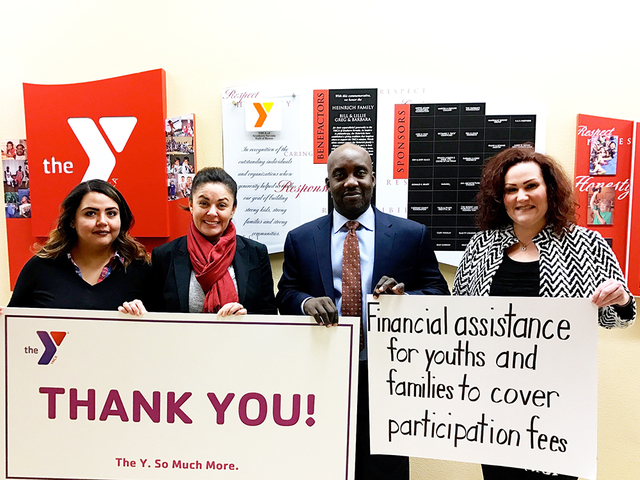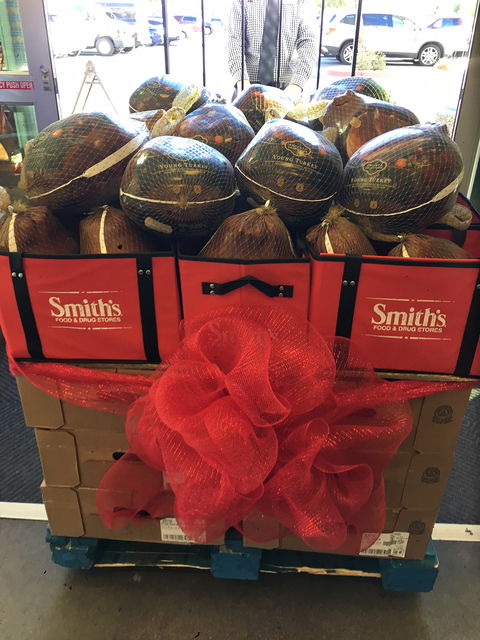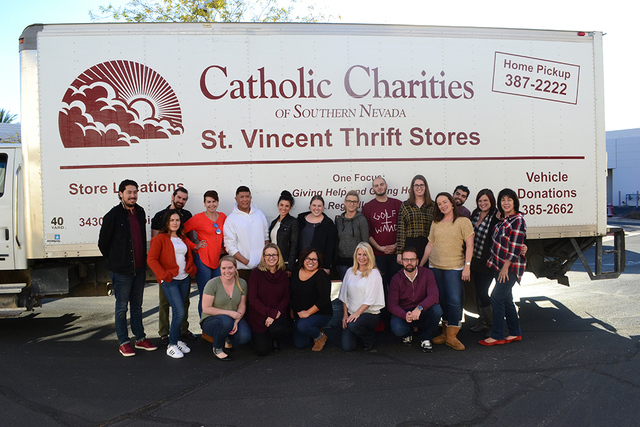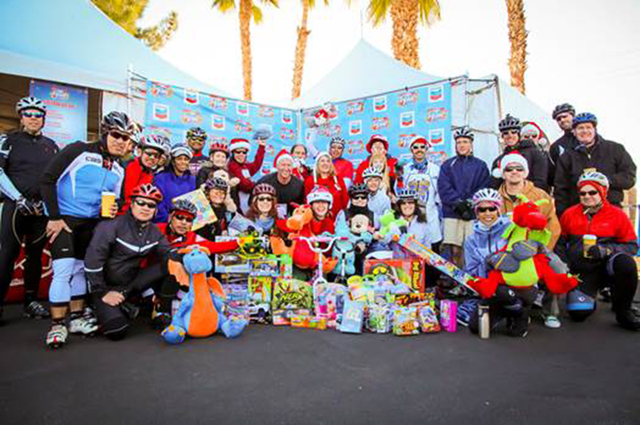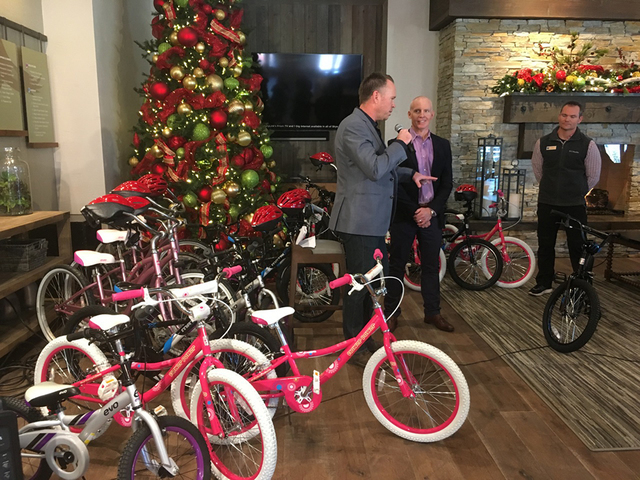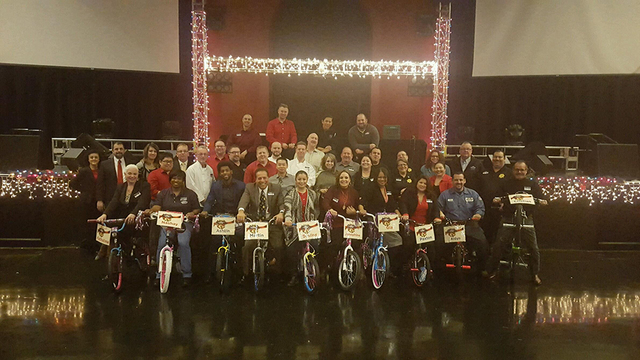 Bank of America announced, on what is recognized as "Giving Tuesday," $208,000 in grants to be distributed to 20 nonprofit groups working to increase access to basic necessities such as food and shelter. Roughly one in six Southern Nevadans struggle with hunger, and more than 30,000 Clark County residents are homeless. Funding will help individuals and families in Las Vegas gain greater economic mobility through increased access to food, shelter, benefits and other fundamental needs that will enable them to move toward long-term stability. Among the nonprofits receiving grants is Three Square food bank, which will use the funding to serve the more than 137,000 local individuals monthly that require assistance with hunger.
A complete list of organizations receiving grants include Three Square, Help of Southern Nevada, American Red Cross — Southern Nevada, St. Rose Dominican Health Foundation, Blind Center of Nevada, Boys Town Nevada, Catholic Charities of Southern Nevada, Goodie Two Shoes Foundation, Las Vegas Rescue Mission, Lutheran Social Services of Nevada, Make-A-Wish Foundation of Southern Nevada, Nevada Partnership for Homeless Youth, The Shade Tree, Special Olympics Northern California &Nevada, The Huntridge Teen Clinic, Nevada Homeless Alliance, Create A Change Now, Nevada Paralyzed Veterans of America, YMCA of Southern Nevada and Baby's Bounty.
In addition to philanthropic funding in Las Vegas, the bank's employee volunteers play a critical role in helping to advance thriving communities. Last year, employees contributed nearly 11,000 volunteer hours in Las Vegas as part of 2 million volunteer hours given across the company.
Credit Union presents $10k for holiday dinners to Operation Warmheart
America First Credit Union presented a surprise monetary donation of $10,000 to Operation Warmheart to help service men and women purchase turkeys for their families this holiday. In partnership with Smith's, the donation will enable more than 500 military families at Creech Air Force Base and Nellis Air Force Base to have a turkey on their tables. Operation Warmheart is an organization made up of volunteer military members who help fellow airmen and their families in times of need. This is the third year America First Credit Union has donated $10,000. The donation was part of the annual Turkey-Thon, hosted by Lotus Broadcasting and 97.1 The Point, 8 News Now and HELP of Southern Nevada.
Skye Canyon donates bicycles to Boys &Girls Clubs of Southern Nevada
Skye Canyon recently recorded its 100th home closing and, to mark the occasion, the 1,700-acre master-planned community donated 100 bicycles to the Boys &Girls Clubs of Southern Nevada. The bikes were presented to the nonprofit at Skye Center last month. Las Vegas Cyclery helped to facilitate the purchase, assembly and delivery of the bikes that are a range of youth sizes for both boys and girls. The Regional Transportation Commission of Southern Nevada donated 100 youth helmets.
Andy Bischel, president/CEO of the Boys &Girls Clubs of Southern Nevada, accepted the donation on behalf of the Boys and Girls Clubs. Through this donation, Skye Canyon is able to help local youth to experience the joy of cycling and get started on a lifelong health habit of riding a bike as well as receiving a bicycle of their own this holiday season.
Job preparation program holds clothing drive for students
Jobs for Nevada's Graduates, a high school dropout prevention and work preparation program, is helping its students make a stellar first impression in front of prospective employers by hosting its first annual Career Clothing Drive. From now through Jan. 31, JAG Nevada is collecting new and gently used professional clothing of all sizes for male and female high school students in grades 10-12. Items needed include pants, dress shirts, ties, blouses, skirts, dresses, shoes, sweaters/cardigans, jackets, jewelry, underwear (new only) and socks (new only).
Clothing and other items collected will be distributed to students attending JAG Nevada's annual Career Development Conference, which will be held this spring. Drop-off locations include Bonanza High School, Canyon Springs High School, Desert Pines High School, Durango High School, Liberty High School, Mojave High School, Silverado High School, Spring Valley High School, Valley High School, Virgin Valley High School, Basic High School, Centennial High School, Cheyenne High School, Del Sol High School, Eldorado High School, Las Vegas High School, Rancho High School, Sierra Vista High School, Sunrise Mountain High School and Western High School.
For more information on the JAG Nevada Career Clothing Drive, visit JAGNV.org. Businesses interested in making a bulk donation or in hosting an inter-company drive can contact Shannon Fox at 702-577-2871.
Miracle Flights receives donation from TeamHealth
Miracle Flights, the nation's foremost medical flight charity, is honored to be awarded a $25,000 donation from TeamHealth, the country's leading provider of outsourced hospital-based clinical and administrative services. Displays at TeamHealth's booth at the American College of Emergency Physicians conference in Las Vegas acquainted visitors with the work of five charity finalists. Attendees were encouraged to vote for their favorite, ultimately selecting Miracle Flights to receive the donation. Miracle Flights provides free commercial airline tickets to children and adults in need of critical care at a cost of about 78 cents per mile. This past June, the organization celebrated its 100,000th Miracle Flight.
MassMedia collects 10,000 pounds of food for Valley's hungry
MassMedia Corporate Communications, a public relations, advertising and marketing firm based in Henderson, collected 10,000 pounds of food and supplies for Catholic Charities of Southern Nevada during the firm's 18th annual Feeding the Masses Thanksgiving Food Drive. The 10,000-pound donation included 40 turkeys, 161 boxes of cereal, 300 pounds of pasta and 4,594 bottles of water, as well as other items based on Catholic Charities Agency Wish List. Local businesses, organizations, community members and MassMedia employees contributed food items and funds to make Feeding the Masses a success.
Cyclists invited by RTC to join Holiday Bike Ride
The Regional Transportation Commission of Southern Nevada, RTC vice-chair and Henderson City Councilwoman Debra March and Las Vegas Councilwoman Lois Tarkanian teamed for the annual Holiday Bike Ride on Dec. 10. The family-friendly ride serves as a means to help gather and donate new, unwrapped items to 98.5 KLUC's 17th annual Chet Buchanan &The Morning Zoo Toy Drive, providing gifts to local children for the holiday season through HELP of Southern Nevada.
Participants were asked to bring an unwrapped toy and join local cyclists in festive holiday attire and a decked-out bicycle to deliver holiday cheer. The guided bike ride began at the RTC's Westcliff Transit Center, down the scenic bike route along Alta Drive and then south to end at NV Energy. The fun 10-mile ride promotes the holiday spirit with prizes for the most festive holiday attire and bike decorations.
Fiesta Rancho makes bike donation
Fiesta Rancho team members assembled bikes for students Dec. 9 at Ollie Detwiler Elementary School. The students picked up the bikes from the property, a surprise for both employees and students. The donation was part of the property's participation in the Smart Start school partnership program, in which Station Casinos properties are paired with a school and team members help support the campus with volunteerism, donations and special events.