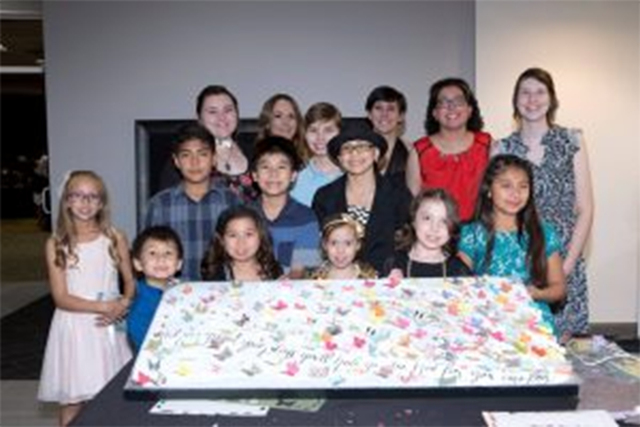 City National Bank has awarded Global Robot and Drone Deployment a $2,500 donation to help fund ongoing programs and research for this new and emerging industry. GRADD works with Nevada businesses and the aviation industry to promote training, greater understanding and ongoing education for pilots of unmanned aerial vehicles, partnerships with the Federal Aviation Administration and businesses utilizing professional services from this industry.
Real estate group, Bank of America present home to veteran
Corp. Raphael Pizarro, a veteran of the U.S. Army, received the keys to his renovated home in Las Vegas, donated mortgage-free by the Veterans Association of Real Estate Professionals in partnership with Bank of America. Attending the event were the Patriot Guard Riders, a nonprofit organization consisting of motorcycle riders from across the nation whose mission is to show respect and dignity at memorial services honoring fallen military heroes, first-responders and honorably discharged veterans. Pizarro enlisted in the U.S. Army Reserve in 1997 at 18 and was activated in 2003, serving as a combat medic in Iraq. Corporal Pizarro was injured during his active service and medically discharged. He now helps veterans and service members as a military liaison for Grand Canyon University. Pizarro, his wife and four children will live in the new home, the 25th Bank of America has donated to military veterans in Nevada.
Food and art event benefits cancer foundation
The Evening of Hope event March 3 at the World Market Center will benefit kids and their families affected by cancer through the Candlelighters Childhood Cancer Foundation of Nevada. Selections from top restaurants, children's art, silent and live auction prizes and many good friends will raise money for the Candlelighters Childhood Cancer Foundation of Nevada. The nonprofit provides quality of life programs, emotional support and financial assistance for children and their families affected by childhood cancer in Southern Nevada.
Hospice annual fashion fundraiser to be held in March
Nathan Adelson Hospice will hold its annual Flair for Care Fashion Show on March 10, in partnership with Wynn Las Vegas. This year's fashion show will feature the 2017 Fall Collection of international designer Yigal Azrouël. The event serves as a major fundraiser for the hospice's uncompensated care program. Each year, Nathan Adelson Hospice provides more than $1 million in uncompensated care to individuals.