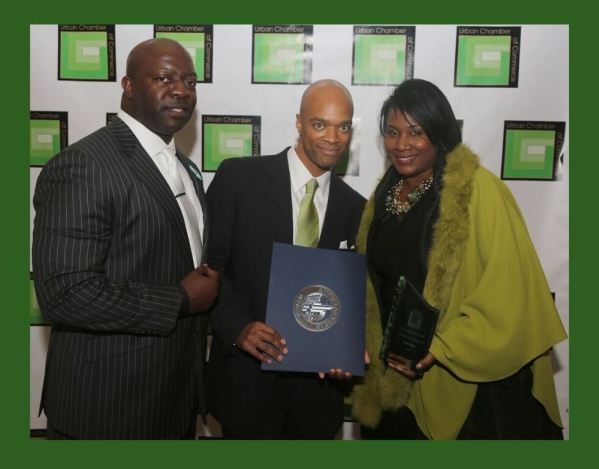 The Urban Chamber of Commerce honored Tech Queen Systems LLC with its emerging growth award at the Chamber's 35th anniversary and Green Tie Gala Awards on Nov. 14.
Duana R Malone, owner of Tech Queen, gave credit to her partner, Matthew Alexander of the Tech King LLC. Malone said they work as a team under the name The Royal Tech Team — but officially they operate under separate business names — Tech Queen Systems LLC and the Tech King LLC.
"As an emerging business, we really learned how to stretch time," the duo said in a written statement. "The driving force behind what we do is based on living the reality of running operations for a multi-national corporation, international ministry, and local Las Vegas businesses, while maintaining a household of three family members with chronic illnesses that demand around the clock care."
Along with offering website and domain hosting, Malone offers custom computer programming and database management, along with video production and editing and other services.
The team also operates a website — stretchtimenow.com — to help people save time with technology.
"We teach how to save time, thereby saving money using digital tools to automate your personal and business systems which results in peace of mind," they said in a statement.
The team also is focusing on new efforts.
"In this season, our focus is introducing a new third-party tool that is designed to help you motivate, reward and retain your clientele — www.loyaltycard.biz," they added.
The chamber — an organization that advocates for the creation, growth and general welfare of minority-owned businesses in the Las Vegas region — creates a platform through the annual gala to bring recognition and awareness to business leaders such as Malone and Alexander, along with other innovative entrepreneurs in the Las Vegas Valley.
Among those honored were:
• Amy Shaw, McCarran International Airport, business advocate of the year
• COX Communications, corporation of the year excellence in business award
• AA Printing Service, entrepreneurial spirit award
• Accion Nevada, nonprofit of the year
• The Ramirez Group, small business of the year award
• The Office Squad, veteran-owned business of the year
"The Green Tie Gala Awards are our most visible means of encouraging the financial health of our members' businesses by saluting their success," UCC Board Chair Jerrie E. Merritt said. "We spotlight the best of the best and offer our winners up as examples of how to run your operations successfully. We hope people will learn from them and apply the best practices of these business people to their own enterprises."
The event raised more than $90,000 for the chamber, bringing in a sold-out crowd of more than 450.
"The proceeds will be used to support the programs and services we provide to our members through the Urban Chamber," said Ken Evans, president of the Urban Chamber of Commerce.