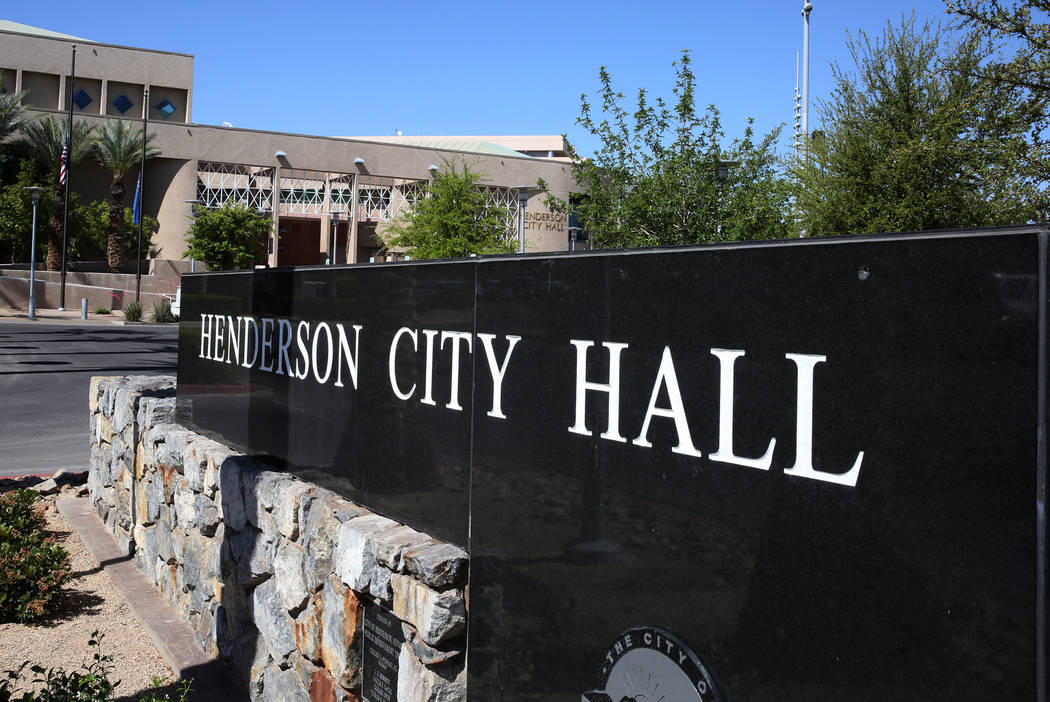 Henderson made a top 10 list as one of the most promising midsize cities for startups in 2020.
The report from Fundera, an online loan broker, looked at 50 cities of fewer than 500,000 people and analyzed talented workforces and cost of living that would allow the new company to survive.
Fundera said it measured each city's access to a talented labor pool, average labor cost, office space cost, average cost of living and proximity to a larger startup ecosystem to indicate "cities with high potential for startup success exist across the country."
Madison, Wisconsin; Plano, Texas; and St. Paul, Minnesota ranked one to three. They were followed by Cincinnati; Durham; North Carolina; St. Louis; Arilington, Texas; and Chandler, Arizona.
Henderson came in at No. 9 followed by Kansas City and Scottsdale tied for 10th. Las Vegas doesn't qualify since it's population is greater than 500,000.
"The city of Henderson is often thought of as a residential suburb of Sin City, or a place to get close to nature when you've spent too much time inside the casinos. But there's more to this city. Henderson is an affordable place for startups to locate in a region that has a growing startup scene," according to the report.
Fundera cited how the region "first bloomed as a startup zone" in 2012, after Zappos CEO Tony Hsieh contributed $350 million of his personal money to revitalizing downtown Las Vegas.Many startups that have launched in the area since then have had successful acquisitions or exits, the report said.
"Although talent shortage can be an issue in Henderson, and Las Vegas in general, the office space rental cost is just $15.31 per square foot on average and declining slightly year-over-year," the report said. "This put Henderson into the top 11, while nearby Reno ranks No. 34. Henderson's living wage is also pretty low at $11.32 per hour, lower than St. Paul and Arlington, Texas, for example."
The report said there were 27 venture capital deals in Henderson but didn't indicate what they were. That number is also the fewest of any in the top 10. https://www.fundera.com/blog/best-untapped-cities-for-startups.
A year ago, Las Vegas was listed as one of the 10 best cities in 2019 to launch a startup outside of Silicon Valley and the East Coast. That list included Los Angeles, San Francisco, Chicago, Denver, Seattle, Miami, Provo, Austin and Boulder, Colorado.
That report from online services company Crowdspring cited Las Vegas remaking its economy after the Great Recession and how businesses were leaving California because of high taxes with Southern Nevada welcoming them.
The report talked about the city hosting large trade shows for tech and other industries and cited the efforts of Hsieh and his venture fund.
"Living in Nevada is significantly more cost-effective than most other places in the country. Las Vegas sets itself apart from startup cities like Boston and San Francisco by offering a much lower cost of living in a major city. This is extremely attractive for younger professionals interested in city living — and lets them afford to experience more than a closet-sized apartment filled with Cup-O-Noodles," according to the Crowdspring report. https://www.crowdspring.com/blog/startups-entrepreneurs-best-startup-cities-us/#lasvegas.
Jeffrey Saling, co-founder and executive director of StartUpNV, a statewide business incubator, said the publicity helps encourage startups in the region.
"It's great to see Henderson or any of our cities on the best-of places," Saling said. "I'm not surprised. For a small city, Henderson seems to be accomodating and forward-thinking."
Saling said Las Vegas "is going bonkers in such a big way" for startups.
"They have been awesome as a partner," said Sailing, who recently hosted a conference at Las Vegas City Hall bringing together startups with angel investors. "They have set up the International Innovation Center in downtown. They're continuing to invest and trying to create a vibrant startup community. The seeds of that are starting to sprout. We work at the Innovation Center, and the members of our incubator work at that site."
StartUp NV is putting together a $1 million fund for startups in which it will be giving awards of about $50,000, with additional funds from investors. Money will be awarded by the end of the year or early 2020.
Derek Armstrong, Henderson's director of economic development and tourism, said the report is consistent with what they've seen as a city. During the last three years, Henderson has hosted a program called Start Tank in which small businesses pitch their ideas for a monetary reward and mentorship. Participation has grown by three times since it started, he said.
Henderson has received calls from out-of-state small businesses looking to relocate, many dealing with technology, Armstrong said.
"The city is working on a feasibility study to see if we can do a startup incubator in downtown Henderson because we have recognized the amount of interest there is from startups and the small business community," Armstrong said. "We're trying to create that environment to help entrepreneurs live and work in the city, and it's nice to be recognized by this national publication."