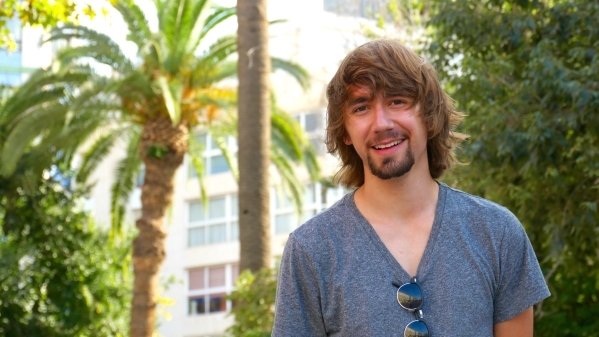 At age 19, Hunter Hopewell is already a musician, composer, songwriter, award-winning short-filmmaker, impressionist, actor, and entrepreneur.
He has used his filmmaking skills to develop commercials for major brands, from Coldwell Banker to Crayola.
A junior at UNLV Honors College studying film, Hopewell recently won first place at the Peace in the Streets Global Film Festival for his anti-bullying film 'Numbskull.' The award was presented to Hopewell at the United Nations.
"Knowing someone at the United Nations said the words 'Numbskull' makes me smile," Hopewell said.
Hopewell launched RockComedyFilm.com six years ago as a vehicle to showcase his work. The quality of his work is demonstrated by winning 40 awards for short films he wrote, directed, edited, acted and composed the soundtrack.
Now Hopewell hopes to transform the website into an "inspiring entertainment brand," opening it up to other musicians, comedians, and film artists to showcase their work. Eventually, he plans to open Rock Comedy Film Clubs for local entertainers to perform.
He recently released his debut album "Nobody like(s) Him," available on Amazon and iTunes. He plans to release his second album soon.
His latest project is writing a script for a full-length feature film he plans to shoot this summer.
Q. What does winning first place at the Peace in the Streets Global Film Festival mean for your future as a filmmaker?
A. I think film is such a great thing because it can be used to promote a positive message such as anti-bullying, or just peace in general, which is what Peace in the Streets is all about. I feel making a film with a purpose behind it, with a message, is a great thing to do. In a way, it gives me credibility to have made something promoting peace that's worthy of getting played at the United Nations.
Q. You've worked with a number of international companies such as Staples, Doritos, and Crayola. How did you get involved with them, and what sort of work have you done?
A. Three years ago now it was through different web sites. One is called Zooppa. Zooppa is a place where large companies like Staples or Crayola that want a commercial made put out a brief for anyone to take the liberty to make a commercial for them. It's like a contest they hold.
The first one we did was for Coldwell Banker. We did it with our next door neighbors, the Johnsons. They have two twin kids, who were three at the time. We did a rap video with these kids rapping about how much they loved their home. A month later we won $25,000, which we split between us. That was very encouraging and made me think "OK, maybe I could make some money off this." We got really inspired and kept doing them.
I plan to keep doing that. I think it's a really fun way to make money and it relates to what I want to do.
Q. What did you learn from this experience?
A. I learned you don't really need a huge crew or big set up to make something look professional. You can do it through guerilla film making.
I also learned that a lot of people don't take the time to do it because they figure there's no chance. But it's definitely worth trying because somebody is going to win it, why can't that be me?
Q. How is marketing to the millennial generation different from other generations?
A. Comedy is such an important part of marketing nowadays. They like the ridiculous, wackiness and randomness. In this viral time period we're living in, it's not necessarily something that's good that goes viral. It's something different that makes you smile. You're not sure why you're smiling but you're smiling, and that's all that's important.
Q. What separates your work from others?
A. My dad and I always talk about how we make a good team. He's in his 60s now and I'm still a teenager. We have different perspectives on life and my dad has all this experience. So I feel my work has a sense of professionalism that someone with more experience could dish out, but is still is in touch with today's youth.
I'm writing, directing, editing, composing the music — and often times acting in it too — so the whole project is coming from one mind and staying true to the vision. My peers have a different way of doing things. One person will write the script, another edits, and another directs it.
Q. What are your immediate plans after you graduate from college?
A. The next year is a pivotal year for me. I would love to work at Disney Studios. Disney does such a great job promoting positive messages in a creative way. I aspire to make films like that. Disney offers internships for college film students. Universal and Sony also offer internships. I will be applying to all these. Getting on at any studio would be a dream come true.
I also plan to film more of what I have to offer, such as impersonations, and try to get it in front of a Lorne Michael (Saturday Night Live executive producer from 1978 to 2015).
As far as after college, I hope to start working at a film studio while pursuing SNL simultaneously. They also offer internships. That would be perfect.