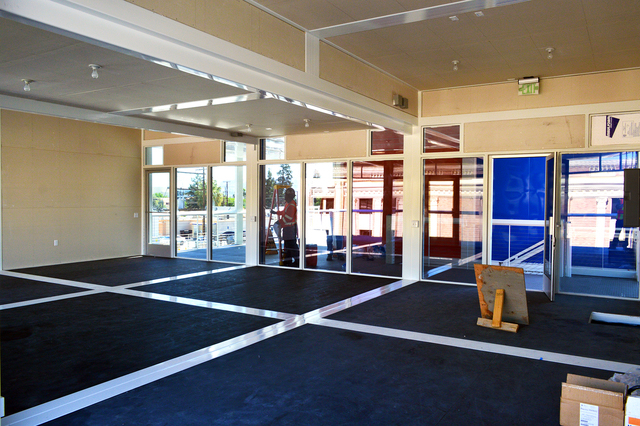 A worldwide television audience helped Gold &Silver Pawn Shop on Las Vegas Boulevard build an audience, and clientele. A Las Vegas company is helping the shop's owner, Rick Harrison, build Pawn Plaza.
Pawn Plaza, a shopping and dining complex that will cover 11,000 square feet on two stories at 725 Las Vegas Blvd. South, consists of 72 brightly colored Xtreme Cubes designed and produced in Las Vegas by Xtreme Manufacturing.
Xtreme Cubes are heavy-duty steel-framed cubes that can be configured with a wide range of walls, floors and interiors.
"Everyone is excited for this block now to be more than a one-stop destination," Harrison said. "Fans and visitors to Gold &Silver Pawn will be able to enjoy great dining options, a fun environment, Pawn Plaza special events and many other interesting experiences."
Those experiences will include live music every Friday and Saturday night at a rooftop bar offering a scenic view of downtown and the Strip.
Pawn Plaza is expected to open during the Fourth of July weekend and already has announced three major tenants: Rick's Rollin' Smoke BBQ and Tavern, Poutine Vegas of Ontario's Smoke's Poutinerie and Rita's Italian Ice. Several other tenants are expected to be announced later this month.
The finished project is expected to attracted 2,000 to 4,000 visitors daily.
"It is such an unusual and different concept so our goal was to find tenants who would be a good fit for the vision we have for Pawn Plaza," Harrison said. "We want our guests to feel like what they experience visually and from a dining perspective at Pawn Plaza is different than anything else they might be exposed to while in Las Vegas. We wanted it to be outside the norm."
That's where Xtreme manufacturing came into play. The 72 Xtreme Cubes were welded together to form 36 structures, providing 16 retail spaces and four restrooms. Many of the tenants will take up more than one cube. Xtreme cubes have been used in a number of high-profile projects, including the downtown Container Park retail complex.
"(Harrison) was impressed with our work at Container Park, and he has been very supportive of our process since Day One," Xtreme Manufacturing owner Don Ahern said. "This has been a very fast-moving project that is unique with a lot of curved steel, an elevator shaft and the outdoor bar that overlooks Las Vegas Boulevard."
Container Park inspired Pawn Plaza, and Harrison's wife, Deanna helped with the design, including color selection.
"Working and collaborating with her on the project has been really rewarding," Harrison said. "The biggest challenge has been getting all of the different entities we needed to work with on board to construct Pawn Plaza and the overall unique construction process."
Each cube measures 12 feet by 24 feet; Xtreme Manufacturing puts them into place with a forklift.
"We had to keep in mind that the project is in the heart of the arts district, so we want it to look like a Rubik's cube," Xtreme Manufacturing Executive Vice President Bradon Main said.
Ahern said, "Through our building process, we have found that connecting two cubes is better than having one stand-alone cube. We spent four to six weeks in the design process and came out with this fun design in a modular environment. Each cube is built as a flexible space with the ability to get plumbing and electrical services as needed."
Outside of retail use, the Xtreme Cubes have been used to create portable living spaces, concession stands, parts counters, offices, restrooms and workshops. They have also been used in the mining, construction and oil and gas industries.
The ability to serve different industries helped Xtreme Manufacturing generate $80 million in annual sales with a network of more than 80 dealer and service locations nationwide and 140 employees. The "Pawn Stars" television show will help expose Xtreme Cubes to a new audience.
"The Pawn Stars brand provides opportunities for local, regional and national media exposure and an unlimited number of opportunities for group and individual businesses to take advantage of that," Harrison said. "We are fortunate to have enjoyed the level of success the show has brought to our business and we are excited to share that same high level of interest with our business partners and tenants at Pawn Plaza."
Ahern shares Harrison's excitement for Pawn Plaza's opening and hopes to do similar projects in the future.
"After going through this process I would really like a chance to do more of these type of cube projects in particular," said Ahern. "This is really fun for everyone involved at the company, and for us it is like a trip to Disneyland. We want to finish strong on completing the project and watch Pawn Plaza become a great success."