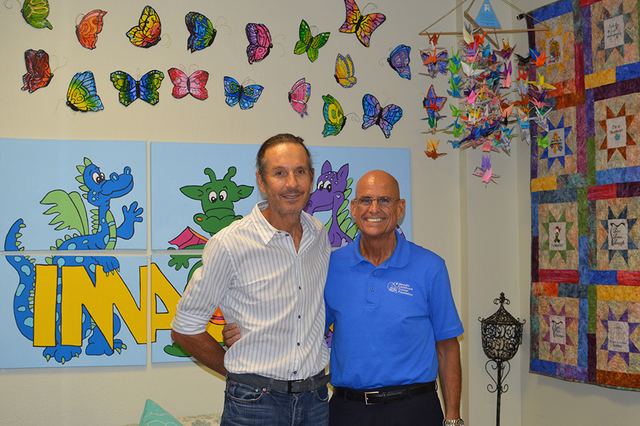 Jeff Gordon is from Salt Lake City and attended Utah State University on a tennis scholarship. His degree is in marketing with a minor in accounting. Gordon served two years on a Mormon mission in Austria. He was the general manager of a professional basketball franchise in the Continental Basketball Association.
"It's seemed like my whole life I've been working with children's charities wherever I was," Gordon says. While working in professional basketball he served with Big Brothers/Big Sisters and was an honorary coach for Special Olympics in Wyoming.
Today, Gordon is the CEO of Nevada Childhood Cancer Foundation. He joined the NCCF in 1997 as executive director.
Gordon stressed the importance of Las Vegas business leaders supporting the popular charity. Land developer Brett Torino through his Torino Foundation runs Torino Ranch in Lovell Canyon that hosts Camp Cartwheel and provides children who are fighting cancer, along with their siblings, with a variety of programs. This year marks the 20th year Camp Cartwheel will be held at Torino Ranch.
Dr. Ronald Oseas, the first pediatric oncologist to come to Las Vegas in 1993; founded the Nevada Childhood Cancer Foundation in the early 1990s. Prior to his arrival in Las Vegas, families had to travel to Arizona, California or Utah. NCCF provides free financial educational, emotional and social services to patients and their families.
Jeff Gordon
Q: How did you come to work at a nonprofit with a background in sales and marketing?
A: Before I accepted that position I said: "I got to meet some of the families, I got to meet some of these children and see what the needs are," and I meet a couple and they grabbed my heart (in) those first meetings. And I realized how many voids we had in this community that these families and these children needed. One by one we just started filling those voids. And that was the birth of the Nevada Childhood Cancer Foundation.
Q: What type of assistance is there for families?
A: Every year, we had a program or a service; now, we offer 45 programs and services at no charge to the families. We do a lot of financial help with these families. We have social workers that do counseling. But when the pediatric oncologists have a new diagnosis in town, hospitals have a new diagnosis in town, we're made aware of that within 24 hours. Within 48 hours we're in contact with them (the patient and family) to see where they are and what they need. That's what our social workers do so beautifully. We sit down and then we let them know all the things we have to offer and it just grows from there.
Q: What programs are most popular?
A: Of all the programs and services we do, probably two of our brightest stars that touch most of the lives are those programs that we wouldn't be able to do without Brett Torino and that's Camp Cartwheel at his beautiful Torino Ranch. And then (there is) our education program; that was born with Brett. We realized that our children were missing out on education.
Q: What's special about the educational program?
A: This isn't something Clark County School District can take care of because our kids weren't just missing days here or there; they were missing months and years. So, we realized, we got to get a classroom in the hospital. We've go to get tutoring around this Valley. But we also realized that was going to take a lot of dollars. That's when I sat down with Brett and I laid this program out. And just recently he renewed his wonderful commitment to us for ($500,000) over the next five years, and that's not something that's easily done. But he understands the importance of that and he understands what we need to do for these families.
Q: What is Camp Cartwheel?
A: Camp Cartwheel is just a magical two weeks. We'll be welcoming over 220 kids this year. We say two weeks, and Brett's graciously allowed us to do that, to accommodate all of the children that we have because we never want to turn any away; it also includes their siblings. So it's for critically ill children from the ages of 5 to 17 and their siblings.
Q: Why include siblings?
A: People don't realize this is a whole family diagnosis, when something like this happens. As that occurs it affects the whole family. The siblings kind of get left out sometimes. They need to also come to camp just as much as our critically ill children … because their self-esteem is bolstered. Siblings need to understand there's others in these same circumstances. … These kids form lifelong relationships.
Q: Do you have a lot of volunteer participation?
A: We have over 150 volunteers. One of the best things about Camp Cartwheel (is) the volunteers. We had a volunteer years ago — it was a Metro officer — and we have many Metro officers that volunteer their time. A quote he gave one time is something I'll never forget. One of the news stations asked him why he gives up his vacation to come and volunteer here at Camp Cartwheel at Torino Ranch. He looked at them and he says, 'Well, as a Metro officer, I see the dark side of life a lot and the dark side of human behavior. When I come to camp it washes the mud from my soul.' That was said many years ago and it stuck with me and I don't know you can explain it any better. For the volunteers, for those people that get involved, it's an amazing experience.
Q: How do the kids respond to Camp Cartwheel at Torino Ranch?
A: For our children, it's their favorite time of the year. The minute Camp Cartwheel ends they are talking about next year. They want to know what the theme is going to be the next year. They feel safe and that's something that Torino Ranch gives us. With everything Brett's put into the ranch, the cabins, the beautiful lake, how he allows us to get the water toys out on the lake, and everything that he allows us to do there creates an atmosphere where not only the children feel safe but more importantly the parents feel safe to give those kids to us.
They have all sorts of activities from rock wall climbing to scuba diving to arts and crafts — and they are out on the lake — to archery. And they do all those things that normal kids get to do, that our children don't get to do very often. They get to forget about doctors and nurses and things of that nature for a little while. It's a magical place.
Brett Torino
Q: How did you come to own Torino Ranch property?
A: I was always a land guy, and I was a builder, and I stumbled across this property 23 years ago up in the canyon. It was the Wild West out there. … At the time, I realized it was very unique. There was nothing else like it.
I've always been a big lover of nature and recreation. When I saw the property I knew that it was this place people were going to come up to and it was going to change them. When people come inside those gates, and it's not only the kids, it's the kids' experience, it's the counselors' experience. There are thousands of counselors (who) have been through there with thousands of kids and they are just as impacted as the children are. And so there are many layers to this cake.
Q: When did you see the good in letting the community visit Torino Ranch?
A: Many years ago an officer, (who) was involved (in) working with these causes for kids with cancer, contacted me; and they had a program here in town for first-offenders. He said, "Do you mind if I bring these kids up on your property; it's an intervention program, it's a very effective program for young men and young women?" I said, "Sure come on up." The ranch didn't look anything like it does today.
After several years it really established itself (as a camp for children struggling with cancer). I could see the impact it had on (them). … Probably one of the most motivating forces for me (was that the) kids could go there in the mountains and it would just change them. And you can see that.
Q: What touches your heart?
A: These kids are uniquely brave. The thing that impacts me is that any time I have seen something regarding an obituary or something that was very prominent at these kids' funerals, it's always a picture of them at the ranch. … And you realize the impact of camp.
Q: Besides funding what goes into keeping Torino Ranch going?
A: Owning this property is just a lifetime of work. There's so many people that are part of that team — all year long, day in and day out, 24/7 — keeping that property what it is. It is a mammoth undertaking. It would be easy for someone to write me a big check and take it off my hands but when you look at the mission of what we do up there, when it really gets down to it, I can't imagine ever making that decision.
Q: Why is this property so unique and so special that you would never want to develop on it?
A: This property is located in Lovell Canyon, (which) is having its issues today. There are three crown jewels, I call them, in Southern Nevada that are close to recreation. You've got Mount Charleston, you've got Red Rock and you've got Lovell Canyon. They are all part of the same eco-environment. They are studied as part of that environment.
We have very little in this community … that offers experiences that can change people. And they need to last a lifetime. You cannot exploit these resources. It's wrong. You cannot desecrate these resources. It's wrong.