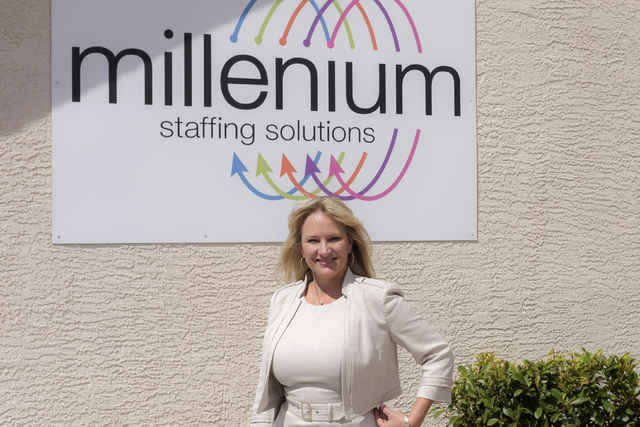 Jennifer DeHaven, CEO and president of Millenium Staffing Solutions, was born and raised in Fort Wayne, Indiana. She attended Indiana University where she received a bachelor's in marketing and business administration, followed by an MBA in marketing and business administration from George Washington University.
DeHaven identifies herself as a recovering empty-nester. Both of her daughters live out of state and she has three dogs, one very brave cat and an "amazingly supportive" boyfriend.
After working as an employee in the staffing industry for many years, DeHaven started Millenium Staffing in 2002 together with her former business partner, who retired in 2013. Since then, the company has expanded consistently and is now housed in an office park on Charleston Boulevard and Cimarron Road.
Q: Approximately how many people do you place in temporary or permanent jobs each year?
Last year, we placed 3,031 employees to work in the Las Vegas community. I am extremely proud of that. We placed 69 people in executive and direct hire positions in the valley and nationally. This year, we are on track to exceed 2015. As of Aug. 1, we have put 2,220 people to work in temporary placements and have successfully placed 41 people in executive or direct-hire positions. Traditionally, our last two quarters produce our largest employment numbers, so I am going to be very excited to see what those end-of-year numbers look like.
Q: As a women-owned business, are there special challenges your company faces in trying to compete in the marketplace? Or are there market advantages available to you?
We have had several doors opened to us as a woman-owned company because our community and market leaders have embraced diversity and inclusion programs.
There are diversity champions that not only lead in this community but are recognized on a national platform for their efforts. I am thankful for the companies that have given us an opportunity, and I am always mindful and respectful that our WBE (Women's Business Enterprise) status may have opened some doors.
Q: How do you handle the challenges of providing your employees with a living wage and appropriate benefits?
It is about our responsibility to educate clients and temporary staff of what a responsible prevailing wage should be for their corresponding job. It is our job to try and always pay our workforce a wage that their skills and efforts rightly deserve.
Most of the time, pay rates for our temporary staff are determined by client companies — this is where education is key. The staffing industry is the front line of thousands of jobs in our community, and thus we know and understand thresholds, trends and the pulse of prevailing pay rates.
Benefits are still a struggle for many of our temporary employees, even with the Affordable Care Act. Millenium offers health care options for our employees, but we find that too many are still not choosing to invest in health care, even with the options we provide. I continuously hope and strive for improvement in this arena.
Q: How would a $15 minimum wage affect your business?
Right now, roughly between 80 percent and 85 percent of our workforce earns below $15 per hour.
Higher wages are a necessity, but such a substantial increase would escalate costs across the board, making us wonder how we will continue as employers due to escalated employment costs. Many believe that higher wages for unskilled workers could increase the demand for automation and cause company closures. I know the (Nevada) ballot initiative has been tabled for this fiscal year, but I suspect it will come to life again in 2017.
The tabled initiative would raise the minimum wage rate to $9.25 in late 2018, then increase it by 75 cents each year until it reaches $13 in 2024. Of course, with the election coming soon, I do believe that we might see an increase in the federal minimum wage, which for Nevada means a $1 increase over wherever that number lands. I believe Hillary (Clinton) is pushing for a $12 hourly minimum.
Q: On your website, you say that you "believe in the sustainable pursuit of diversity and social responsibility." What does that mean to you, and how is that reflected in how your run your business?
We consider it paramount to give back to the community via charitable drives and contributions. In 2009, I championed our Circle of Care program that collectively, with our clients, vendors and employees, gives to eight to 10 local charities. The last six years, I have been an active member of the board of directors for Safe Nest, the largest Southern Nevada organization assisting and supporting the victims of domestic violence.
We reach out to all areas of the community via our local recruiting partnerships. Our outreach goes to all groups, as we work with all the chambers, schools, veteran and LGBT communities along with many of the various religious organizations. We actively seek out positions for those who are physically impaired.
We love diversity and practice inclusion within our internal team. I feel diversity brings fresh ideas and different perspectives, and most of our clients embrace this philosophy as well.
Q: How does the educational landscape of the Las Vegas Valley, with its relatively low level of educational achievement, affect your business?
We have more work to do on producing better educational outcomes for our students and our schools, but we are making progress. Programs taking place in our various career and technical academies are producing some really incredible results.
Moving forward, it will be crucial to align the needs of the business community with our high schools and community colleges in order to prepare the next generation of our workforce.
Q: There's always a lot of talk about diversifying the local economy. Do you see any of that actually happening, and how has it changed your business model, if at all?
Yes, I absolutely believe it is happening — but I think we should move beyond the binary definition of diversification as meaning away from gaming. Our economy has already, and is continuing to, move beyond one based only around entertainment, gaming, hospitality and tourism.
As organizations like the Las Vegas Global Economic Alliance continue to attract and recruit companies within multiple supply chains, we will help to continue to grow industries within various verticals.
Q: What are your plans for the future of your company, both short term and long term?
Expansion and growth. I see Millenium Staffing expanding our service offerings across both existing and new industries as the marketplace continues to grow and diversify.
We currently are working on opening an office in North Las Vegas next quarter and 2017 will bring one or two more offices, with one in the northern part of the state.