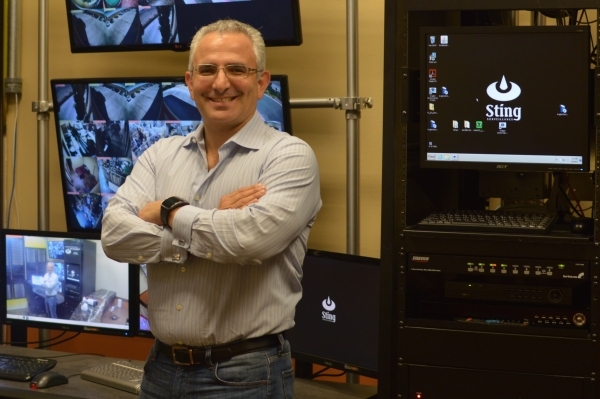 Jon Perry is president of Sting Alarm and Surveillance, 7120 Rafael Ridge Way in Las Vegas. It's really two business in one, the Las Vegas native explains.
"We have Sting Surveillance which does large accounts, enterprise customers, more of your commercial surveillance and access control systems," he said. "And then we have Sting Alarm. It's more focused on the residential, small business, putting alarms in people homes, controlling thermostats, controlling turning your lights on and off, all the stuff that you see on TV."
Perry received his bachelor's in management information systems from UNLV. He and restaurateur Jonathan Fine started Sting Alarm in 2003 after discovering that then-new DVR technology had security applications.
Q. When you started out, what challenges did you face and how did you overcome them?
A. Well, Jonathan and I were both very new to the security business when we first started in 2003. And there was a lot of learning curves just regarding the technology, the business. It was an industry that at that time it was kind of … very archaic. From a technology standpoint, the way they were doing things in 2003 was the same way they were doing things for probably 20 to 30 years.
Over the last probably five years, we've seen this shift. We've seen things go from using phone lines to communicating over cellular, or the internet. Your old alarm panels were the technology that was used 30 years ago. So now you're seeing some of the new technologies are coming to the forefront and that's kind of what my value was with the company. It was kind of taking charge of that technology and utilizing it to its best potential and morphing it into what our customer base felt they needed and wanted.
So one of the challenges was getting our arms around the technologies, archaic as they were, finding out what works, what didn't, and then making sure we grew as a company over the last 13 years that we were doing it the right way. A lot of the way alarms were installed 30 years ago is not how they install it today.
Q. Why is there a need to distinguish Sting Surveillance from Sting Alarms?
A. We have two directions for the company; basically two divisions.
One's the integration, the big casinos or hotels, the nightclubs, bars, restaurants, your typical commercial accounts where we install cameras, access control systems, intrusion alarms; we can run low voltage cabling for low voltage systems. That's just one side of the house which has goals and its directives and a certain way you run that business.
Then we have our residential small business which is very much the opposite. It's very much based on: we sell it today, we're in your home tomorrow installing it and you start your service the next day. It's a really quick turnaround versus the integration side. We can be working on those proposals for months and sometimes over a year to secure an account or a customer or a contract. It's different businesses under the same roof.
Q. What products do you offer for small businesses or businesses in general?
We offer CCTV or camera systems, electronic access control, intrusion alarm systems, monitoring for all those systems, and then video monitoring which we started in 2004 when we opened our central station and not many other companies were doing it. Actually, no other companies in Southern Nevada were doing it. Now other people have caught on. We're definitely cutting edge back in 2004, kind of pressing the envelope with some of our other services that we offer today. We continue to push the envelope regarding how we protect the assets of different customers.
Q. What major area do you see businesses failing to cover?
A. Point-of-sales systems. You'd be surprised how much money you lose by bartenders or people giving food or services, liquor, away for free. Especially a lot of these taverns. They comp players, they're gambling, they drink for free. Well, how much is that operation or bar losing every time one of the bartender's buddies sits down, puts a dollar in the machine, plays a dollar, cashes out, then drinks for free the whole night, and brings all his buddies in. It happens.
We've seen a hundred different ways for bartenders, servers, kitchen staff to steal from different businesses. And that's our job. It's our solutions that we put in place, educate the management and business owner, how they're doing it. Maybe not exactly how, but scenarios as to how these things will happen and how to use the technology we installed to identify it, capture it, and then prosecute. That's all key, key stuff. That's what we want to do — get the bad guy.
So we have technology where we connect to your existing point-of-sale system, we install strategic cameras to view the point of sales and by interfacing the point-of-sale system with our camera, we can actually capture the data as the bartender/service types stuff in. So if they put in "no sale" but then we see them cross the bar, pass out a beer, we know something's up. We might want to do an audit. Audit a whole shift of that bartender. Watch every single drink they ring up. Chances are they probably got you for a few hundred bucks that day. A few hundred bucks for an organization doing $5 million to 10 million? Is that a lot? No, it's not really going to show up. But it's going to show up when that person plus five of his or her friends at the job are all getting you for a few hundred bucks a day. When you multiply that by the month, by the year, that's coming right out of the owner's pocket.
Q. Is catching these types of theft a large part of the business?
A. It's one thing that's often overlooked. People always want to get the perimeters, get your pinch points, might be putting cameras over the bar, right, just to see what's happening. But do you really know what they're typing in? I guess you could go back to some report … but our stuff ties it together. So I can say, searching my name, "Search all the times Jon Perry used a credit card." It will queue it all up. "Tell me every time a Bud light is ordered" or "every time a no sale is done," then you double-click the "no sale." Cue the video and "oh, nothing happened."
Q. Having done work for the Las Vegas Metropolitan Police Department, is there any conflict protecting medical marijuana establishments?
A. Not at all, actually. What I found in looking at the medical marijuana industry in general is the police department is there to enforce the laws in place. The police are just going to do what the law says. They shouldn't be taking their own personal opinion/judgements in it. And actually, at the Las Vegas Medical Marijuana Association's meeting last week, the sheriff was there and (said) it's not what he thinks, it's the way (the law) is written and that's what they're going to enforce. So all we're doing is installing cameras. We're putting in systems the police are going to rely on in the event something happens. What we're protecting is irrelevant.
Q. What are your duties in the role of vice president of the Nevada Security Association, the local chapter of the National Association of the Electronic Security Association?
A. One of the big things we're doing is making sure all contractors are licensed. So if you sell security or install security in a city, state or county, you need to hold a privileged license. Specifically, if you're doing any kind of monitoring. It's something that's been in the books for many years. You'd be surprised how many people (and) active companies today are not licensed to do security work and are actually doing it. It's a huge problem.
Q. How do small businesses or consumers find out if someone has the proper license for security?
A. You can go to the Nevada Security Association website, nevadasecurityassociation.org, and there's a list of licensed companies. They're all members of the organization. That's a great place to start. But you can also call the local jurisdiction, the state contractors board. There's a website and you can easily do a search; it will tell you.